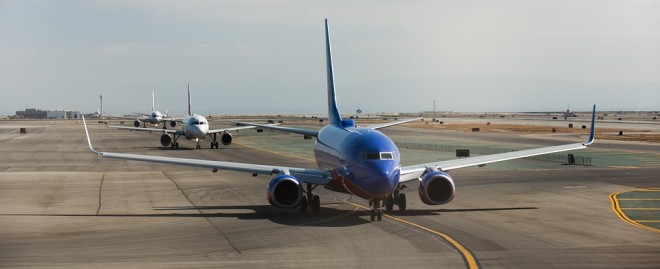 Indian Oil Corporation (IOC) has hiked aviation turbine fuel (ATF) prices by 8 percent with effect from January 1, 2017. In all four metros, the jet fuel prices have risen roughly by Rs 4,000 per kilolitre.
Aviation fuel now costs Rs 52,540 per kilolitre in Delhi and Rs 51,776 in Mumbai. The highest price amongst the four metros is in Kolkata at Rs 57,215 per kilolitre. Jet fuel prices for international carriers has been fixed at $544 per kilolitre. It was $502 per kilolitre for the last month (December 2016), IOC said in a statement.
Also read: Aviation stocks down post 3% fall in jet fuel prices
ATF prices account for nearly 30-35 percent of operating costs for airlines and directly impact their profit margins. The prices differ in different cities. Aviation Turbine Fuel (ATF) is dispensed from specially-designed refuellers in two ways.
"ATF is pumped into an aircraft by two methods: Over wing and Underwing. Overwing fuelling is used on smaller planes, helicopters, and piston-engine aircraft and is similar to automobile fuelling - one or more fuel ports are opened and fuel is pumped in with a conventional pump. Underwing fuelling, also called single-point is used on larger aircraft," according to IOC, a state-run refiner and retailer.
The revised ATF prices, new and Old (per kilolitre) are:
| | | |
| --- | --- | --- |
| Cities | January 2017 (per kl) | December 2016 (per kl) |
| Delhi | Rs 52,540 | Rs 48,379 |
| Kolkata | Rs 57,215 | Rs 53,011 |
| Mumbai | Rs 51,776 | Rs 47,601 |
| Chennai | Rs 55,322 | Rs 50,998 |
Jet fuel is a colorless, combustible, straight-run petroleum distillate liquid. Its principal use is jet engine fuel. It is dispensed from specially-designed refuellers, which are driven up to parked airplanes and helicopters.