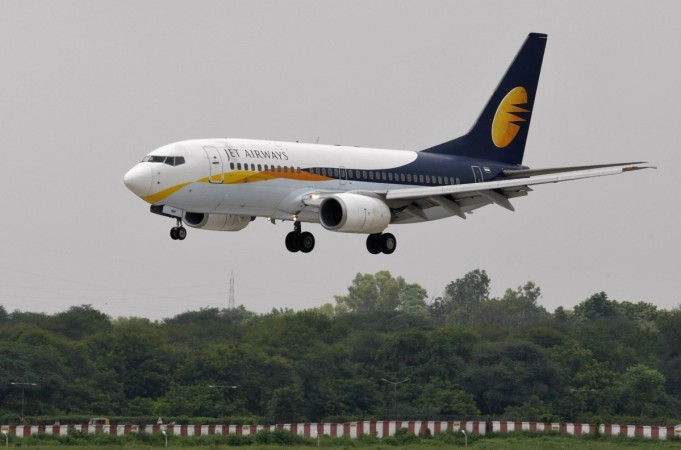 Jet Airways reported standalone net profit of Rs 467.11 crore for the third quarter ended 31 December, 2015, as against Rs 63.11 crore in the corresponding period last fiscal. A 7 percent increase in revenues and a 27 percent reduction in fuel costs enabled the company to post record profit.
Passenger revenues at Rs 5,024.14 crore marked 7.33 percent growth over Rs 4,680.60 crore during the year-ago period, according to the company's regulatory filing with the BSE on Saturday.
Aviation turbine fuel (ATF) costs were down sharply by 27.37 percent to Rs 1,235.36 crore during the quarter under review from Rs 1,701.07 crore during the third quarter of last fiscal, boosting the company's operating profit.
The company's other income of Rs 419.83 crore during the quarter comprised income from leasing of aircraft and engine. The comparative figure for the third quarter last fiscal was Rs 370.42 crore.
Abu Dhabi-based Etihad Airways owns 24 percent in Jet Airways.
Declining ATF costs caused by tumbling crude oil prices have been helping Indian aviation companies to post spectacular results.
In January, budget carrier SpiceJet reported net profit of Rs 238.40 crore for the quarter ended 31 December, 2015, as against a loss of Rs 275 crore in the year-ago period, aided by 35 percent decline in fuel costs.
Interglobe Aviation, which owns IndiGo, had reported a 24 percent rise in its third quarter net profit at Rs 657 crore.
IndiGo has the largest share in the domestic air traffic market in India at around 35 percent. In December 2015, its share was 35.6 percent, followed by Jet Airways at 18.2 percent and Air India at 16.7 percent, according to civil aviation ministry data.
The Jet Airways stock was the biggest gainer on the BSE on Friday, up 7.82 percent, while Interglobe Aviation and SpiceJet inched higher by 4.27 percent and 3.82 percent, respectively.
Jet Airways was in the news recently for Sonu Nigam's impromptu in-flight performance on one of its flights. The episode prompted Indian civil aviation authorities to act, following which the company said it had suspended the cabin crew responsible for the goof-up.
"All cabin crew on the flight have been taken off from flight duty for enquiry and corrective training to reinforce strict adherence to operating procedures," Jet Airways tweeted on Friday.
The incident occurred on 4 January on a Jet Airways flight from Jodhpur to Mumbai.