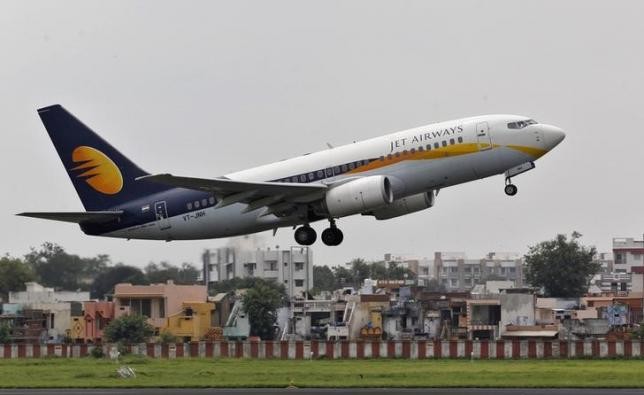 Jet Airways, India's second largest carrier in terms of market share, surpassed the average industry growth for the December quarter. The airline reported higher utilisation of its fleet and improved cost control, which has prompted analysts to elevate earnings expectations.
The airline is set to double its earnings per share to Rs 120 in FY17 from the current Rs 68 in FY16. The company's longer hours of aircraft utilisation has helped it record 24 percent growth in its passenger traffic, The Economic Times reports.
The aviation industry's average growth was 20.2 percent in the segment, which is lower than the Jet Airways' growth. In the upcoming quarters, the aim of the airline is to utlilise its aircraft better with full passenger capacity rather than adding new aircrafts to the fleet. This would perhaps reduce Jet's debt, which at present reportedly stands at Rs 11,384 crore.
Over 54 percent of the company's revenues are generated from international flight operations.
Low-cost domestic carriers such as IndiGo and SpiceJet have benefited from lower crude oil prices and have been offering discounts to passengers, thus increasing competition amongst other airlines.
If crude oil prices continue to plunge below $40 and the airline continues to utilise its aircraft capacity with focus on cost-cutting measures, chances are, the airline will achieve an operating margin of 13-14 percent for the financial year 2016-17, the report further added.
Last week, Jet Airways reported net profit of Rs 467.11 crore for the third quarter ended Dec.31, 2015 as against Rs 63.11 crore in the same period last fiscal year.
The Jet Airways stock was trading at Rs 594. 25 at around 11.35 am on Wednesday, up 3.02 percent.