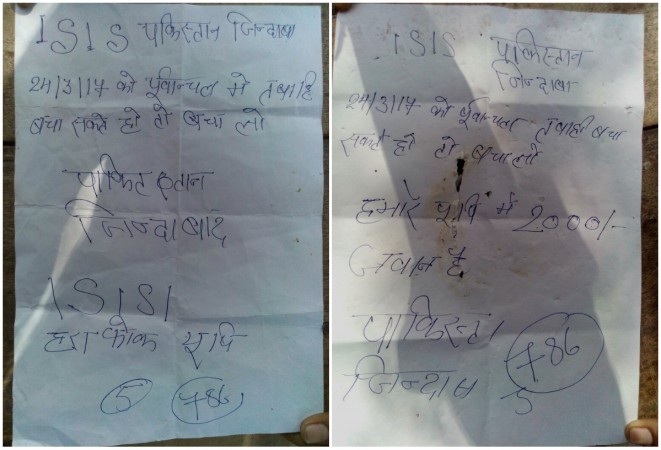 Two threat letters purportedly from the Islamic State group have emerged in Varanasi, warning of "Purvanchal ki Tabahi", meaning destruction of the Purvanchal region of Uttar Pradesh, and claiming the group has 2,000 fighters in the state.
Also read: Taj Mahal under threat from ISIS? Link being circulated of impending attack; security enhanced in area
Two low-intensity bomb blasts in Agra recently had led to fears that the terrorist group — also known as Islamic State of Iraq and Syria (ISIS) or the Islamic State of Iraq and the Levant (ISIL) — had struck again. There had been intelligence alerts of impending attacks by ISIS in the state prior to these blasts.
Varanasi Senior Superintendent of Police Nitin Tiwari told International Business Times, India, over the phone that while the matter was being investigated, an alert had been sounded in the area. Further steps would be taken as per the result of the investigation being carried out in the case. The police have also registered a case in this regard.
What the letters say
The first of these letters — both of which are written in Hindi — contains the words "Pakistan Zindabad" twice. It warns that Purvanchal — the eastern part of Uttar Pradesh — would be destroyed on March 24, 2017, and dares the authorities to stop this destruction. Interestingly, the letter is signed "ISISI", and not ISIS, leading to speculation that this could be a hoax.
The second of these letters also contains the words "Pakistan Zindabad" twice, and delivers a similar threat of the destruction of Purvanchal. However, what it also claims is that ISIS has 2,000 footsoldiers in UP, which could be a real headache for intelligence and security agencies if it was true.