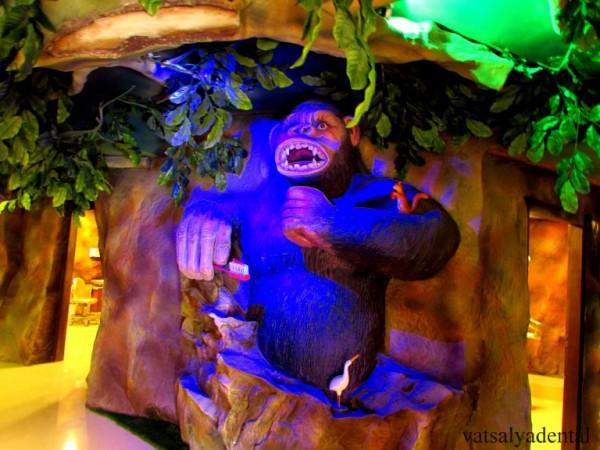 A visit to the dentist is often a scary proposition for children. A Bengaluru-based doctor is looking to ease some of that fright with a novel idea.
Spread across 8,000 sq ft in Bengaluru's JP Nagar area, Dr Srivats Bharadwaj claims his 'Dento Jungle' is India's first theme-based dental centre. He says the concept integrates fun and treatment. Pulling your teeth won't be a worry, next time!
Vatsalya Dental plans to create 'Dento Jungle' centres across key markets in Karnataka by the end of 2018.
International Business Times, India, spoke to Dr Bharadwaj to know more about this clinic.
IBT: How did you come up with the idea for Dento Jungle?
Dr Bharadwaj: Children fear dentists and dental treatment, to the extent that many do not even go for their basic regular check-ups. They have to be dragged to the hospital or clinic. Hence, I started thinking about innovative ways to overcome this situation.
Some hospitals have paintings, but I didn't see that having much of an impact. I wanted to change the way children and people perceive dentistry; to completely eliminate the anxiety they feel.
Hence, we developed Dento Jungle with caves, trees, animals, 3D paintings and even characters like Mowgli and Bagheera from the Jungle Book, so that children feel comfortable and enjoy visits to the dentist.
Consultation rooms have been given a cave or jungle-like setting in order to make children believe they are not in a doctor's clinic. The idea is to spread awareness of the importance of oral health, remove the fear of dentists, said the doctor.
The goal is to create a future where people love healthcare settings and eliminate fear associated with healthcare and hospitals. This will lead people to take preventive measures, which are always less expensive and less extensive.
Dento Jungle is the first such concept in India. There is nobody else who has attempted this. In the future, all our centres will be Dento Jungles.
IBT: Where and when exactly was the first Dento Jungle built?
Dr Bharadwaj: The Dento Jungle has launched two months ago in JP Nagar, Bengaluru. We will be looking at launching similar Dento Jungle centres across Karnataka in the coming year.
IBT: What has been the impact on children visiting Dento Jungle?
Dr Bharadwaj: There is a spike of 70 percent of children visiting Dento Jungle as compared to the number of children visiting our other centres.
Children are scared of dentists, so we tried to make the centre as different and unique as possible from a normal hospital or clinic. Now, children come to Dento Jungle, play and forget their fears.
IBT: What changes did you observe in the behaviour of children coming to the clinic?
Dr Bharadwaj: Children are happier and don't look scared. They get absorbed in the surroundings so much that by the time they're in the dentist's room, they are more relaxed and playful.
The dentists' treatment rooms are in the form of a cave, a fort, a safari bus, and even in the shape of a dinosaur egg with 3D paintings of animals, sharks and Spider-Man. There are sculptures of gorillas, lions, tigers and deer.
Most children, as per the feedback from their parents, want to come back to the clinic. Some are brushing their teeth without much hassle because their favourite character is doing so at the clinic. That's the difference the setup has made!
Check out the interiors of Dento Jungle here: