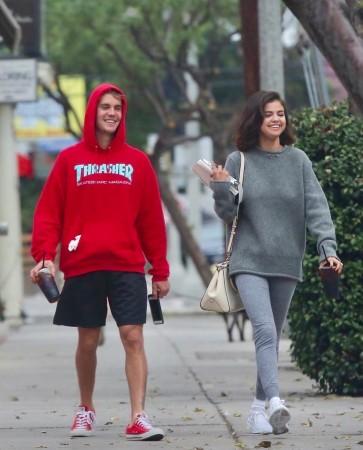 Selena Gomez and Justin Bieber were spotted leaving for a private air trip not so long ago and finally, after a week of unstoppable gushing from fans, it has been revealed that the two on-again couple flew to Sugar Factory, Seattle to enjoy some not-so-private time together.
Also read: Are Selena Gomez and Justin Bieber moving in together?
An eyewitness told Entertainment Tonight that music's it-couple were spotted at the luxury mall The Shops at The Bravern outside of Seattle in Bellevue, Washington, on Saturday.
The pair was also accompanied by one male friend and one female friend as they walked in at around 6 pm and entered the Sugar Factory chocolate lounge.
But what caught people's attention was how the two of them weren't shy about keeping their PDA toned down at all. Eyewitnesses spoke about how they seemed focused on each other and held hands while sipping from the same drink, with two straws in it.
Eyewitnesses told that the couple ordered the virgin blend, and even though it was no fine wine, Selena ought to be impressed by those cutesy gummy marshmallow sharks and dry ice – all for an elite $34!
Of course, Bieber, 23, didn't stop at that as he started dancing when the Pussycat Dolls' "Buttons" played and that's what drew his and Selena's attention. Fans soon started taking photos and this is what, reportedly, upset the Wolves singer, who then excused herself to go to the restroom and then left.
Bieber stayed back to pay the bills and followed right after. But worry not, because there's no trouble in paradise; not from Bieber's ecstatic little dance routine at least.
"Selena and Justin are doing great," a source confirmed to E! News. "Justin is very affectionate to Selena. He wears his heart on his sleeve lately especially when it comes to her. They are still learning about each other as grown adults."
Despite having stayed quiet and kind of evasive about confirming their rekindled romance, the two also have plans of spending New Year's Eve together.
When asked at the Billboard's Women in Music event of the year about her current beau, Selena very tactfully answered, "I'm 25. I'm not 18, or 19, or 20. I cherish people who have really impacted my life."
"So maybe before, it could have been forcing something that wasn't right. But that doesn't mean caring for someone ever goes away."