Selena Gomez's recent ex, The Weeknd, might have won the whole Instagram-unofficial game by deleting all of her photos from his page, but the former Disney star sure wins the being-the-bigger-person game.
Also read: Selena Gomez and The Weeknd split; is Justin Bieber the reason?
On Wednesday, November 29, Selena took to her Instagram page to flaunt her racy blonde strands, and even though the buzz about her fierce new hairdo has died down, what caught her followers' attention was the caption.
Selena went with "All apologies." That's right – nothing more than just the famed title of the Nirvana track. But that was enough to break the internet into wondering about whether she was just another fan or did the cryptic words imply some genuine regret over her latest split?
Selena decided to follow that post up with further snaps of her striking multiple sultry poses, and also a video clip of her staring into the camera, with X's penned on her eyes.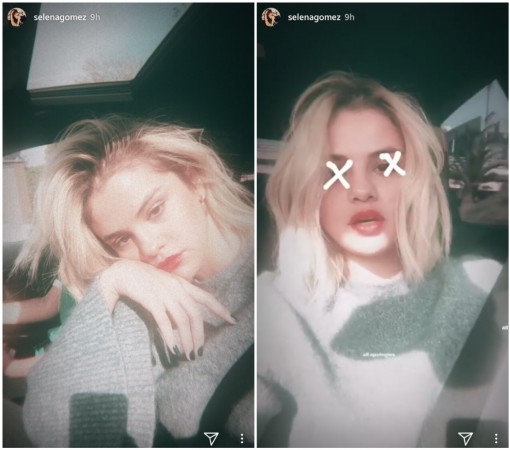 But definitely not the one to allow her possible resentment linger on, she ended her story on a much more cheerful note, sporting adorable Minnie Mouse ears in a snap, joking that she stole it from her sister.
Too much of cryptic information overload, you think? Well, perhaps not.
These posts came back to back, almost a month after their split, the 27-year-old Canadian rapper, born Abel Tesfaye, decided to snap the last tie attached to his ex by deleting all of Selena's four photos from his account.
But as harsh a slap this sounds, this stunt came from the Weeknd almost a week after Selena decided to unfollow him on Instagram.
And of course, after she decided to jump back to her former flame Justin Bieber, 23, just a couple of days after her split with Abel, whom she had been dating for 10 months. Too much to take for Abel?
Not that he's one in a position to complain, considering rumours about Selena unfollowing him after he was spotted sneaking out of former ex, Bella Hadid's apartment are still in full flames.
But despite all the drama and going back and forth within circles, Selena seems to have chosen the higher road, considering she still has pictures of Abel on her Instagram page, including a few mushy snaps of them together.
Wonder what Selena's current and long term, on-and-off beau, Justin has to say about that! As far as sources close to the two have confirmed, the two are happier than ever and deciding to take things slow, despite Selena's family not been too thrilled about this rekindling of romance.
And all seems to be working out for Abel too, as he has been spotting moving on faster than ever. Sources claim he is planning on reuniting with his Victoria's Secret Angel ex, Bella Hadid, 21, even though he was spotted dining with Katy Perry earlier this week.