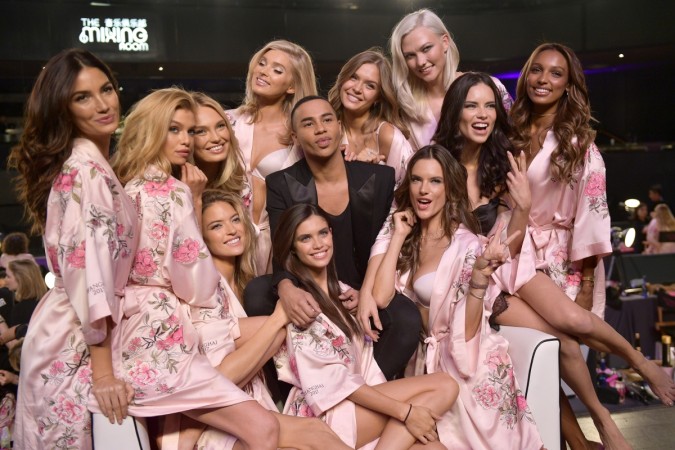 The Victoria's Secret fashion show is here and happening live now in Shanghai, China.
After multiple controversies and doubts about performers' line up and angels getting their visas denied in the last minute, Instagram fan accounts have taken it up as their responsibility to keep the world posted about the super secretive fashion show.
Also read: Victoria's Secret Fashion Show 2017: Angels strike sultry poses in VS' signature pink robes backstage [PHOTOS]
One such account had revealed earlier how the entire line up order of the show had changed, and that too at 3.30 am. Victoria's Secret model casting expert Sophia Neophitou had spoken up about the sudden changes saying:
But fans and followers can rest easy now knowing that the show has been on for almost an hour and is already done with the first segment. That's right, everything went smoothly, as Victoria's Secret Angel Karlie Kloss revealed in this Instagram post:
And the second segment is scheduled to start soon, in less than an hour's time.
Other snippets have been posted online, where the vibrant and colourfully lit stage this year can be seen.
Pineapples in the background could possibly be for Miguel's song Pineapples in the Sky, implying the rapper's performance has already taken place.
An Instagram fan account reposted the above photo, captioning it with their perception of what performance will be teamed with which segment.
"In the 1st pic we see Pineapples as the background and Miguel has a song called "Pineapple Skies"... the style of the set and colors make me think that it could be the PINK segment! ⚠️Miguel performing Pineapple Skies in Pink?
On the pics we see it's not really a V, its like a normal runway but with the performers having their own space in the middle and the runway has like a sharp/pointed end? Its weird I honestly dont know anymore‼️ This is how I think segments/performances will go:
Nomadic Adventure: No live performances
Porcelain Angels: Harry Styles-Only Angel
A Winter's Tale: Miguel
Goddesses: Leslie Odom Jr (?)
Millenial Nation: Jane Zhang
PUNK Angels: Harry Styles-Kiwi" [sic]
Another clip from the show has surfaced the internet too, with angel Bella Hadid taking the runway and rocking her look effortlessly - wearing the Victoria's Secret Angel wings for the first time ever, as Miguel performs.
So far what we know for sure is that Gigi Hadid isn't taking the runway this year, as her visa was denied by the government due to political issues.
The Angel took to Twitter to express how "bummed" she is, saying:
I'm so bummed I won't be able to make it to China this year. Love my VS family, and will be with all my girls in spirit!! Can't wait to tune in with everyone to see the beautiful show I know it will be, and already can't wait for next year! :) x

— Gigi Hadid (@GiGiHadid) November 16, 2017
News has also surfaced the internet that Victoria's Secret alum Alessandra Ambrosio will not be returning post this year's show, as posted by this Instagram account.
But luckily for all fans and followers, Alessandra decided to share the first segment Balmain collaboration looks with her fans on her Instagram.
While there are no livestreams to catch the fashion show as it proceed in live time, fans and followers can always watch it on Tuesday, November 28, at 10 pm ET/PT when it airs on CBS.
Chinese sensation Jane Zhang just delivered her performance on the show and now fans have got to keep an eye out for Harry Styles and Leslie Odom Jr.
Victoria's Secret angel Taylor Hill just posted on her social media that run two of the show is about to commence. The nervous excitement in her voice is clear as Taylor can be seen walking to the backstage.
The finale of the show just surfaced the internet and the models are seen strutting around in their high heels and wings, gracing the ramp for one last time, as Alessandra and Adriana Lima, both VSFS veterans by now, take their spots centre stage.