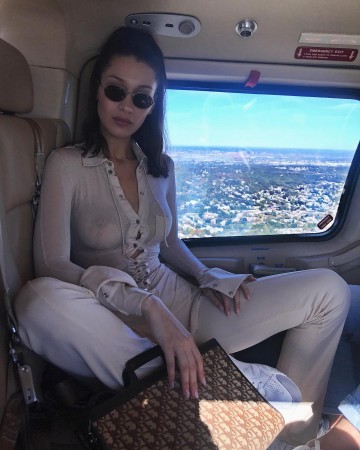 Bella Hadid has been no stranger to every hottest trend that celebrities seem to come up with, but this time it looks like the super model might have some hidden agenda behind putting her girls on full display.
On October 21, Bella posted a photo on her Instagram where she rocked a sheer top and fans and followers have gone crazy trying to figure out the obvious (?) – is the show for her new rumoured beau Drake?
Also read: Bella Hadid: Meme of the year
The Hadid family has earned the globe-trotter tag for a while and both the supermodel sisters, Bella and Gigi (23) have Instagram full of them sprinting off to a new vacation every now and then. While all of those shots are them glammed up, this one was, by far, one of Bella's sexiest.
Bella knows how to make her travel photos look as good as she herself always does. This time we see her in a see-through top and enjoying a helicopter ride. With this photo, she also hopped onto the celebrity bra-less trend which has been viral for a while now.
While we support the youngest Hadid sister ongoing bold and freeing the nipple, joining many other female celebrities, what really hits our curiosity is whether this post was directed at someone in special. Someone who's definitely been making her 'hotline bling', perhaps?
Rumours about the Victoria's Secret model and Canadian rapper Drake (30) have been swirling the media for a while now and while mommy Yolanda Hadid squashed all rumours on Watch What Happens Live with Andy Cohen, sources have confirmed that the two are indeed together on the down low!
"Bella was getting over her ex and wasn't interested in Drake," a source told Life & Style, "but that soon changed when Drake turned on the charm and wooed her with romantic gestures, including expensive jewellery and flowers. It started out casual, but they're definitely serious [now]. They've been meeting up and going out for romantic dinners,"
The gestures levelled up to a whole another level when Drake himself planned and threw Bella's 21st birthday party, earlier this month at Cipriani Downtown, New York City. The party was lit with stars but eyewitnesses couldn't help noticing how "super smitten" with the rapper Bella was.
Apparently, "he held her closely" and bonded in the VIP section and no matter how firmly Yolanda believes that "they are pals", things have definitely heated up between the two. So much, that multiple sources have confirmed that the two have actually been together since June!
"After having such a public relationship and breakup with The Weeknd, Bella wants to keep her new relationship on the down low," a source spilled to Hollywood Life. Not a shocker because the starboy singer began dating Disney sweetneart Selena Gomez shortly after.
And we are neither judging, nor blaming her. With her career shooting off for the stars, we can only hope she has found happiness in Champagne Papi.
And that the confirmations arrive soon!