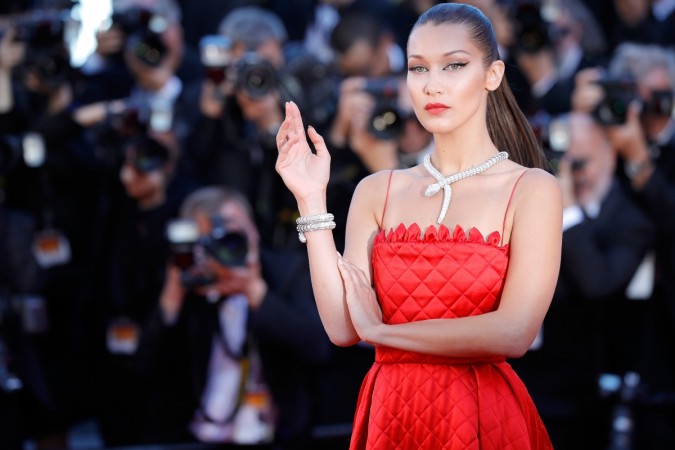 Bella Hadid, of late, has been all over the internet with her super awkward and not "dope" at all Complex interview, but in her private life, somebody else seems to have been mesmerised all over her.
The Victoria's Secret model has celebrated her 21st birthday this week and not only the Canadian rapper Drake was in attendance, but he has also helped plan the fun-filled party which was thrown all by him for the Vogue beauty.
Also read: Lingerie-clad Bella Hadid oozes sex appeal in a steamy shower photo [PHOTOS]
As rapid as the rumours of them dating sparked off from the event, sources have confirmed that they are "definitely" not dating. Not officially at least is what they might have meant, but US Weekly learned from their source that no romance is on the cards.
The 30-year-old Hotline Bling rapper was among the many A-list celebrities who attended the party. The venue was the Socialista lounge in the SoHo neighbourhood of Manhattan, NYC. Others who attended the party were rapper Travis Scott, DJ Martin Garrix, talent manager Scooter Braun and also Bella's older sister and model Gigi Hadid.
The Real Housewives of Beverly Hills star and Bella's mother, Yolanda Hadid was also present at the party and took it into her own hands to shoot down any rumours about her baby girl's alleged romance.
Andy Cohen asked the reality TV star about the prospective rumours and she responded, laughing, "Are you kidding?" The question was on the October 10 segment of Watch What Happens Live on Tuesday. Yolanda also added, "I mean, they're friends!"
Drake, who has the most popular sensations in the music industry on his list of exes – like Rihanna and also Jennifer Lopez, hasn't addressed the speculation. The last of his possible romantic liaison was sports analyst Rosalyn Gold-Onwude, whom he had brought as a date to the NBA awards in June.
Bella is yet to address any rumours either. She was romantically linked with DJ Daniel Chetrit after the two were spotted together in July. Previously she had dated The Weeknd for two years, before the Starboy hitmaker aka the 27-year-old Abel Tesfaye moved on to his current girlfriend, Selena Gomez.
The split and Abel dating Selena was also brought up by Andy Cohen on WWHL and to that Bella's mother, Yolanda claimed Bella doesn't harbour any ill feelings about either of them. "Not anymore," revealed the 53-year-old.
As for dating Drake, there aren't enough confirmations except her May interview with the Daily Mail where she hinted that she wasn't in a hurry to be with someone and was enjoying her solo ride. "I want to be as independent as possible," she had said.