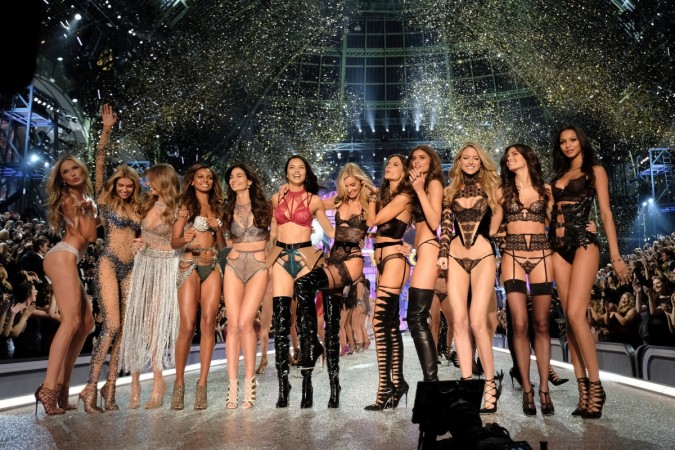 One of the most anticipated events of the year – The Victoria's Secret Fashion Show is almost here. The actual catwalk for the show will take place in Shanghai, on Monday, November 20, even though it won't be broadcast until much later on Tuesday, November 28.
Also read: Victorias Secret launches 2017 Fantasy Bra
The show promises a star-packed line up of many old favourites in the catwalk industry, making a comeback this year. And that list includes faces like Adriana Lima, Alessandra Ambrosia, Bella and Gigi Hadid, Candice Swanepoel, Elsa Hosk, Martha Hunt, Lily Aldrige and Sara Sampaio.
Fresh faces like Nadine Leopold, Vanessa Moody, Mayowa Nicholas, Daria Khlystun and Victoria Lee are some of the new ones joining the list of angels this year.
Strikingly enough, Kendall Jenner, who had walked the ramp for last year's show, will not be present this time, along with Behati Prinsloo, whose absence can be explained with her recent pregnancy announcement.
WHERE TO WATCH?
While the actual venue is yet to be confirmed, it is no secret that most fans and admirers of the angels with their wings, cannot stay patient enough for a whole week to catch the show on the TV.
And while you can tune into CBS at 10/9 central on November 28 as your favourites hit the runway, there are also multiple other ways you can catch the show live.
While you can watch the VS broadcast live as it airs on television on CBS All Access under the one week free trial time, you can also sign up for Hulu Live TV to catch the live streaming of the show, which will be a paid option.
Other than that, YouTube also has a feature called Live TV which again is paid. You can catch the live streaming there too.
The easiest option would be to keep an eye out on all of Victoria Secret's social media accounts for live streaming – say Facebook live, Instagram and Snapchat stories and of course, tweets too.
WHO ARE PERFORMING?
Every year, the show promises a power-packed line-up of artistes performing their hits as the Angels grace the ramp and this year, it was rumoured that the spots were taken by Harry Styles, Katy Perry and Taylor Swift. A slight change in the rumour, as Taylor seems to have dropped out and Miguel has replaced her.
ALL THAT DRAMA!
But of course, drama between the artistes isn't the only thing you should be looking forward to because what would a VS fashion show be without its very own share of personal drama? Be it Ariana Grande nearly getting knocked out by Elsa Hosk's wings or the awkward stage presence of ex-beaus Bella Hadid and The Weeknd.
From Jordan Dunn labelling the show as BS after not being included in the line up to Cara Delevigne dismissing allegations that she hadn't been recruited for catwalk because she was too fat – Anything can happen!
FACES TO EXPECT - A line up of all the models:
Especially when the line up of models walking the ramp is this sizzling. Karlie Kloss, Gigi and Bella Hadid, Jourdana Elizabeth, Lameka Fox, Devon Windsor, Sui He, Samille Bermannelli, Irna Sharipova, Ju Wen, Kelly Gale, Liu Wale, Shu Pei, Ming Xi, Cindy Bruna, Dilone, Frida Aasen, Leila Nda, Victoria Lee, Vanessa Moody, Grace Elizabeth, Nadine Leopold, Leomie Anderson, Maria Borges, Daniela Braga, Bruna Lirio, Giselle Oliveira, Aiden Curtis, Alexina Graham, Zuri Tibby, Maggie Laine, Julia Belyakova, Estelle Chen, Grace Bol, Kate Gregorieva, Sanne Vloet, Mayowa Nicholas, Amilna Estevao, Alanna Arrington, Barbara Fialho, Megan Williams, Roos Marijndekok, Daria Khlystun, Alecia Mores, Georgia Fowler, Blanca Padilla and Hereith Paul.
THE FANTASY BRA!
But of course – the main attraction still continues to be the dazzling, widely popular "Fantasy Bra" –wearing it is considered one of the biggest honours of the show. And this year, as announced last month, Lais Ribeiro, 27, will be flaunting the multi-million dollar lingerie.
Lais, who became an Angel back in 2015, shared that she "had no idea that the fitting was for the bra. I came in and when I tried it [on], I cried. It was unbelievable."
She now joins the esteemed list of Jasmine Tookes, Lily Aldridge and Alessandra Ambrosio who have been past honourees of wearing the lingerie. The diamond, yellow sapphire, and blue topaz encrusted bra is worth a whopping $2 million.