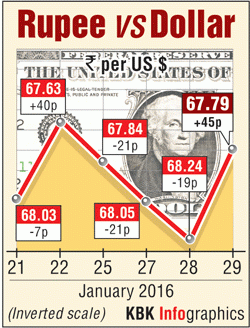 After falling for three weeks in a row, India's foreign exchange reserves rose $355 million to $347.56 billion as on 22 January, according to the Reserve Bank of India's (RBI) weekly supplement released on Friday.
The reserves had dropped $1.72 billion to $347.20 billion as on 15 January.
The increase in reserves for the week ended 22 January was mainly due to a rise in foreign currency assets by $371 million, while gold reserves remained unchanged at $17.24 billion.
Rupee inches higher
After plunging to a new 29-month low of 68.19 against the US dollar on Thursday, the Indian rupee recovered on Friday, opening at 68.09 and gained further during the day. It ended at 67.79.
The all-time low for the domestic currency was 68.85 on 28 August, 2013.
Stock markets rebound
Stock markets rebounded on Friday, with the Sensex gaining over 400 points, notwithstanding two heavyweight stocks — ICICI Bank and Bharti Airtel — reporting disappointing third-quarter results.
While Bharti Airtel's net profit was impacted due to exceptional losses, ICICI Bank took a hit due to a spike in provisioning for bad loans.
The rally was attributed to the Bank of Japan's decision on Friday to adopt a negative interest rate policy to stimulate lending and boost the economy. The decision means lenders will have to pay interest for depositing their excess money with the Japanese central bank insteading of lending to borrowers.