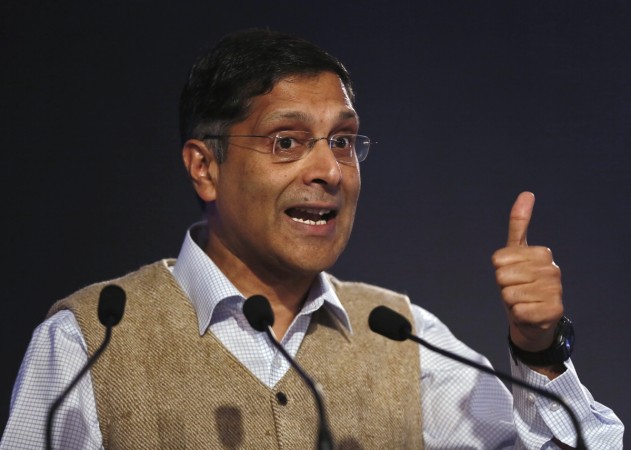 India's Chief Economic Advisor (CEA) Arvind Subramanian has stepped down from his post and will return to the United States, Union Minister Arun Jaitley announced on Wednesday. The decision was announced through a Facebook post, which stated that Jaitley had no option but to agree since Subramanian's reasons were very personal and important for him.
Subramanian's three-year term ended last October, but he was granted a year's extension by the government. He took over as the CEA in 2014 after Raghuram Rajan vacated the post to become the governor of Reserve Bank of India (RBI).
Jaitley said that he had requested Subramanian to continue for some more time after the latter's term expired. "Even at that stage, he told me that he was torn between family commitment and his current job, which he considered the best and most fulfilling he has ever done," he added.
The finance minister lauded Subramanian for his expertise and achievements, noting how he worked with the Ministry of Finance, Prime Minister's Office and other departments both formally and informally.
The minister also hailed Subramanian's thinking, that saw the adoption of a macroeconomic strategy of higher public investment. Furthermore, it was Subramanian's idea to create a JAM (Jan Dhan, Aadhar, Mobile) database for availing public benefits.
Jaitley stated that during his tenure of three and a half years, Subramanian built a strong team of both "insiders" and "outsiders" in the Economic Division of the Finance Ministry.
Personally I will miss his dynamism, energy, intellectual ability and ideas. He would walk into my room - at times several times a day, addressing me as 'Minister' to give either the good news or otherwise. Needless to say, his departure will be missed by me. But I know that his heart is very much here. I am sure he will keep sending advice and analysis wherever he is."
The former Chief Economic Advisor also has other laurels to his credit, such as the launch of "Swayam," the Centre's online education platform which became one of the most followed courses in India. Furthermore, his report on Revenue Neutral Rate was critical to the constitutional amendment enabling the Goods and Service Tax (GST).
According to Jaitley, Subramanian's four 'Economic Surveys' were treated by several independent critics as one of the best ever produced and was considered as "basic teaching material" all over the country.
Responding to the Facebook Post, Arvind Subramanian thanked Jaitley for the "extraordinarily generous words" while describing his job as the Chief Economic Advisor as the "most rewarding, fulfilling and exciting."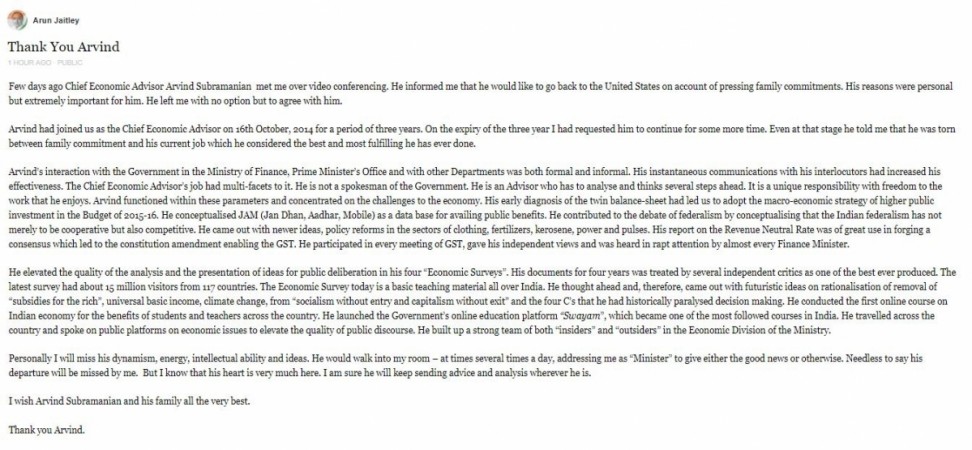 [With inputs from ANI]