At a time when China urges India to stop raising objections on the China-Pakistan Economic Corridor (CPEC) and join the Belt and Road Initiative, a new enterprise has emerged with the potential to help foster New Delhi's own agenda of better connectivity and cooperation within Asia and beyond.
Telecommunications services provider Global Cloud Xchange (GCX), a subsidiary of India's Reliance Communications (RCOM), announced on Wednesday that it would construct a $500-million submarine fibre-optic cable system, stretching 16,650 kilometres from Hong Kong to Italy.
GCX, which owns the world's largest private undersea cable network spanning over 67,000 kilometres, said that the construction of the new EAGLE submarine cable system would be part of its "Cloud and Fiber Initiative" that could serve as India's answer to China's Belt and Road Initiative.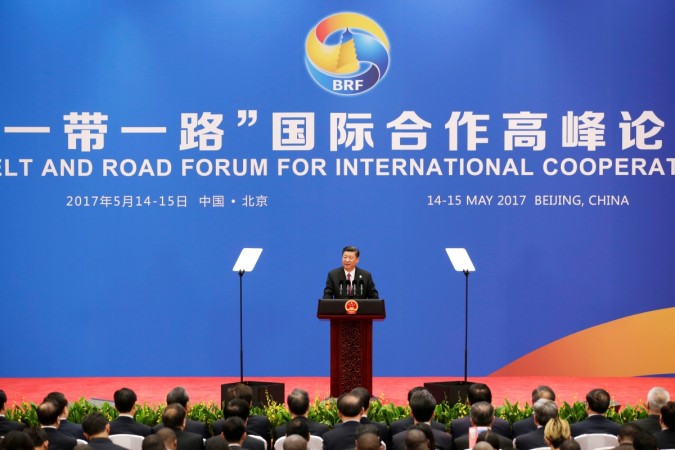 Introduced by the Chinese President Xi Jinping in 2013, the Belt and Road Initiative has been boycotted by India as the CPEC, which is part of the project, traverses through the Pakistan-occupied Kashmir. The Initiative covers both the New Silk Road connecting China with Europe over land and the Maritime Silk Road, which links the mainland to countries in Southeast Asia, Africa and Europe.
Despite being a private-sector venture, the new Eagle system is expected to help India solidify its own arrangements as the latest subsea cable technology is expected to meet rising demand for cloud computing infrastructure and bandwidth capacity around the world.
"The 'Cloud and Fiber Initiative' levels the playing field for India's tech companies to compete in the new digital order and to play a pivotal role in the anticipated hyper growth of technology expansion across the Emerging Markets Corridor," Bill Barney, Reliance Communications CEO, said in a statement.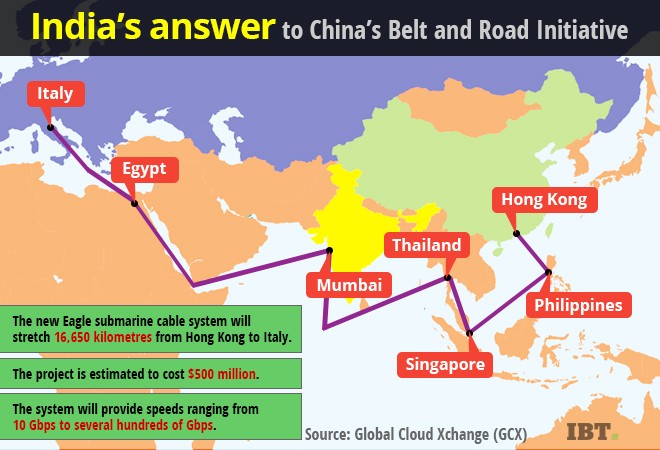 The new Eagle subsea cable system will go east from Mumbai via Thailand to Hong Kong, running approximately 7,750 kilometres with landing points in Singapore and the Philippines. The cable's 8,900km-long west route will connect Mumbai to landing points in Egypt and Italy.
The cable system, which is expected to be ready for service by the end of 2020, will allow companies to rent and own subsea capacity from speeds of 10 Gbps to several hundreds of Gbps between India and key technology centres across Asia, Middle East and Europe.
"India has a key strategic location in the global submarine cable network. New cables extending to the East and West from India will help to accommodate surging capacity demand and enhance network resiliency," Alan Mauldin, research director at TeleGeography, said in a statement.