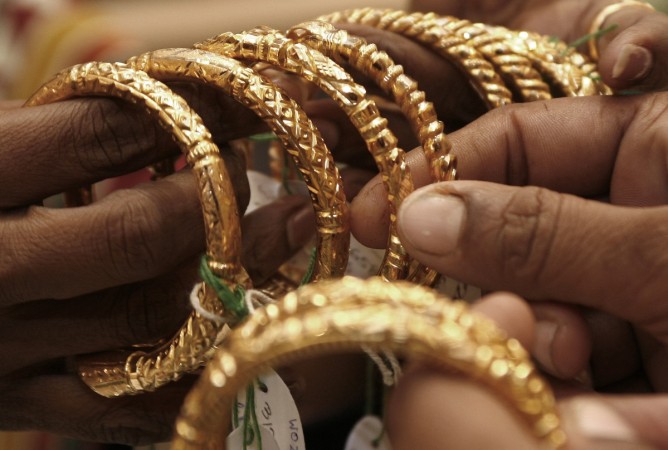 The demand for gold jewellery in India dropped to a record low of 662 tonnes in calendar year (CY) 2016 due to demonetisation, high prices and protests by traders in the initial months. The fall was 27 percent while in neighbouring China, the drop in gold jewellery demand was 17 percent, according to the latest report released by the World Gold Council (WGC).
Read: Gold is still the investment of choice in India and China: Here are pics of why gold shines!
Donald Trump's surprise victory in the United States presidential elections and Brexit fears also saw global gold demand hit a three-year high of 4,308.7 tonnes in calendar year (CY) 2016, though the demonetisation decision in India dampened it. Overall, the demand for gold jewellery worldwide dropped to a seven-year low.
The demand slump was offset by record annual inflows of 532 tonnes into gold ETFs, lifting overall demand by 92.9 tonnes to 4,308.7 tonnes in CY 2016.
Read: Gold, silver outlook for 2017 is bleak, says Angel Broking
Another noteworthy factor was the nine percent rise in gold prices despite some of the gains lost in Q4 on account of the US Fed interest rate hike and Trump's speeches post elections that were "conciliatory."
In India and China, demand for gold jewellery dropped in the initial months, but picked up in the October-December 2016 quarter aided by falling prices.
"Indian annual jewellery demand fell to a seven-year low amid strikes, regulation and high gold prices. Indian demand was 148.3t lighter than 2015 – the biggest yearly decline recorded in our historical data series," the WGC said.
The highlights and trends of world gold demand for CY 2016 were released by the WGC on Friday.
Here are the key takeaways from the WGC report:

2016 full-year gold demand gained 2 percent to reach a 3­-year high of 4,308.7t. Annual inflows into ETFs reached 531.9t, the second highest on record.

Annual bar and coin demand was broadly stable at 1,029.2t, helped by a Q4 surge.

Having risen 25 percent by the end of September, gold relinquished some of its gains in Q4 following Trump's conciliatory acceptance speech and the FOMC's interest rate rise.

Rising prices for much of the year, regulatory and fiscal hurdles in India and China's softening economy were key reasons for weakness in the sector (gold jewellery demand). India and China – the two largest markets – together accounted for almost 80 percent of the 347-tonne decline in full­year demand.

India's shock demonetisation policy brought the market to a virtual standstill. An initial rush for gold following the policy announcement came to a swift halt in the ensuing cash crunch.

The steep drop in the gold price, which coincided with the festival of Dussehra, supported gold demand in the first two weeks of October. Lower prices also added lustre to the key gold­buying occasion of Diwali. Then came the government's shock withdrawal of high denomination (Rs 500 and Rs 1,000) notes. The announcement on November 8 caught the market off­guard.

In China, despite the fall in the gold price, gold jewellery demand fell far short of expectations during October's 'Golden Week' national holiday

Central bank demand was the lowest since 2010. Net purchases (383.6t) were 33 percent lower than 2015, due in part to increased pressure on FX reserves. Despite this, 2016 was the 7th consecutive year of net purchases by central banks. 2016 was the 7th consecutive year of net purchases.

The mild upward trend in US jewellery consumption came to an end in 2016: demand slipped 1 percent to 118.3 tonne on weakness in the second half of the year. US consumers were more tentative in their demand for gold jewellery in the closing months of 2016.

In France, 2016 jewellery demand softened by 4 percent as consumer confidence was undermined by security concerns and increasingly divergent domestic politics. In the UK, the tentative gains made since 2012 came to a halt. Post ­Brexit uncertainty and pessimism affected consumers; Q4 demand fell 5% to 12.2 tonnes, leading to a 3 percent drop in annual demand to 25.2 tonnes.