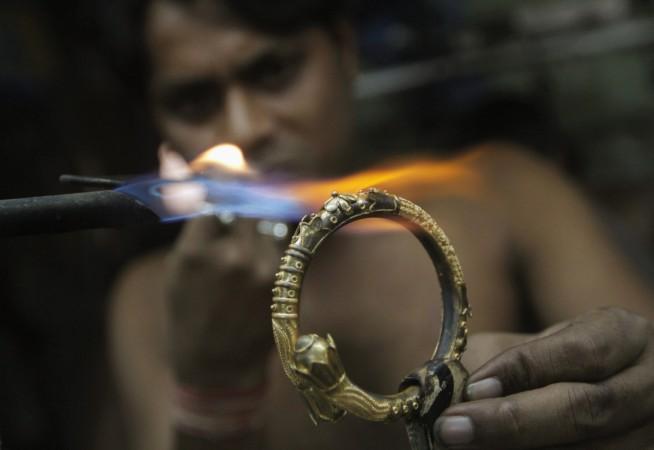 Brisk domestic buying for wedding season and global headwinds such as Brexit, Chinese currency worries and uncertainty over US president-elect Donal Trump's trade and economic policies lifted gold and silver prices on Tuesday. The two metals have gained almost 5 percent since January 1.
Gold gained Rs 150 to close at Rs 29,650 per 10 gm; based on its December 31, 2016 closing of Rs 28,300 per 10 gm, the metal has gained 4.77 percent.
Silver ended Rs 100 higher at Rs 41,400 per kg on Tuesday, translating into a gain of 5.34 percent based on its December 31 closing of Rs 39,300 per kg.
Read: Gold, silver outlook for 2017 is bleak, says Angel Broking
"Gold is going to do very well in the first half of the year due to Brexit concerns, Chinese currency pressure and uncertainty surrounding Donald Trump's policies," Reuters quoted Richard Xu, fund manager at China's biggest gold exchange-traded fund, HuaAn Gold, as saying.
Gold is also enjoying from what many political analysts call "TINA" (there is no alternative) factor. "Stock valuations are pretty high and bonds are not going to perform much better than what they are doing now. There are very few alternatives for liquidity to go to and gold prices will find some support," Xu told the agency.
Benchmark stock market indices closed with minor losses on Tuesday. The BSE Sensex ended 52 points lower at 27,235 while the NSE Nifty shed 15 points to close at 8,398.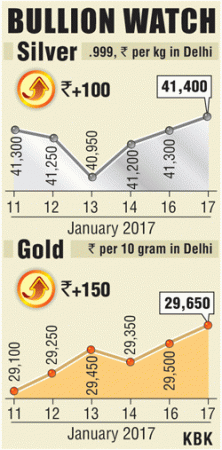 The weak GDP growth projection for FY2017 weighed in on market participants, according to an analyst."Market had started off with a positive sentiment supported by consensus over the roll out of GST, but this trend could not be continued as the investors mulled over 100bps cut in GDP by IMF to 6.6% in FY17. Weak opening in European market ahead of UK prime minister's speech regarding to BREXIT has added pressure to the market," Vinod Nair, Head of Research, Geojit BNP Paribas Financial Services, said in a note.
However, the progress made in the GST Council meeting was cheered by buoyancy in logistics stocks, brokerage Dynamic Levels said. Snowman Logistics, Patel Integrated, GATI and AllCargo were gainers, according to the firm.
Foreign institutional investors (FIIs/FPIs) were net buyers of Indian stocks worth Rs 142 crore on Tuesday, according to provisional data published by the National Stock Exchange (NSE).
Nifty remains confined within the 'Bearish Marubozu' range with resistance held firm around 8450, Motilal Oswal Securities said in its note.