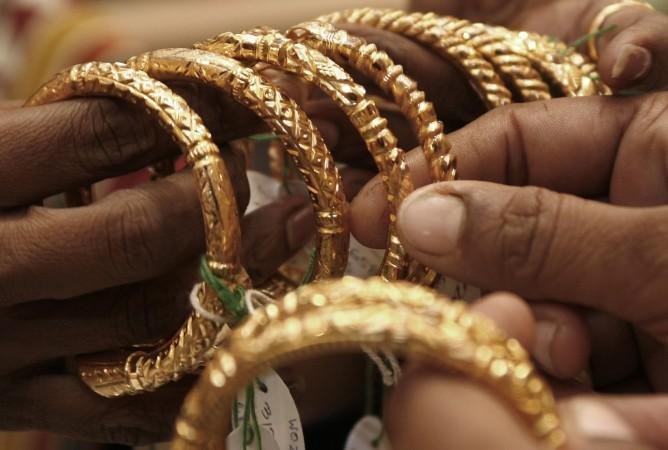 Gold and silver prices are likely to fall in calendar year (CY) 2017 as the two metals face a plethora of headwinds, both domestic and international. The forecast comes despite the 10 percent gain in gold prices and 16 percent in silver in CY2016. The first price-impacting news could come as early from Budget 2017 in the context of import duty on gold, Angel Broking said in a note. Currently, the import duty on the yellow metal is 10 percent.
A resurgent American economy is also a strong factor that will impact gold prices in CY 2017.
Read: Gold prices fall 11%, silver down 12% since PM Modi's demonetisation decision
Fifth tranche of gold bond scheme nets Rs 820 crore
"In 2017, Gold prices in the international markets (CMP: $1184/oz) can possibly move down towards $1050/ounce mark while MCX gold prices can go lower towards Rs.26000/10 gms. (CMP: Rs.28055/10 gm)," the brokerage in its sectoral update.
"The silver lining for gold could be a halt by miners if prices fall below the crucial threshold of $1,000 an ounce, giving some respite to the freefall. In the base scenario, comex gold prices (CMP: $1180 per ounce) in the international markets can go lower towards $1050 mark.
However, the supply-side fundamentals reveal that, if prices again fall close to the $1000 mark, miners could take a backseat, thereby creating a supply-side constraint. If miners actually go ahead with this move, then gold prices could sustain, however a muted response from the miners could lead to further downside pressure in the gold prices," Angel Broking said.
"...for most producers the cost of production is in the range $1000- 1200, hence, it would be unprofitable venture for miners if prices go below $1100 or even $1000 mark," it added.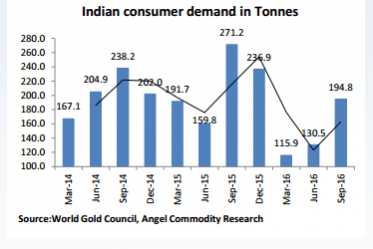 It may be recalled that gold imports by India remained subdued for most part of CY 2016 on account of various factors, including weak demand and restrictions on cash purchases beyond a certain limit.
The future trend in India — the world's second-largest consumer of gold — will depend on global factors, especially signals emanating from the US, besides from China and Japan.
"The trend deciding factors for gold prices in 2017 would be dependent on how the investment and physical demand trajectory remains. Rate normalisation process in the US, the Easy Monetary Policy in the Euro Area and Japan, growth in China (Serious cause of concern), and OPEC dynamics of production cut and price stability (inflation hedge appeal for gold), speculative interest in gold by hedge funds and money managers will have its own role to play for gold," the brokerage said.
Silver trends
The outlook for the metal is equally weak, given a hardening US dollar, though there is a catch. "...the U.S. and China have consistently ranked in the top three of all countries in terms of silver demand (collectively making up 40% of all global demand in 2015) so the countries' monetary/fiscal policies along with U.S. and Chinese hedge fund activity tend to have a significant impact on silver prices if it turns out to be black swan event," Angel Broking said.
However, for Indians, silver is unlikely to be a safe investment bet in CY 2017.
"The metal (16.5/oz) can fall towards $13.5 per ounce in the international markets while Rs 35,000 in the Indian markets (Rs 40,380/kg) seem to be the ideal levels for investor to enter in the commodity for target higher towards Rs 44,000 per kg in 2017.
Silver imports by India have been rising consistently over the years, from 6,144 tonnes in 2013 to 7,164 tonnes in 2014 and 8,529 tonnes in CY 2015, the brokerage said.
On Friday (January 13), gold gained Rs 200 to close at Rs 29,450 per 10 gm, while silver prices dropped Rs 300 to end at Rs 40,950 per kg.