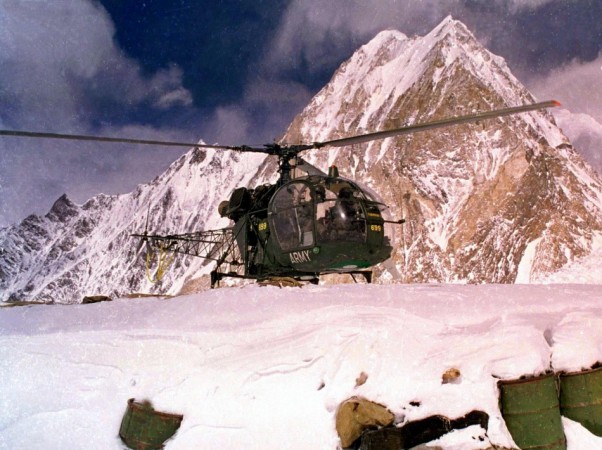 The Indian Army is close to giving a go-ahead for indigenous manufacture of specialised clothing and equipment − under the Make-in-India initiative − needed to protect soldiers deployed at Siachen Glacier. Located in the eastern Karakoram range in the Himalayas, it is touted to be the world's highest and most dangerous battlefield where temperatures routinely plunge to minus 50° Celsius.
More than 90 percent of the casualties suffered by the army on the glacier has been due to elements rather than enemy action. For the soldiers, it's a constant battle of survival against severe cold, avalanches, landslides, frostbite and high-velocity winds. In the last 10 years, 163 soldiers have perished while deployed on the glacier.
India and Pakistan have been fighting over the strategically-important Siachen glacier since 1984.
At the moment, India spends Rs 800 crore every year to import Extreme Cold Weather (ECWCS) mountaineering gear for soldiers deployed at heights ranging from 16,000 feet to 20,000 feet on the glacier. The clothing and equipment are mainly bought from the US, Canada, Austria and Switzerland. Nearly Rs 300 crore will be saved annually by manufacturing the equipment in the country.
"The project under which these items will be made in the country is about to be finalised and the private sector will be actively involved," a ministry of defence official said.
The equipment which will be manufactured in India will include snow goggles, thermal insoles, boots, ice axes, avalanche victim detector kits, sleeping bags and karabiner-related mountaineering equipment.
The equipment will be divided into two categories: The first one will be given to soldiers who are deployed between the heights of 9,000 feet to 12,000 feet and the second will be issued to soldiers deployed over the heights of 12,000 feet.
Some of these will be also supplied to troops deployed in high-altitude areas on the India-China border like Doklam, where forces of the two countries were involved in a serious face-off in 2017.