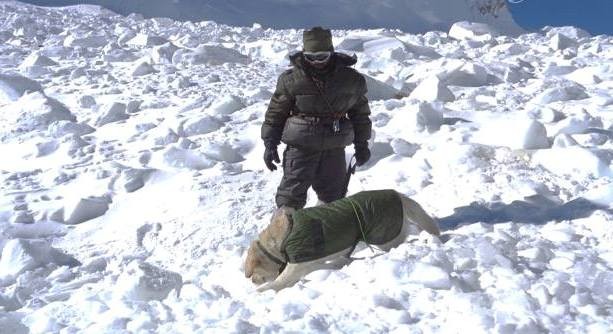 Avalanches have claimed several lives in recent times in Jammu and Kashmir, especially those of Indian Army personnel. While the army often makes use of mechanical equipment to look for people buried under snow, they have a secret weapon that makes their task easier and more rewarding: two Avalanche Rescue Operation (ARO) dogs!
Also read: Why Bob Marley could very well be your dog's best friend
The danger of avalanches
Avalanches have been the bane of the Indian army recently. While some may kill those buried under the snow almost instantly, others can be brutal in entirely different ways. Primarily, it is extremely difficult to find people buried in the thick blanket of snow, and only after their location has been pinpointed can they be extricated.
And even if people are rescued, they could already have been fatally affected, and have been known to succumb to whatever injury they may have sustained when buried under the snow. This was the case with as many as five Indian soldiers who were buried by an avalanche, when out for patrolling. Thus, finding people buried in the snow on time becomes all the more important.
Dot and Misha to the rescue!
According to the Additional Directorate General of Public Information (ADGPI) of the Ministry of Defence — which acts as a spokesperson for the Indian army: "ARO dogs act as significant 'force multipliers' in all such rescue missions. A pair of fully trained ARO dogs can search five acres of a snow-bound area in one hour, whereas it requires 20 men and a minimum of two hours to do the same thing with limited effectiveness."
The ADGPI adds: "The credible performance of ARO dogs Dot and Misha of an Army Dog Unit in high altitudes and the difficult terrain of the Siachen Glacier last year during 'Op Sonam,' which led to the recovery of soldiers buried under 20-30 ft of snow is testimony to the capabilities of ARO dogs."
The canines have been reared by the Remount Veterinary Corps, and the ADGPI says of them: "These dogs are able to manoeuvre difficult slopes, sharp turns and narrow passages with great agility and sniff every inch of ground, which is not possible during search by any other means."
Here's a doff of the cap to the capers of these furry friends of the Indian army.