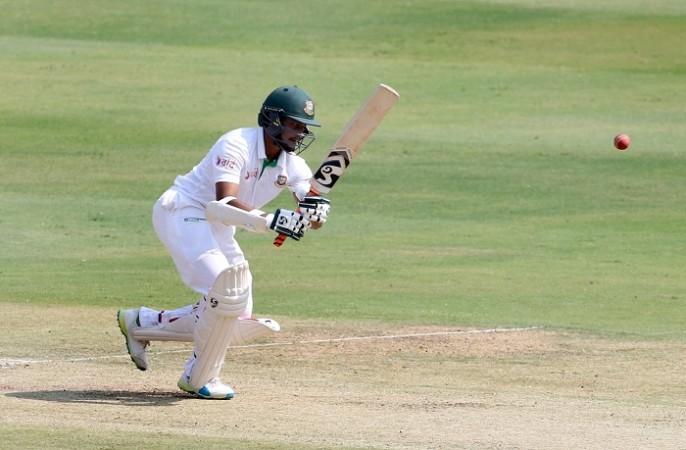 If Bangladesh were expected to just fold over and put India on course for a win inside four days, that memo clearly did not get to Mushfiqur Rahim's men, or if it did, it was quickly thrown away into the dustbin.
Virat Kohli double century highlights
On a wicket that is still quite good for batting, Bangladesh showed great mental resolve and fight to frustrate the India bowlers and push this Test match in Hyderabad, the first ever between these two sides on Indian shores, a step closer to a draw.
After India piled on 687/6 before declaring, it looked a matter of when India would win rather than if, particularly after the home side also managed to pick up a Bangladesh wicket right on the end of day two.
That looked all the more likely when Tamim Iqbal (24, 53b, 3x4) was needlessly run out in just the third over of day three, after a massive mix-up with Mominul Haque.
With Mominul (12, 36b, 1x4) and Mahmudullah (28, 57b, 4x4) also falling without too much resistance and Umesh Yadav reverse-swinging the ball quite brilliantly, the Bangladesh innings was hanging by a thread at 109/4.
Then, Shakib Al Hasan decided to counter-attack and with a solid partner in captain Mushfiqur Rahim at the other end, Bangladesh produced a comeback, one that caught the India bowlers off guard and turned this Test match from an Indian winning procession into a maybe-Bangladesh-can-save-the-game-after-all.
Shakib was a little lucky, initially, to survive the reverse-swinging onslaught from Umesh, who for the third series in a row, was India's most unlucky bowler. There were numerous deliveries that went past the outside edge and many that went through or over the slips when that edge was found.
However, Shakib rode out that particular storm and then cut loose with great effect. There was plenty of risk in his shot-making, but the one thing that stood out in Shakib's innings was that there were no half-measures. If he went for an attacking shot, he went with all his might, which meant that even if he mishit the shot, the ball would invariably drop away from the fielders, who, for the most time, were inside the circle, with Virat Kohli, that big total to play with, staying on the attack.
If you live by the sword, though, you will eventually die by it, and so it happened with Shakib (82, 103b, 14x4) holing out to Umesh Yadav at mid-on, while going for a big shot off R Ashwin, who apart from that one wicket, was quite ineffective on the unresponsive pitch.
That ended a 107-run partnership and Bangladesh could have easily folded for a score inside 250, with Sabbir Rahman (16, 35b, 2x4) also dismissed relatively quickly by Ravindra Jadeja. But, Mushfiqur stayed strong at one end and the teenager Mehedi played an innings well beyond his years.
He might still only be 19, but the youngster showed the maturity and batting nous of a Test match veteran to stay with his captain and the two right-handers forged an unbeaten 87-run partnership, which completely shut India's hopes of, maybe, batting a little today, and a bit more tomorrow to give the bowlers a rest, before going at the Bangladesh batsmen again in the second innings.
Scores:
First innings: India: 687/6 declared in 166 overs.
Bangladesh: 322/6 in 104 overs, trail by 365 runs.
Overnight score: 41/1 in 14 overs.
Batting in the middle: Mushfiqur Rahim (81, 206b, 12x4) and Mehedi Hasan (51, 103b, 10x4).
Bowling: First innings: India: Bhuvneshwar Kumar 17-6-46-0; Ishant Sharma 16-5-54-1; R Ashwin 24-6-77-1; Umesh Yadav 18-3-72-2; Ravindra Jadeja 29-8-60-1.
Fall of wickets: First innings: Bangladesh: 38/1, Soumya Sarkar (11.2 overs); 44/2, Tamim Iqbal (16.4 overs); 64/3, Mominul Haque (24.1 overs); 109/4, Mahmudullah (34.4 overs); 216/5, Shakib Al Hasan (62.1 overs); 235/6, Sabbir Rahman (71.1 overs).