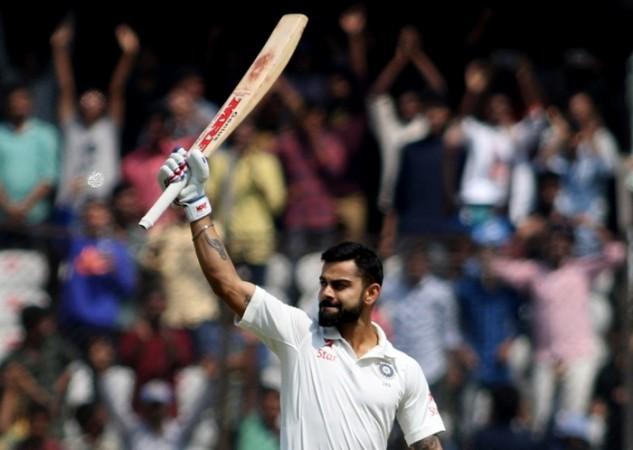 India picked up from where they left off in the final session of day one, with Virat Kohli and Ajinkya Rahane turning on the boundary-style in the first hour of day two, before the runs just kept coming and coming. With Kohli hitting his fourth double century in Test match cricket and India declaring on a massive first innings score, Bangladesh have a huge mountain to climb if they are to save this Test match in Hyderabad, with the visitors already losing one of their openers.
India vs Bangladesh day one highlights
Bangladesh's plan would have been to get a few early wickets in the morning and if that was not possible, at least to curtail the run flow. Unfortunately, neither of those plans worked out.
Taskin Ahmed did not have a great time of it. Bowling with a ball that was just nine overs old, you would have expected him to at least hit the right lines and lengths, but instead, he was just too short, on both sides of the wicket, and as a result, his five overs went for 38 runs.
The first hour produced 70 runs in 14 overs, with Kohli taking off in the first 45 minutes or so, before Rahane helped himself to a few boundaries as well.
A half chance goes begging
During that attack, there was one chance given, well half-chance really, when Rahane's cut shot was almost pouched by Sabbir Rahman at deep point, diving forward. Had he taken it, it would have been some catch, with the fielder doing well just to get to the ball in time to even turn it into an opportunity.
The run flow did reduce a little as Shakib Al Hasan, given a long bowl this time after hardly featuring on the opening day, Taijul Islam and Mehedi Hasan came in. The field was spread and the line of attack was a lot more defensive, with the Bangladesh captain Mushfiqur Rahim just trying to keep the run rate down.
However, the problem with such a defensive field is that, while it reduces the boundaries, it also allows Kohli and Rahane to play risk-free cricket and yet pick up three to four runs an over, with all the singles on offer.
Finally a wicket
That little bit of pressure that was created by stopping the boundaries, however, did bring up the wicket, with Rahane (82, 133b, 11x4) falling with about 25 minutes to go to Lunch. Rahane went for a big drive off a tossed up delivery from Taijul, but he only found the outer edge of the bat, with Mehedi taking a brilliant catch, diving full-length to his left.
Rahane would have been kicking himself at getting out, because there was a big hundred on offer there, but there were some good signs for the Indian spinners, with the Bangladesh slow bowlers getting some decent turn from certain areas on the pitch.
Kohli and Wriddhiman Saha, who came in ahead of R Ashwin, were tasked with taking India into Lunch without any more damage, and they did that, just about, with Kohli having an lbw decision overturned on review, while Saha was lucky not to be stumped as Mushfiqur missed an easy chance.
Run flow continues
With the ball starting to turn, the second session looked like being a different ball game, and even if a couple of wickets fell – the first time Bangladesh have managed to pick up more than a single wicket in a session in this Test match – India just continued piling on the runs.
Kohli (204, 246b, 24x4) got to his double century and with it became the first man to score four double hundreds in four straight series. Soon after, though, the captain was given out lbw off Taijul. Had he gone for a review, however, he would have survived, with the ball hitting him outside off.
Ashwin (34, 45b, 4x4) came in and put on a 74-run partnership with Saha in just over 15 overs, before Saha forged another half-century alliance, this time with Ravindra Jadeja. The final one pushed India's total past 600, before going all the way to 687 as both Saha and Jadeja completed their respective milestones.
Second Test century for Saha
Saha (106 n.o., 155b, 7x4, 2x6) got to his second Test hundred, with a six straight back past the bowler, Jadeja (60 n.o., 78b, 4x4, 2x6) struck another half-century and India finally ended Bangladesh's misery in the field.
With an hour to bat out to stumps, Tamim Iqbal and Soumya Sarkar were pretty comfortable, with neither Bhuvneshwar Kumar nor Ishant Sharma able to do much with the new ball.
Ashwin was brought in after ten overs and even the off-spinner was played with a great degree of comfort. It looked like Bangladesh would end day two with all ten wickets intact, only for Umesh Yadav to pick up a wicket in his first over, dismissing Soumya Sarkar (15, 31b, 3x4).
The wicket was down to Kohli, with the captain deciding to go for a review for an inside edge that was taken by Saha. The bowler and wicketkeeper were not confident, but Kohli was and UltraEdge heard a slight nick on the bottom of the bat on the way through.
Scores:
First innings: India: 687/6 declared in 166 overs.
Overnight score: 356/3 in 90 overs.
Bangladesh: 41/1 in 14 overs, trail by 646 runs.
Batting in the middle: Tamim Iqbal (24, 48b, 3x4) and Mominul Haque (1, 5b).
Bowling: First innings: Bangladesh: Taskin Ahmed 25-2-127-1; Kamrul Islam Rabbi 19-1-100-0; Soumya Sarkar 1-0-4-0; Mehedi Hasan 42-0-165-2; Shakib Al Hasan 24-4-104-0; Taijul Islam 47-6-156-3; Sabbir Rahman 3-0-10-0; Mahmudullah 5-0-16-0.
India: Bhuvneshwar Kumar 5-2-7-0; Ishant Sharma 5-0-30-0; R Ashwin 2-1-1-0; Umesh Yadav 2-1-2-1.
Fall of wickets: First innings: India: 2/1, KL Rahul (0.4 overs); 180/2, Cheteshwar Pujara (50.5 overs); 234/3, M Vijay (63.4 overs); 456/4, Ajinkya Rahane (113.3 overs); 495/5, Virat Kohli (125.1 overs); 569/6, R Ashwin (140.3 overs).
Bangladesh: 38/1, Soumya Sarkar (11.2 overs).