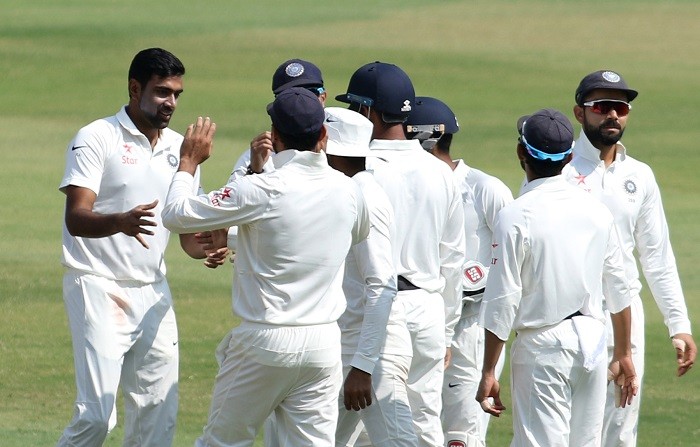 India just continue to roll on at home. No matter what the pitch, what the conditions, this India team always seem to find a way, with the victory over Bangladesh being their eighth win in nine in this long Test match home season.
Twitter reactions to India's win over Bangladesh
On a pitch that had little to nothing in it for the bowlers through the five days, India kept at it, kept plugging away, with Bangladesh's resistance eventually breaking.
Here are a few talking points/takeaways from this engrossing Test match in Hyderabad.
Five bowler theory to the fore again: There was some talk about India maybe going in with just four bowlers for this match. Thankfully, Virat Kohli and Anil Kumble decided to stick with the same five-bowler theory, and while they played the extra fast bowler instead of Jayant Yadav, every one of those bowlers were needed in the end.
Bhuvneshwar Kumar might not have bowled too much, but he picked up a crucial wicket in the first innings and that extra option proved to be vital on a wicket that would have normally given bowlers nightmares.
Ishant Sharma's spell: Right after Lunch on day five, there was a bit of a groan that went around when Ishant was given the ball instead of R Ashwin. Ravindra Jadeja had started the session off at one end and just when it seemed obvious that it would be the two spinners bowling in tandem, Kohli threw the ball to his lanky fast bowler.
Maybe it was just that captain's intuition or maybe Ishant himself had asked for an opportunity, but whichever it was, it turned out to be a really good decision. Ishant ended up bowling one of the spells of the match, reverse-swinging the ball wonderfully to trouble the Bangladesh batsmen. He ended up with two wickets, that of Sabbir Rahman and Mahmudllah, the last two recognised batsmen in the Bangladesh lineup, and, while he should have had one more, it did not matter too much in the end as India went on to win the match.
Virat Kohli, the unstoppable run machine: Sometimes, you really do wonder if this man is human. The manner in which he bats in limited-overs cricket was superhuman enough, but he has now taken that out-of-this-world form to the Test match level as well. With his double hundred in Hyderabad, Kohli became the first batsman ever to score four double centuries in four consecutive series, with it beating a record which was previously held by the greatest batsman to ever play the game – Don Bradman – and one of the best this country has ever seen – Rahul Dravid.
Mehedi Hasan a star in the making: While he might not have been too effective with the ball – even the world's best spinner struggled on this wicket – Mehedi showed he has some serious talent. There were a couple of spells with the ball where he showed his capabilities, but where he really impressed in this Test match was with the bat.
In the first innings he hung around ably with his skipper Mushfiqur en route to scoring his maiden Test match half-century. In the second innings, batting on the final day, he played out 61 balls, frustrating the India bowlers in the process. His technique is really good, but what stood out was his temperament – Mehedi, at 19, batted like an experienced pro. If he can keep producing such innings with the bat, to go with his obvious talent with the ball, Bangladesh will have a real superstar for the future.
Bangladesh will get better: Mushfiqur, before the start of this one-off Test, implored the superpowers of world cricket to play them more. On the evidence of this match, he has a point. Yes, the wicket was flat, which is why Bangladesh could take this game all the way to the final day, but the fight that the batsmen showed was impressive and bodes well for the future. More matches against strong opposition and Bangladesh will become a really good Test side, and not just at home.