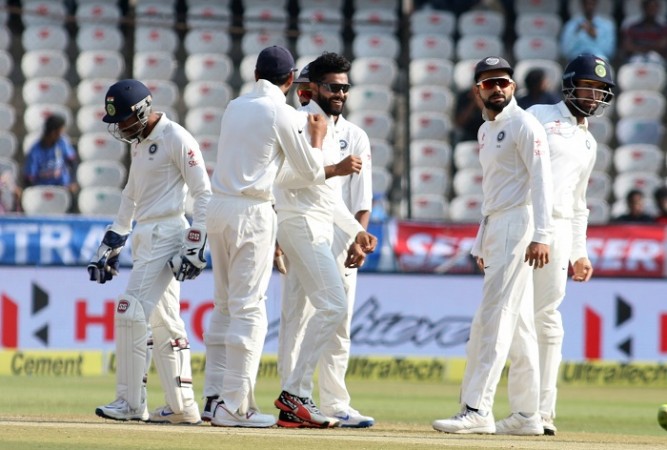 It was a long toil, but eventually, India wore down the Bangladesh batsmen, with it picking up their fifth consecutive victory in Test match cricket.
India vs Bangladesh Test talking points
On a day five wicket that was still quite good for the batsmen, the India bowlers had to stay patient, and understand that the seven wickets they needed on the final day in Hyderabad would come. It did, but not in clumps like they are used to, but in a slow trickle, with the Bangladesh batsmen putting up a really impressive fight.
The first session was the key for India, with the spinners Ravindra Jadeja, who had a long bowl, and R Ashwin, who did not get that many overs on day five, dismissing Bangadesh's two best batsmen – Shakib Al Hasan and Mushfiqur Rahim.
One they were dismissed, Bangladesh slowly but surely fell away, with only Mahmudullah getting past the half-century mark.
It is far from a procession of wickets, but India moved a little closer to victory in this one-off Test match in Hyderabad after Bangladesh lost their two best batsmen on day five morning.
Bangladesh's strong first innings was built on the back of an 82 from Shakib Al Hasan, a real counter-attacking innings, and century from the captain Mushfiqur Rahim, who showed great defence throughout that brilliant knock.
However, it was the penchant to not completely trust his defence that led to his dismissal, just when Bangladesh were building a partnership after receiving an early blow when Shakib fell.
There was nothing much that Shakib (22, 50b, 4x4) could do about his wicket, with a ball from Ravindra Jadeja taking off from the rough, hitting his gloves, and then his body before falling into the safe hands of Cheteshwar Pujara at short leg.
Bangladesh recovered well from that dismissal, with Mushfiqur and Mahmudullah putting on a decent partnership, while looking fairly comfortable against Jadeja, whose line from over the wicket was not quite as potent to the right-handers.
For the first hour, Virat Kohli went with an attack of Jadeja at one end and a pace bowler – there was enough reverse-swing for Umesh Yadav and Ishant Sharma to give them encouragement – at the other, which meant R Ashwin had to stay patient for his opportunity.
However, when he did get one, he struck immediately, even if Mushfiqur's shot selection was to blame. Having just driven one nicely for a boundary, Mushfiqur (23, 44b, 2x4, 1x6), clearly deciding to take the attack to Ashwin in a bid to throw India's best bowler off his rhythm, danced down the track to loft one over the infield.
He completely miscued his shot, though, and Jadeja took a simple catch at mid-off, leaving Bangladesh exposed. It nearly got worse when Mahmudullah, inexplicably, tried the same thing next ball, with the ball, thankfully for Bangladesh and the batsman, falling short of KL Rahul at deepish midwicket.
Sabbir Rahman came in and stuck with Mahmudullah to see Bangladesh to Lunch with five wickets still intact.
With the pitch still playing pretty well for the batsmen – as long as you defended, it was pretty easy to play on this wicket – Bangladesh would have backed themselves to take this game right to the end and pull off a draw, if only the last recognised pair had stayed together longer.
However, Sabbir Rahman (10, 38b, 2x4), after a decent partnership with Mahmudullah, succumbed to a straight ball from Ishant, who was given the ball after Lunch ahead of Ashwin.
Mahmudullah was lucky to survive in the next over, when he was beaten by a full delivery from Jadeja. With the batsman out of the crease, Wriddhiman Saha, though, could not gather the ball cleanly and Mahmudullah survived.
That miss wasn't too expensive, though, as Ishant, with his tail up after that wicket and in a wonderful spell, dismissed the settled man. After two short balls, which had Mahmudullah hopping a little, Ishant kept that same length, and eventually found a top edge, which was taken by Bhuvneshwar Kumar at fine-leg. The fast bowler should have had Mehedi as well in the spell, with the Bangladesh batsman, first lucky to survive an lbw appeal – India could not review, because they were out of them – and then dropped by Murali Vijay at first slip.
Mehdi and Kamrul Islam Rabbi (3 n.o., 70b), sent in ahead of the two left-handed tail-enders, ate up 14 overs together – only 17 runs were scored in that period – before Jadeja finally broke through, getting one to bounce and turn to take the glove of Mehedi (23, 61b, 4x4) en route to Saha's mitts.
With the rough in play now thanks to the left-handers, Jadeja and Ashwin got the final two wickets, as India extended their unbeaten run in Test cricket to an impressive 19.
Australia are next.
Score:
First innings:
India: 687/6 declared in 166 overs.
Bangladesh: 388 all out in 127.5 overs.
Second innings:
India: 159/4 declared in 29 overs.
Bangladesh: 250 all out in 100.3 overs.
Overnight score: 103/3 in 35 overs.
Target: 459.
Result: India won by 208 runs.
Bowling: Second innings: India: Bhuvneshwar Kumar 8-4-15-0; R Ashwin 20.3-10-73-4; Ishant Sharma 13-3-40-2; Umesh Yadav 12-2-33-0; Ravindra Jadeja 37-15-78-4.
Fall of wickets: Second innings: Bangladesh: 11/1, Tamim Iqbal (5.2 overs); 71/2, Soumya Sarkar (22 overs); 75/3, Mominul Haque (24.1 overs); 106/4, Shakib Al Hasan (37.3 overs); 162/5, Mushfiqur Rahim (52.4 overs); 213/6, Sabbir Rahman (70.4 overs); 225/7, Mahmudullah (76.3 overs); 242/8, Mehedi Hasan (90.4 overs); 249/9, Taijul Islam (97.5 overs); 250/10, Taskin Ahmed (100.3 overs).