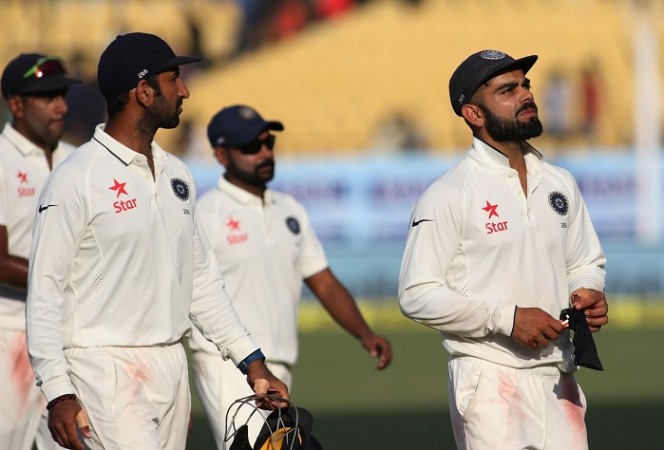 India have been dominant in the ongoing one-off Test match against Bangladesh in Hyderabad. India are in the driver's seat after a splendid all-round Day 4 performance on Sunday. With some quick wickets in the third session, Virat Kohli's team are seven wickets away from yet another Test win while Bangladesh require another 356 runs to win the match.
Click here to find out what happened on Day 3
India, after deciding not to enforce follow-on, compiled 159 runs in their second inning, setting up a mammoth 459 runs target for Bangladesh.
Bangladesh did not get off to a bright start, losing experienced Tamim Iqbal in the sixth over. Despite the early fall, Soumya Sarkar (42, 66b, 7x4) and Mominul Haque looked good with the bat, scoring some important runs, and not throwing away the wickets.
However, Indian bowlers were constantly putting pressure on Bangladesh batsmen, and the effort finally paid off when Ravindra Jadeja dismissed Sarkar. Ashwin soon followed suit, sending Mominul back to the dugout.
As a result, two new batsmen – Mahmuddulah and Shakib Al Hasan -- were on the crease and with spinners getting some purchase from the track, Kohli decided to set up an aggressive field. Though Bangladesh were on the backfoot, Shakib played some attacking shots against the spinners and remained unbeaten on 21 runs at the end of the day's play. Bangladesh finished off the day with 103 runs for the loss of three wickets.
The fifth day will be interesting with Indian bowlers going for a win, while Bangladesh will be keen to finish on a high and draw the match on Monday.
What happened in the first two sessions of Day 4?
The fourth day of the Test match had started brilliantly for India as Bhuvneshwar Kumar bowled Mehedi Hasan without troubling the scorers in the morning as he was dismissed for his overnight score of 51 runs. The wicket gave India a huge lift.
However, Mushfiqur Rahman (127, 262b, 16x4, 2x6) looked in control and went on to score a brilliant ton. But, the other end kept crumbling and Bangladesh were finally bundled out for 388 runs.
India did not enforce a follow on. India's plan was visibly clear when they came onto bat – get some quick runs under the belt and post a huge target. First innings centurion Murali Vijay and KL Rahul fell cheap, but Cheteswara Pujara and Virat Kohli kept the scoreboard ticking.
Kohli played shots all around the ground in search of quick runs, and Pujara (54, 58b, 6x4, 1x6) joined the act with some delightful boundaries. Kohli, (38, 40b, 2x4, 1x6) was dismissed and Ajinkya Rahane joined Pujara in the middle.
With Pujara's half-century, and good contribution from Kohli and Rahane, India posted a target of 459 runs before the skipper decided to declare.
Scores
Overnight score: Bangladesh - first innings - 322/6 in 104 overs
Bangladesh first innings: 388 all out in 127.5 overs
India second innings: 159/4 declared
Bangladesh second innings: 103/3 in 35 overs
Batting in the middle: Shakib Al Hasan (21, 31b 4x4), Mahmuddulah (9, 29b)
Bowling: First innings: India: Bhuvneshwar Kumar 21-7-52-1; Ishant Sharma 20-5-69-1; R Ashwin 28.5-7-98-2; Umesh Yadav 25-6-84-3; Ravindra Jadeja 33-8-70-2.
Fall of wickets: First innings: Bangladesh: 38/1, Soumya Sarkar (11.2 overs); 44/2, Tamim Iqbal (16.4 overs); 64/3, Mominul Haque (24.1 overs); 109/4, Mahmudullah (34.4 overs); 216/5, Shakib Al Hasan (62.1 overs); 235/6, Sabbir Rahman (71.1 overs), 322/7, Mehedi Hasan Miraz (104.4 ov), 339/8 Taijul Islam (113.5 ov), 378/9, Taskin Ahmed (124.3 ov), 388/10, Mushfiqur Rahim, (127.5 ov)
Bowling: Second innings: Bangladesh: Taijul Islam 6-1-29-0; Taskin Ahmed 7-0-43-2; Shakib Al Hasan 9-0-50-2; Mehedi Hasan 7-0-32-0.
Fall of wickets: Second innings: India: 12/1, Vijay (3.5 ov), 23/2, Rahul (5.4 ov), 90/3, Kohli (16.5 ov), 128/4, Rahane (26.1 ovs)
Bowling: Second innings: India: Bhuvneshwar Kumar 5-2-14-0; R Ashwin 16-6-34-2; Ishant Sharma 3-0-19-0; Umesh Yadav 3-0-9-0; Ravindra Jadeja 8-2-27-1.
Fall of wickets: Second innings: Bangladesh: 11/1, Tamim Iqbal (5.2 overs); 71/2, Soumya Sarkar (22 overs); 75/3, Mominul Haque (24.1 overs)