Once this incredibly-exciting, eye-catching, news-grabbing and all the other related adjectives-inducing India vs Australia Test series came to an end, there was that lingering question: Was this the best ever series between these two teams?
Virat Kohli not childish in comments over Australia players
Anytime that question is asked, usually there is only one answer – the 2001 series, which had, arguably, the best ever Test match played in the history of cricket.
And while that Test series will endure for years and years, mainly because of that Kolkata match, will the 2017 version be remembered fondly as well – be that for the bite on and off the field or for the four terrific Test matches that were on view?
Let's take a look at the two Test series:
2001: First Test: Played @ the Wankhede Stadium, Mumbai (February 27 to March 1):
This was a mauling by Australia, the Test match where the seemingly unbeatable team showed they why they were just that. Coming down to these Indian shores having won 15 consecutive Test matches, even an India team so formidable at home were not expected to stop the Australian juggernaut and that feeling only increased when Steve Waugh and co. completed a victory inside three days.
For all that, though, this Test match did show signs of an India charge – Sachin Tendulkar hit a magnificent 76 in the first innings, there was an outstanding "we shall not lie down and play dead" partnership between Tendulkar and Rahul Dravid in the second innings, and while Australia overwhelmed India by 10 wickets, there was just that tiny little feeling of something special on the horizon.
Score: India: 176 all out in 71.3 overs and 219 all out in 94.1 overs lost to Australia: 349 all out in 73.2 overs and 47/0 in 7 overs by ten wickets.
2017: First Test: Played @ the MCA Stadium in Pune (February 23-25):
Much like the 2001 opening Test match, this was a no-contest. Steve Smith won the toss, Australia batted first, put on 260 and from there it was all downhill and more for India. The two India innings combined did not even get close to Australia's first innings score, as a raging turner in Pune completely backfired on the home side.
The highlights of the match were the first of three hundreds in this series from Steve Smith and a 12-for for Steve O'Keefe, who could not have asked for a better comeback than that to Test cricket. On a pitch that was tailor-made for the bowlers, Smith took full advantage of the gifts handed out by India via dropped catches to strike a brilliant century.
Score: Australia: 260 all out in 94.5 overs and 285 all out in 87 overs beat India: 105 all out in 40.1 overs and 107 all out in 33.5 overs by 333 runs.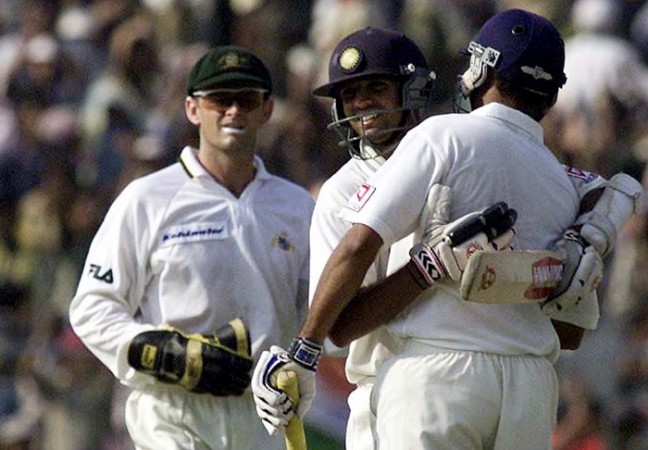 2001: Second Test: Played @ the Eden Gardens in Kolkata (March 11-15):
The best Test match of all-time, the comeback to beat all comebacks, the best individual Test match innings, one of the all-time great partnerships – this Test had it all and is rightly remembered as one of the all-time best.
Australia looked nailed-on to complete a series win. After posting 445 in their first innings, thanks to a century from Steve Waugh and a 97 from Matthew Hayden, Glenn McGrath picked up a four-for to bowl India out for 171.
Waugh asked India to follow-on and it has now gone down as one of the biggest mistakes, even if you really cannot blame the Australia captain. At 232/4, with Tendulkar, Sourav Ganguly and the two openers – SS Das and Sadagoppan Ramesh – back in the pavilion, India needed a miracle, not even a minor one, to save this Test match, let alone win it.
That miracle came through VVS Laxman, who during his entire career made it a habit of torturing the Australians, and Dravid. Laxman, with a bad back and everything, and Dravid put on 376 in 104.1 overs – Laxman scoring 281 and Dravid 180 – India went on to score 657 in their second innings, leaving Australia with a target of 384.
Tired and beaten by that partnership, Australia would not get close to that target – not that it ever was in play – with Harbhajan Singh running through the Aussie lineup to finish the match before the close of play. Great props should also go to Tendulkar, who picked up three wickets in that second innings, something that is forgotten, including the important ones of Hayden and Adam Gilchrist, who had annihilated India in Mumbai.
Score: Australia: 445 all out in 131.5 overs and 212 all out in 68.3 overs lost to India: 171 all out in 58.1 overs and 657/7 declared in 178 overs by 171 runs.
2017: Second Test: Played @ M Chinnaswamy Stadium, Bengaluru (March 4-7):
One of the modern-day great Test matches. After India won what was thought to be a vital toss, the batsmen collapsed again as Nathan Lyon made full use of the rough created by Mitchell Starc and the early moisture to pick up eight wickets.
The India bowlers, led by Ravindra Jadeja, did well to keep the lead to below 100, before, in the second innings, India came up with a brilliant partnership – not anything like the Laxman-Dravid one, but equally important. With the cracks opening up and the uneven bounce turning into an uncontrollable disease, Cheteshwar Pujara and Ajinkya Rahane added 118 runs to put India in a position where their bowlers could dictate terms on a wearing pitch.
Australia were given a target of 188, but with R Ashwin coming to the fore, the visitors were bowled out for 112.
Score: India: 189 all out in 71.2 overs and 274 all out in 97.1 overs beat Australia: 276 all out in 122.4 overs and 112 all out in 35.4 overs by 75 runs.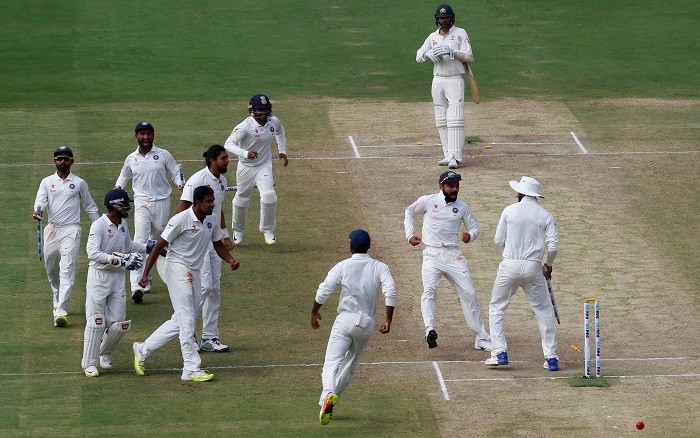 2001: Third Test: Played @ MA Chidambaram Stadium, Chennai (March 18-22):
Another ridiculously-good Test match. Australia batted first, Matthew Hayden scored a double century, but the visitors could only score 391 in their first innings. India answered with 501, courtesy a Sachin special, before Australia put on 264 to leave the home side needing 155 for victory.
It looked like a foregone conclusion, but Australia showed why they are such a special team – even Colin Miller chipped in with three wickets – by taking this match right down to the wire, with India scraping home in thrilling fashion.
Score: Australia: 391 all out in 115.2 overs and 264 all out in 97.4 overs lost to India: 501 all out in 165 overs and 155/8 in 41.1 overs by two wickets.
2017: Third Test: Played @ JSCA Stadium, Ranchi (March 16-20):
The only match to last the five days in this series, the only draw of the series. India were in confident mood coming into this Test match, but that confidence was sapped a little as Australia won the toss again and Smith scored another hundred. India answered back with a double century from Cheteshwar Pujara, with Wriddhiman Saha also scoring a ton, and Australia had to survive the last day to save this Test match, after being kept on the field by India for 210 overs.
It looked unlikely after they lost the two key wickets of Smith and Matt Renshaw – David Warner and nightwatchman Nathan Lyon had already been sent packing by Ravindra Jadeja on the previous day – but Shaun Marsh and Peter Handscomb allied for a match-saving 124-run partnership as India ran out of time to force a win.
Score: Australia: 451 all out in 137.3 overs and 204/6 in 100 overs drew with India: 603/9 declared in 210 overs.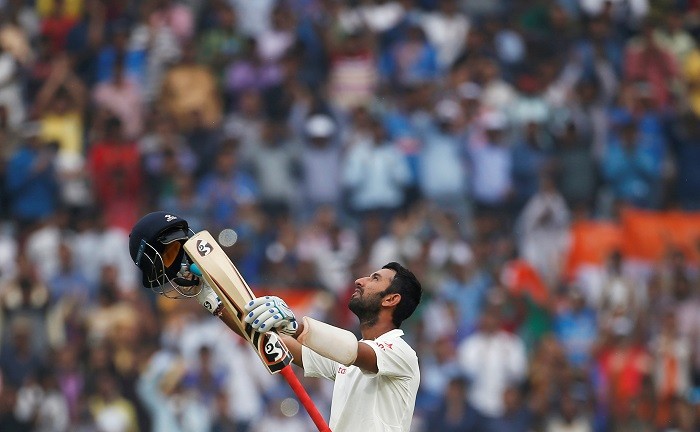 2001: Unfortunately, no fourth Test.
2017: Played @ HPCA Stadium, Dharamsala (March 25-28):
The Test match that would decide which team would take home the Border-Gavaskar Trophy. Australia had the early advantage by winning the toss and not having to worry about Virat Kohli, who had been ruled out with a shoulder injury.
They did not take advantage of batting first on a surface that had pace and bounce, though, as India somehow managed to keep Australia down to 300, with debutant Kuldeep Yadav grabbing a four-for.
India then grabbed a 32-run lead after the first innings, which meant everything was going to hinge on Australia's second innings.
Well, India showed why they are the No.1 Test side in the world by inducing an Australia collapse, with the home team then knocking down the small target with considerable ease.
Score: Australia: 300 all out in 88.3 overs and 137 all out in 53.5 overs lost to India: 332 all out in 118.1 overs and 106/2 in 23.5 overs by eight wickets.
Results: 2001: India won the three-match series 2-1.

2017: India won the four-match series 2-1.
So, which was the better Test series?