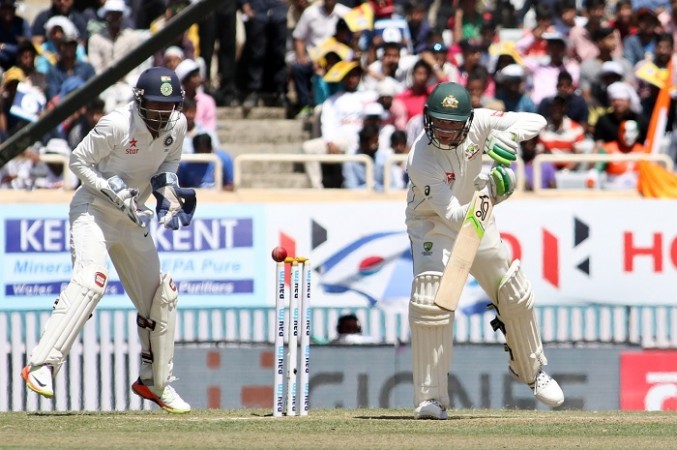 When India picked up the wickets of Matt Renshaw and Steve Smith off successive overs, to leave Australia four down in the opening session of the final day of the third Test match, the writing looked to be on the wall – another India win and a series lead of 2-1 going into the final Test match in Dharamsala.
Also read: Talking points from the Test match
However, Shaun Marsh (53, 197b, 7x4) and Peter Handscomb (72 n.o., 200b, 7x4) decided to tear that script right off by putting on a wonderful, patient and match-saving partnership of 124 runs in 62.1 overs, to help Australia pull off an improbable and memorable draw over India in Ranchi.
Coming together in the last half hour of the opening session of day five, when Australia were in deep trouble on 63/4, Marsh and Handscomb showed technique, patience and resolve in keeping the India bowlers, led by Ravindra Jadeja, at bay, and keep the series tied up at 1-1, with one more to play.
Both the batsmen were quite outstanding – solid in defence, and more than happy to break the spinner's length –particularly Ashwin's, who was not his potent self, yet again – by coming down the wicket.
Marsh started off a lot more fluently than Handscomb, with the latter more than happy to trust his defence, before eventually getting the run-flow going. While runs were not the order of the day, it was important for Australia to get past India's total and into the lead as soon as possible, just to crank up the frustration quotient a little bit more.
They got to within three runs of taking away the deficit at Tea, by playing out the entire second session, and from there, India looked to have met their match, with the pitch seemingly playing easier and easier.
Even when the new ball was taken, it did little to trouble Marsh and Handscomb, who, it must be said, were saved a couple of times by the umpire's call, as the two went about saving this Test match with great assurance.
Marsh finally fell, caught at short leg off Jadeja, with less than 11 overs remaining in the day, with Glenn Maxwell (2, 15b) also dismissed a little while later, but by then, and with Handscomb unmoved, the job was done, with only the handshakes remaining.
Earlier, it took India an hour and a half to get the opening wicket of the day. Ishant Sharma got one to tail-in, Renshaw (15, 84b, 1x4) missed, the ball struck his pads and the umpire Ian Gould, after a big appeal, raised that index finger.
Next over, Jadeja, who had threatened every now and then with balls that took off from the rough, but not often enough to really cause alarm to the Australia batsmen, got his first wicket of the day.
And that too of Smith (21, 68b, 2x4) – Australia's best batsman by a country mile and a centurion from the first innings.
Coming over the wicket to the right-hander, Smith decided to pad away another one of the balls, but this time, he didn't get the foot forward enough – clearly Smith hasn't quite mastered the art of kicking the balls away as well as Cheteshwar Pujara has – and the ball went past his front foot to smash into off-stump.
After an hour and a half of patience, India had found two of the biggest wickets they could have asked for – that of the captain and constant tormentor with the bat and that of the batsman with one of the best defences in the Australia team.
With the pressure increasing and increasing, Marsh and Handscomb did quite well to ensure no further damage was done till Lunch, before setting out their stalls in the middle in quite brilliant fashion.
First innings: Australia: 451 all out in 137.3 overs.
India: 603/9 declared in 210 overs.
First innings lead: 152 runs.
Second innings: Australia: 204/6 in 100 overs.
Bowling: Second innings: India: R Ashwin 20-10-71-1; Ravindra Jadeja 44-18-54-4; Umesh Yadav 15-2-36-0; Ishant Sharma 11-0-30-1.
Fall of wickets: Second innings: Australia: 17/1, David Warner (5.1 overs), 23/2, Nathan Lyon (7.2 overs); 59/3, Matt Renshaw (28.4 overs); 63/4, Steve Smith (29.1 overs); 187/5, Shaun Marsh (91.2 overs); 190/6, Glenn Maxwell (94.4 overs).
Result: Match drawn.
Series: Tied up at 1-1, with one more match to go.