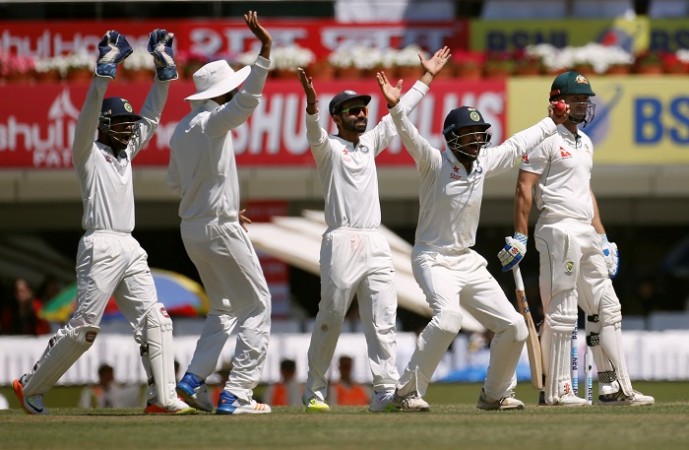 Australia came back from the dead to pull off a magnificent draw in the third Test in Ranchi against India.
Also read: Twitter, Dhoni and Ranchi
Staring down the barrel, Shaun Marsh and Peter Handscomb made sure they wouldn't allow the fat lady to sing, putting on a memorable partnership to keep this Test series tied at 1-1.
Here are the talking points from the third Test match:
Australia better than England:
Virat Kohli, when they beat England 4-0 in the five-match Test series, said he thought England were going to be their toughest opponents, and he was ecstatic at dominating Alastair Cook's men, but Australia have showed they are a much better Test team in these conditions.
Given absolutely no chance, with many predicting a 4-0 whitewash in India's favour, Australia won the Pune Test, before giving India a really difficult match in Bengaluru and then pulling off a stunning draw in Ranchi.
Smells like Aussie spirit:
The thing that worked against England was that, even when they batted big, India batted bigger and broke their spirits, with a collapse eventually coming in the second innings. Australia looked down and out at the end of day four, after India kept them in the field for 210 overs, but that spirit was well and truly alive on the final day, courtesy Marsh and Handscomb.
Virat Kohli injury: While Kohli came out to field in the second innings, that shoulder is still bothering him – he only stood in the slips, to avoid having to dive or throw. The India medical staff will do everything in their powers to get the captain fit and ready for the final Test match, and India desperately need their skipper to be in the right frame of mind, in all facets, in Dharamsala.
What's going on with Ashwin?
While expecting Ashwin to pull off a magical win every time is unfair, there does seem to be something not quite right with the off-spinner. Yes, he got six wickets in Bengaluru, but as the bowler himself said, that was more about pressure than him bowling unbelievably good deliveries. The loop, flight and drift that he was getting against New Zealand and England isn't as prevalent anymore – it wasn't there against Bangladesh and hasn't been there in this Test series so far either.
Having bowled so much, maybe Ashwin is just tired, and if it is that, it is perfectly understandable. If he is carrying an injury, even a slight one, India will be better off giving the off-spinner a rest, even if that isn't going to happen considering the final Test match is now a winner-take-all.
Was the batting too slow?
It is a pertinent question, because India eventually ran out of time. But the reason why India batted so slowly in their batting innings had more to do with the Australia bowling. Despite staying in the field for so long, Australia's discipline with the ball was impeccable, and there really were very few loose deliveries.
So, the credit must go to Australia's bowling, and Cheteshwar Pujara and Wriddhiman Saha did quite brilliantly to show the kind of patience they did, when throwing away their wickets would have been a lot easier.
One bowler short:
Maybe the extra bowler would have helped India on this pitch. Against England, the fifth bowler always proved to be crucial, and considering Karun Nair did not score too much for a second straight Test match, India could have played Jayant Yadav. But then, hindsight is always 20/20 isn't it.
Onto Dharamsala:
The final Test match of the series to decide the outcome of the series. Australia will be buoyed by the fight they showed with the bat in this match, and India will know they need to be at their absolute best, and then some, if they want to make it four series wins in a row in this home season. This last Test match, which will hopefully provide another good pitch, should be a cracker.