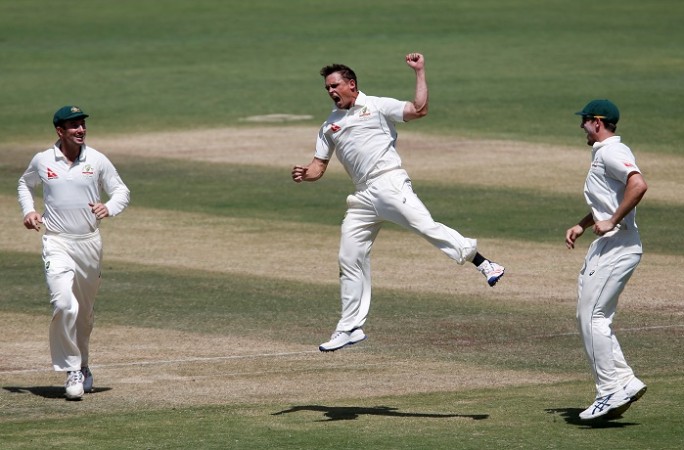 India made day two look like a sunny morning on a beach in Goa, as the batsmen caved in quicker than a sand castle in a storm on day three of the first Test match against Australia in Pune.
Takeaways from the first Test for India
Given a target of 441 to chase, after Steven Smith helped himself to a hundred and showed the Indian batsmen how you need to bat on this turning pitch, India showed no fight, gumption or guts, with their batsmen falling like nine pins.
Steve O'Keefe was the main man again, finishing with figures of six for 35 to go with his six-for in the first innings – his overall figures were 12/70, the second best figures against India in India – with Nathan Lyon chipping in with four of his own as India were bowled out for an embarrassing 107 in 33.5 overs.
That meant, Australia picked up a 333-run victory and a 1-0 lead in this four-match Test series.
The collapse started early this time – you know, why do a seven for eleven again, right – with both the openers failing to give India the start they needed.
Murali Vijay (2, 23b) was the first to go, trapped in front by O'Keefe, who was sometimes unplayable – or maybe it was just the fact that the India batsmen made him look like that – and with that wicket, India also wasted one of their two reviews.
KL Rahul (10, 9b, 1x4) was then caught plumb in front by Nathan Lyon, with the India batsman thinking that it was as good a time as any to waste the second remaining review.
With the openers and the reviews done, India's only hope, of at least pushing this Test match to the fourth day, was Cheteshwar Pujara and Virat Kohli putting on a big partnership.
There were some signs of that being possible, with the two right-handers staying together for over ten overs, but then Kohli's (13, 37b, 1x4) decision to leave an O'Keefe delivery led to his downfall, with the ball coming straight on with the angle and taking the off-stump.
O'Keefe was on a high and unstoppable after that as Ajinkya Rahane (18, 21b, 3x4) – caught in the covers while going for a drive on the up on a turning pitch – R Ashwin (8, 11b, 1x4) – lbw after Australia showed how a review must be used – and Wriddhiman Saha (5, 13b, 1x4) – lbw off the last ball before Tea – all fell to the guile and brilliance of the left-arm spinner.
Cheteshwar Pujara then walked in with Jayant Yadav to at least try and salvage some batting pride, but Pujara (31, 58b, 2x4) was walking back to the dressing room soon as another straight one led to yet another lbw – O'Keefe's fourth of the innings and Australia's fifth.
With just three more wickets remaining at that point, it was a matter of how much before the close of play on day three and the end proved to be extremely near when Ravindra Jadeja (3, 11b) and Ishant Sharma (0, 2b) fell in quick succession, both to Nathan Lyon.
Lyon would then pick up the final wicket as well, bat-pad to dismiss Jayant (5, 17b, 1x4), as the Aussies wrapped up a massive, massive win, their first on these shores since 2004.
Scores:
First innings:
Australia: 260 all out in 94.5 overs.
India: 105 all out in 40.1 overs.
Australia's first innings lead: 155 runs.
Second innings:
Australia: 285 all out in 87 overs.
Target: 441 runs.
India: 107 all out in 33.5 overs.
Match result: Australia won by 333 runs.
Bowling: Second innings: Australia: Mitchell Starc 2-2-0-0; Nathan Lyon 14.5-2-53-4; Steve O'Keefe 15-4-35-6; Josh Hazlewood 2-0-7-0.
Fall of wickets: Second innings: India: 10/1, Murali Vijay (4.5 overs); 16/2, KL Rahul (5.3 overs); 47/3, Virat Kohli (16.2 overs); 77/4, Ajinkya Rahane (22.3 overs); 89/5, R Ashwin (24.4 overs); 99/6, Wriddhiman Saha (28.3 overs); 100/7, Cheteshwar Pujara (28.5 overs); 102/6, Ravindra Jadeja (31.4 overs); 102/9, Ishant Sharma (32 overs); 107/10, Jayant Yadav (33.5 overs).