Blank them; win the matches by an innings; make the dominant home season even more dominant. Those were what all the "experts" were predicting for India before Australia came to these shores.
You can understand why.
India had blanked New Zealand 3-0, and then absolutely smashed England 4-0, before bashing Bangladesh in their first ever Test on these shores.
Also read: Complete Test series results
So, what hope did Australia, who were thrashed by Sri Lanka a few months back, have?
A lot, as it turned out.
The Pune Test brought out everything wrong about India's strategy – of preparing rank turners to suit their two world-class spinners.
That is the thing that is hard to understand. Why do world-class spinners need rank turners to pick up wickets?
Normal spinners will welcome a turning, spitting pitch, but surely R Ashwin and Ravindra Jadeja are good enough to get wickets on proper, Indian tracks.
Nope, let's make a spitting cobra was the decision and Australia were the ones to cut off the snake to jump into a wonderful series lead.
The thing about this India side, though, is that they do not how to lie down and play dead.
Nope, they are like the heroes from old Hindi movies, or even the South Indian ones, where the hero rises from the ground, with blood splashing everywhere, to take that final revenge.
The first blow was landed in Bengaluru.
On a wicket that turned out to be a nightmare for the batsmen as the cracks turned into craters and holes.
And what a blow it was too.
One of the best Test matches in recent memory, some of the best players in modern cricket slugging it out, and trying to figure out the opponent's next move, while producing a moment of magic themselves, with it all culminating in that caught and bowled from Ashwin as Nathan Lyon looked on in despair as his drive went straight back to the bowler.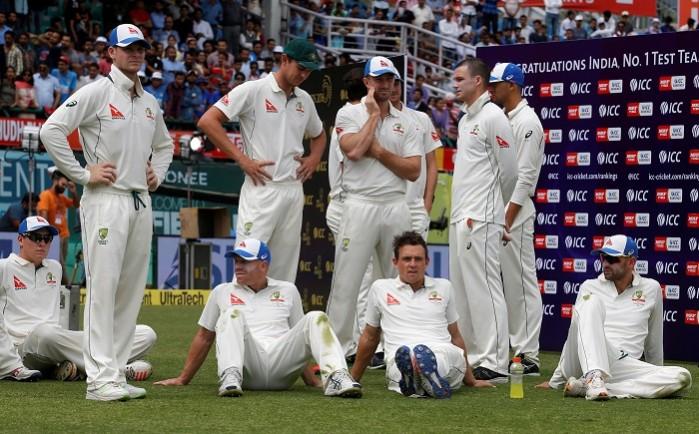 India, at that point, looked like the unstoppable juggernaut again, ready to smash through Australia and take the series 3-1, making the Pune match a mere blip in what has been a relentless, winning machine from the home side.
However, Australia showed that Steve Waugh-inspired fight again, this time to save a Test match in Ranchi.
It looked all done and dusted after Cheteshwar Pujara and Wriddhiman Saha had ground out the Australia bowlers, keeping them in the field for 210 overs. With eight wickets to take on the final day, there looked like being only one result, especially after Steve Smith got out in the first session.
But then, Australia showed the grit and determination they are famous for as Shaun Marsh and Peter Handscomb pulled out a draw out of nowhere, and just like that it all stayed level, making Dharamsala the series decider, the match that will decide who takes home the Border-Gavaskar Trophy.
It all got a little bit more heated up when Donald Trump – yup, only the Virat Kohli-obsessed Aussie media can manage that – was brought into this Test series, and then it looked like swinging Australia's way, when India lost their captain Virat Kohli, before leaking 131 runs in the first session, with Steve Smith seemingly on his way to a hundred, double hundred, maybe even a triple hundred, such was his control over the India bowlers.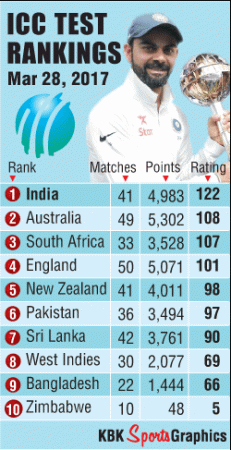 Remember about that lie down and play dead thing?
Well, India don't do that, even when Kohli isn't on the field.
They found their trump card through Kuldeep Yadav, Australia started to cave and that first innings total looked below par.
Remember that thing about Steve Waugh?
Well, Australia do not know when they are done either.
After India made a solid start, Australia, courtesy some tight bowling – Cheteshwar Pujara really does play into Australia's hands, though, by blocking, blocking and blocking some more, even when the situation demands something else – came back, with Nathan Lyon finding the key to unlock his cage and run through India's batsmen.
So, after three Test matches of ridiculous cricket, it looked like this game would really be decided on moving day in Dharamsala – day three.
And it did.
Ravindra Jadeja scored a priceless half-century, before Umesh Yadav and Bhuvneshwar Kumar produced a spell of fast bowling that would have made anybody that doesn't follow Test cricket take a look at you and ask "Why are you grinning like an idiot? OK, please stop, what is going on, why is that expression not changing? Stop being so happy!"
That spell with the new ball from Umesh and Bhuvneshwar was happiness for every single Indian fan.
And from that spell, India got their No.1 Test side mojo on.
R Ashwin and Ravindra Jadeja started to do what they have done through this entire season and Australia realised the fighting spirit of Steve Waugh had taken an early flight back home.
The final hammer was delivered by KL Rahul and Ajinkya Rahane on day four morning – an ODI-like partnership of 60 runs that zoomed India to victory, a series victory that has never tasted sweeter.