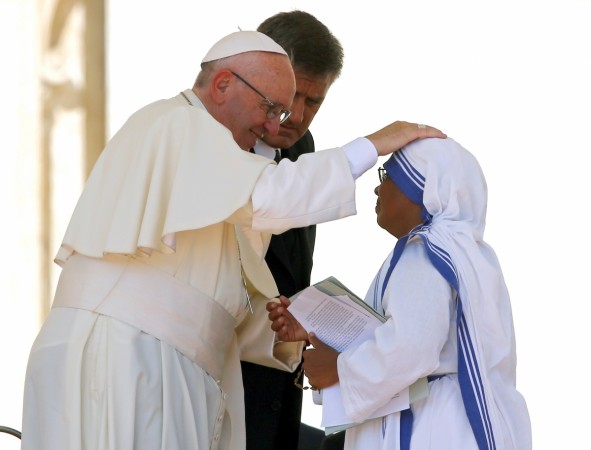 Here are some of the top stories from International Business Times, India that have broken throughout the day so far:
1. Mother Teresa declared saint; Pope Francis offers pizzas to homeless
The "saint of the gutters", Mother Teresa, was made a saint of the Roman Catholic Church by Pope Francis on Sunday. More than 100,000 pilgrims apparently attended the ceremony held at the St. Peter's Square at the Vatican. Read more here.
2. G20 Summit: We meet at a time when the world faces political and economic challenges: Modi
Prime Minister Narendra Modi, who landed in China on Saturday for the G20 Summit, held meetings wtih Chinese President Xi Jinping and other BRICS leaders on Sunday. The Hangzhou G20 Summit is the 11th one and is being hosted in China. Modi interacted with US President Barack Obama after the world leaders posed for a photograph. Read more here.
3. Raghuram Rajan says goodbye to RBI, says new governor will carry forward the work on inflation
Outgoing Reserve Bank of India (RBI) Governor Raghuram Rajan will hand over charge to Urjit Patel, the new central bank chief, on Sunday. On Saturday evening, the finance ministry held a farewell dinner for Rajan in New Delhi, which was attended by Finance Minister Arun Jaitley and other senior officials of the ministry. Read more here.
4. Why is Salman Khan praising ex-girlfriend Aishwarya Rai Bachchan?
Salman Khan and Aishwarya Rai Bachchan didn't split in the most amicable of ways, which is why they have maintained their distance ever since the split happened. But the "Sultan" star isn't the one to play safe. After watching the hauntingly beautiful "Ae Dil Hai Mushkil" teaser, Salman praised his ex-girlfriend. According to a BollywoodLife report, this is what he said: "She's so beautiful." Read more here.
5. AAP sex scandal: Sandeep Kumar arrested after party sacks him
Former Delhi Cabinet minister Sandeep Kumar was sacked from the Aam Aadmi Party (AAP) on Saturday. He was then arrested by the police after the woman in the sex CD that is in the midst of the row alleged that she was raped. He had initially surrendered to the cops. Read more here.