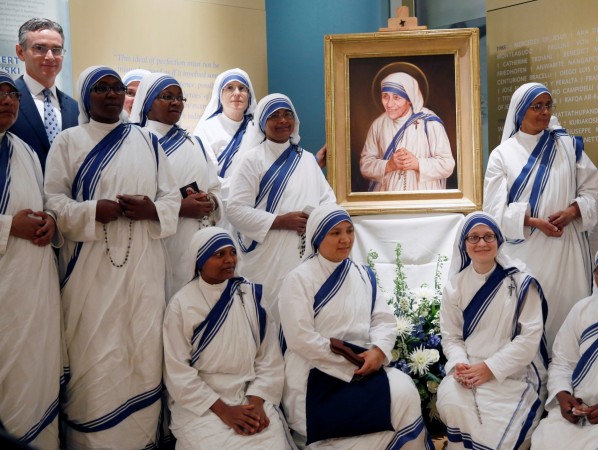 The 'saint of the gutters' Mother Teresa was made a saint of the Roman Catholic Church by Pope Francis on Sunday. More than 100,000 pilgrims are expected to attend the ceremony which will be held shortly at the St. Peter's Square at the Vatican.
Mother Teresa, the nun who worked in the slums of Kolkata to help the poor, will be honoured during the ceremony and will be canonised as a saint for performing miracles. Mother Teresa has been credited with performing two miracles after her demise, one of healing an Indian woman suffering from stomach cancer in 1998 and other of healing a Brazilian man, on his death bed, afflicted with brain cancer in 2008.
Follow the live updates here:
2:00 p.m. IST: Pope Francis has declared Mother Teresa as a saint at the canonisation ceremony.
"We declare and define Blessed Teresa of Calcutta to be a saint and we enroll her among the saints, decreeing she is to be venerated as such by the whole Church," Pope Franis proclaimed.
The pilgrims applaud after the announcement of Mother Teresa's sainthood.
1:55 p.m. IST: Pope Francis has begun the ceremony of canonisation.
The ceremony starts with the rites of the canonisation being observed before continuing into the usual Sunday Mass.
1:50 p.m. IST: MotherTeresa's canonisation ceremony underway at St. Peter's Square in the Vatican City
12:40 p.m. IST: Pope Francis blesses a nun of Mother Teresa's Missionaries of Charity during the audience for workers and volunteers of mercy at the Vatican.
12: 30 p.m. IST:
12: 10 p.m. IST: Procession being taken out in Allahabad, Uttar Pradesh to celebrate Mother Teresa's canonisation.
12:00 p.m. IST: Special prayers are being offered at Sacred Heart Cathedral in New Delhi to honour Mother Teresa.
11:55 a.m. IST: Pope Francis heads for the canonisation cermony of Mother Teresa as he receives a garland from a nun of Mother Teresa's Missionaries of Charity.
11: 20 a.m. IST: Congress Vice President Rahul Gandhi also acknowledged the observance of Mother Teresa's canonisation ceremony.
He wrote on Twitter, "A symbol of service and compassion. Mother Teresa showed the world the extraordinary power of love.We celebrate today that enduring legacy of love."
10:50 a.m. IST:
10:45 a.m. IST: Commenting on Mother Teresa's canonisation, Superior General of the Missionaries of Charity, Sister Mary Prema Pierick said, "We are grateful to God and to Pope Francis, who proclaimed the Year of mercy and chose Mother Teresa as an 'icon of mercy. Mother Teresa's canonisation is an opportunity to spread the message of the Gospel and God's mercy: we hope that the grace of mercy reaches every human being, especially the poorest and most desperate."
10: 40 a.m. IST: Acknowledging the ceremony, Pope Franics took to Twitter. "Let us imitate Mother Teresa who made works of mercy the guide of her life and the path towards holiness," he wrote.
10: 35 a.m. IST: Two delegations from Delhi and West Bengal led by Chief Minister Arvind Kejriwal and Mamata Banerjee are also scheduled to attend the ceremony in Vatican City. A group of 50 nuns from all across the country will also be present at the ceremony headed by Missionaries of Charity Superior General Sister Mary Prema.
10: 30 a.m. IST: The Department of Posts will release a commemorative stamp in Mumbai to mark Mother Teresa's canonisation on Sunday. Minister of State for Communications (Independent charge) Manoj Sinha will release the stamp at a function organised at Divine Child High School auditorium, which would be attended by the Chief Post Master General of Maharashtra and Goa circle, a senior India Post official said.
10: 20 a.m. IST: External Affairs Minister Sushma Swaraj is leading a 12-member delegation in Rome to attend the canonisation ceremony of Mother Teresa.
"I have come here with a delegation from different parts of India, with those of different faiths to pay respects to life of Mother Teresa. For the Indian principle is based on the saying: ekam sat, vipra bahuda vadanthi — the truth is one, the wise call it as many," Swaraj said at the reception by Indian diaspora in Rome.
10: 15 a.m. IST: There are vigils being held all across India to mark the ceremony and observe the sainthood of Mother Teresa. A special mass is scheduled to be organised at the Mother House in Kolkata, where she is buried.