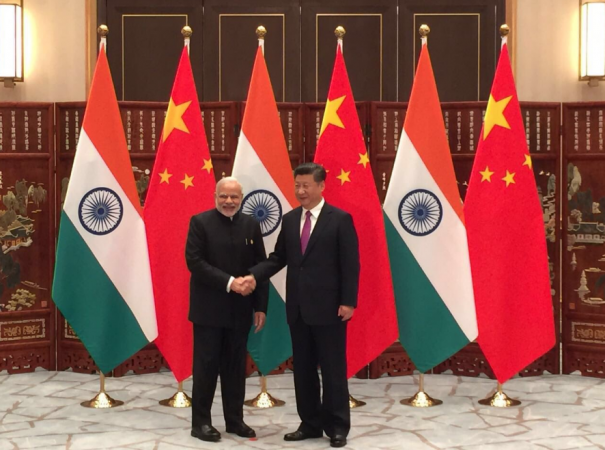 Prime Minister Narendra Modi who landed in China on Saturday for the G20 Summit held meetings wtih Chinese President Xi Jinping and other BRICS leaders on Sunday. The Hangzhou G20 Summit is the 11th one and is being hosted in China.
Modi interacted with the US President Barack Obama after the world leaders posed for a photograph. He also met Australiam prime minister and Mohammad bin Salman, Deputy Crown Prince of Saudi Arabia.
"Our challenges are common, so are opportunities," PM Modi said at the Summit.
The meeting with Xi Jinping was the first official one of PM Modi's during the Summit. Following which, BRICS leaders met on the sidelines of the G20 Summit. Modi visited China after a two-day tour to Vietnam, where he announced a $500 million defence credit line to the Southeast Asian country.
China is willing to work with India to maintain hard-won, sound relationship and further advance cooperation, President Xi said Sunday.
2:22 pm IST - Our challenges are common, so are opportunities. Connected machines, digital revolution are laying foundation for next generation global growth, PM Modi said.
2:05 pm IST - We meet at a time when the global situation faces complex political and economic challenges, said PM Modi. "We aim to improve financial system, boost domestic production, enhance infrastructure investment and create pool of human capital," he added.
1:36 pm IST - Opening ceremony of G20 summit is underway with remarks by Chinese President Xi Jinping.
12:53 pm IST - PM Narendra Modi met Chinese President Xi Jinping at the G20 Summit. The G20 leaders posed for a photograph at the venue, following which Modi met US President Barack Obama.
12:30 pm IST - Indian Prime Minister Narendra Modi arrived for the G20 Summit.
11:45 am IST - PM Modi was gifted a portrait by painter Shen Shu and his team from Zhejiang Kaiming Art Gallery.
11: 33 am IST - PM Modi met Indophile Professor Wang who translated 10 ancient Indian works including the Gita into Chinese, ANI reported.
11:13 am IST - PM Modi invited Australian PM Malcom Turnbull to India.
"It is likely he will visit India sometime next year," said the MEA.
11: 05 am IST - PM Modi thanked Australian PM Turnbull for their continuous support for India's bid for NSG, said the MEA on Sunday. "A unified approach is needed to counter the scourge of terrorism," Modi said during his meeting with Turnbull.
11:00 am IST - PM said India-China partnership is important for the region and also for the whole world, the Ministry of External Affairs said about PM Modi-President Xi Jinping meeting on Sunday.
10:30 am IST - PM Modi met Australian PM Malcolm Turnbull to discuss India-Australia relations.
10:00 am IST - French President Francois Hollande arrived in Hangzhou as did Prime Minister of Thailand Prayut Chan-ocha.

9:05 am IST - Spanish acting Prime Minister Mariano Rajoy arrived in Hangzhou for #G20 Summit.
8:40 am IST - "We, as BRICS, are an influential voice in international discourse. It is, therefore, our shared responsibility to shape the international agenda in a manner that helps developing nations achieve their objectives. As chair of BRICS, building responsive, inclusive and collective solutions is theme we've chosen which mirrors central priorities at G20 Summit. We've taken BRICS out of capitals to involve people from all walks of life. It'll be an opportunity to deepen our ties and with Bay of Bengal Initiative for Multi-Sectoral Technical and Economic Cooperation (BIMSTEC) countries," said PM Modi.
8:00 am IST- British PM Theresa May and German Chancellor Angela Merkel arrived in Hangzhou on Sunday for the 11th leaders' meeting of the G20 major economies.
7:55 am IST - Poverty reduction is No.1 goal, priority of millennium development and sustainable development goals, said Secretary-General of the United Nations Ban Kim-moon.