Huawei has for so long watched the Indian premium flagship market from afar, but finally dived in headfirst with the launch of the Mate 20 Pro. The superior flagship is available in India for Amazon Prime members, while an open sale is slated to begin at 12 a.m. on Tuesday. Huawei Mate 20 Pro is priced at Rs 69,999, which certainly isn't cheap and many are asking if it is worth spending that much.
Luckily for the past couple of days, I have been testing Huawei Mate 20 Pro to try and find the answer to what most people are wondering. Huawei Mate 20 Pro's alternatives are Samsung Galaxy S9, Galaxy Note 9, iPhone XS, and even the OnePlus 6T if you're looking for a lower budget. Despite the competition, Huawei Mate 20 Pro stands out completely.
There are so many things that make Huawei Mate 20 Pro great, it's hard to pick one. I'm in awe of the phone's exquisite design, cameras, performance, display, and its astounding battery. That pretty much covers everything, but Huawei goes far and beyond to justify that hefty price tag in India.
Design & display
Huawei Mate 20 Pro is definitely a head turner.
For the time I had been using the Mate 20 Pro, I must admit that you cannot go without making a style statement. The overall design of the Mate 20 Pro is sublime and classy. The beautiful 3-tone gradient on the glass back and sides is the best you'll find on a smartphone. The triple rear cameras + LED flash in a square box adds a unique touch to the phone, which has been inspired by Porsche's iconic four-point design for the headlights.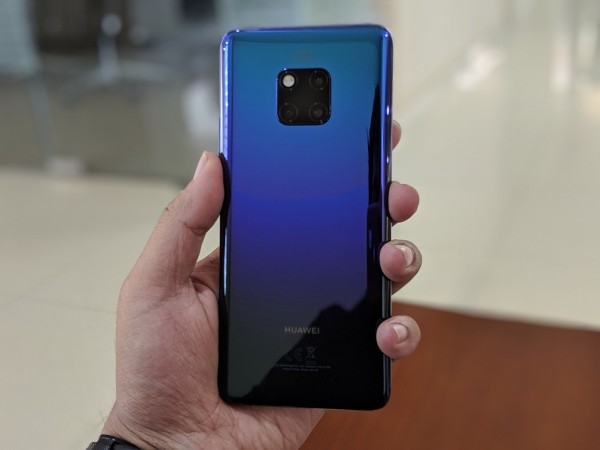 Huawei Mate 20 Pro is one of the best looking phones and the most practical designs out there. The power button (painted in red) alongside volume controls are within easy reach on the right side of the phone. The SIM card tray with nano memory card slot sits at the bottom, right next to the USB Type-C port, which also acts as a stereo.
On the top, there's an IR sensor, which lets you control your supported electronics such as your TV, which came in handy for us. It's good to see Huawei paying attention to such minor features, even though it has, like many others, done away with the 3.5mm headphone jack.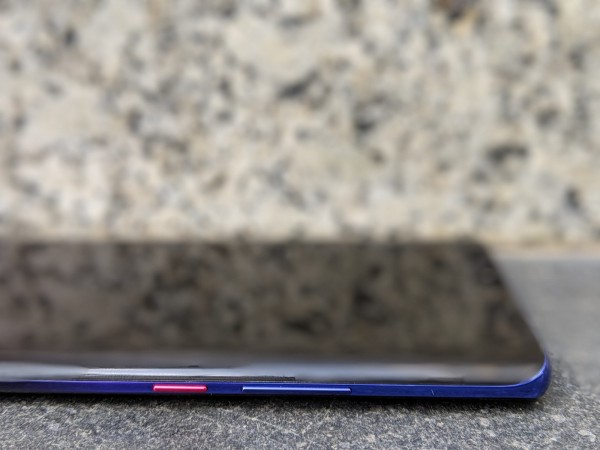 The best part about the Mate 20 Pro's design is the display – the vibrant, bright and colourful display. Yes, there's a notch at the top, which can be disabled, but it doesn't really bother much. The sides of the display are curved, which makes it look like the Galaxy S9 and it's a good thing.
The curved display and the back gives a solid grip on the phone and feels sleeker than it is. If you're hesitant of the glass sandwich design for it being slippery, Huawei adds invisible micro-lines that makes the phone less prone to falls. But if you have butterfingers and tend to drop your metal phones as well, it is a completely different story.
Huawei Mate 20 Pro packs a 6.39-inch QHD+ OLED display with 19.5:9 aspect ratio and 1440x3120 pixels. It is just a delight to watch movies, play high graphics games or simply play with the live wallpaper on the Mate 20 Pro. You'll see deep blacks and natural colour tones, which brings even dull wallpaper to life.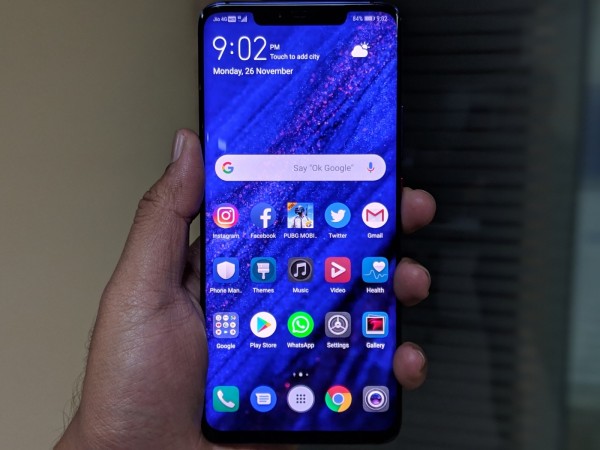 The only concern with the Mate 20 Pro's design is that the display is tall and makes it hard for your thumb to reach the top in order to pull down notification. But let's be clear, this is the case with most phones out there.
The overall design of the phone also lets the Mate 20 Pro achieve IP68 dust and water resistance, which makes it pool-friendly but only up to 1.5 meters underwater for 30 minutes. I did not have to worry about rain while carrying the Mate 20 Pro.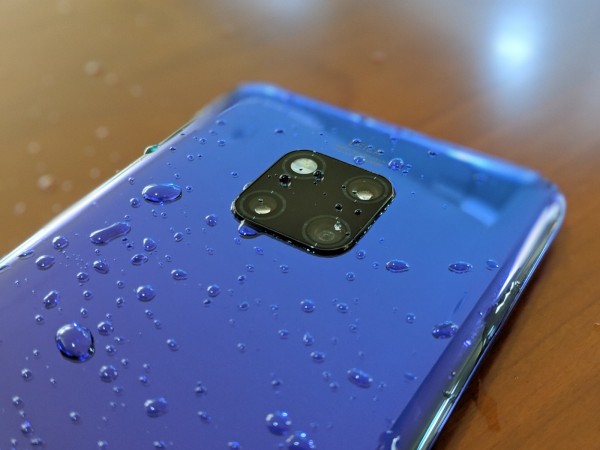 Camera
Huawei Mate 20 Pro has a camera that'll instantly turn you into a photographer.
I tried to cover most of the Mate 20 Pro's camera capabilities in my previous post. Huawei Mate 20 Pro undoubtedly has the best camera on a smartphone if you are looking for precise details without any gimmicks. The Mate 20 Pro also leverages some AI features to bring out the cinematographer inside you and it's just impressive.
Highlights
The wide-angle shots taken from the Mate 20 Pro are just out of this world
The Night mode on the Mate 20 Pro seems to perform better than the Pixel 3, which is by far the best one
Huawei Mate 20 Pro's 3X, 5X and 10X zoom is nothing like we've seen on a commercial smartphone
Master AI is cool, but it comes down to personal preferences
Super Macro mode is kickass
First of all, there are three cameras on the Mate 20 Pro's back, which is the first thing anyone would notice on this phone. People who hadn't seen or heard about the Mate 20 Pro yet were like "Oh, it's got three cameras." Well, let's just accept it and move on with the review.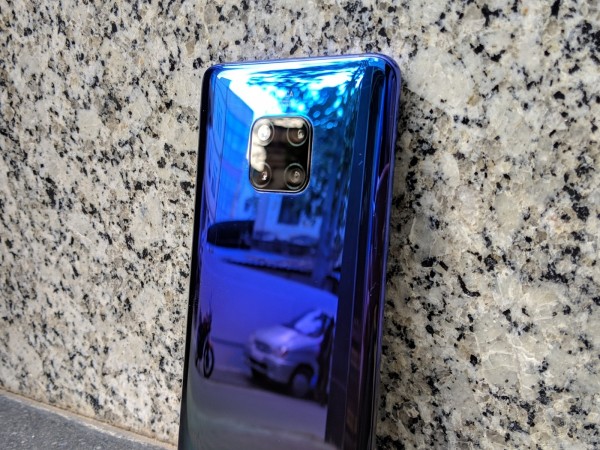 But what no one notices is that the three camera sensors used in the Mate 20 Pro are top of their class and Leica has a major role to play in it. There's a 40MP RGB lens with f/1.8 aperture, a 20MP ultra wide angle lens with f/2.2 aperture and an 8MP 3X telephoto lens with f/2.4 aperture at the back. Too technical? In simple words, Huawei Mate 20 Pro will not, (I repeat, will not), disappoint you in terms of camera.
Huawei Mate 20 Pro's camera offers one too many features. From the impeccable wide-angle photography to cinematic videography and incredible macro shots, Huawei Mate 20 Pro has it all and I simply could not get enough of it.
Huawei Mate 20 Pro's camera interface isn't your usual one. There are several options and modes, some buried inside a dedicated "More" setting. You'll hardly find the time or landscape to use all the features that Huawei Mate 20 Pro offers, but it's good to have them nevertheless.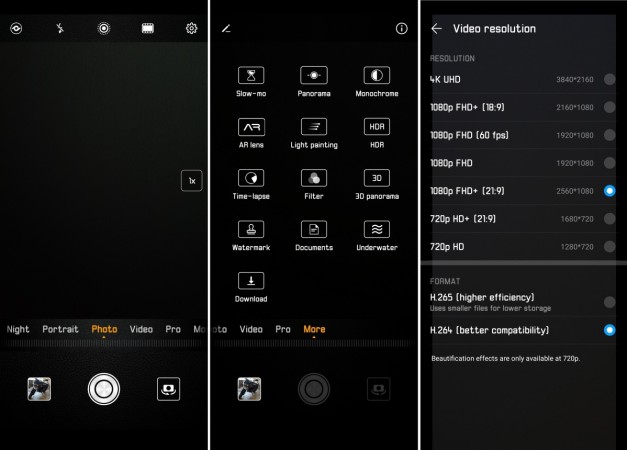 Huawei Mate 20 Pro, as we said earlier, shoots incredible photos and the courtesy is extended to videos as well. The primary 40MP lens does the heavy-lifting and it doesn't deliver short. The Mate 20 Pro has Master AI to automatically enhance your images to the best visual setting, but you can turn it off. Similarly, there are "vivid" and "smooth" colour schemes, but I chose the "standard" one to retain the natural element.
After testing the camera in both bright and low light conditions, Huawei Mate 20 Pro turns out to deliver the best camera experience. In fact, in some cases, the Mate 20 Pro outperformed the likes of the latest iPhones. The true blacks, bright whites and natural-tone colours with crispness obtained by the Mate 20 Pro in landscape and portrait are simply brilliant.
If you're into selfies, the Mate 20 Pro has a 24MP shooter with f/2.0 aperture and it is as good as it could be. With natural tones and great control over backlit setting, the Mate 20 Pro delivers greatly on selfies even in challenging environments.
And you could do so much more with videos on the Mate 20 Pro. It has, by far, the best stabilisation, lets you shoot in 1080p 60fps, and there's a unique 1080p FHD+ 21:9 mode to get a cinema-like video. The AI colour is an impressive addition, which we tested and found to be incredibly addictive. The specific mode largely in black and white but puts the subject in colour. Similarly, there's Background Blur option in the video, which we didn't find quite as accurate with people than with objects.
Few camera samples shot from Huawei Mate 20 Pro are included below:
All that goodness is not devoid of flaws. Firstly, Huawei could have simplified the camera interface instead burying some important modes such as HDR deep into settings. The Master AI enhances saturation, but it is likely to get better with time. I also had trouble focusing while shooting in Super Macro mode.
The battery that truly lasts
Huawei Mate 20 Pro's battery puts others to shame.
I've come across several phones (even flagships) with great battery performance, but nothing compares to the Huawei Mate 20 Pro, which has the specs of highest battery-draining configuration. Huawei Mate 20 Pro's stupendous battery life is paired with best-in-class fast charging capability, which is the perfect combination.
In my battery performance tests, Huawei Mate 20 Pro passed with flying colours (that'd even make the twilight colours on the back of the phone appear dim). The Mate 20 Pro consistently lasted well over 24 hours and that's a feat I've rarely seen any flagship smartphone achieve. I was fearful of the OLED display consuming too much power or my extensive camera testing getting in the way of a lasting battery, but the Mate 20 Pro challenged my fears and surprised me in every way.
With 100 percent charge on the Mate 20 Pro, I was able to clock 26 hours with gaming, social media browsing, calls, WhatsApp chats, emails, camera and some music. Do note that I'm not in the habit of turning 4G off anytime or any other settings like GPS or Bluetooth for that matter. Just when I thought this was a one-time case, the Mate 20 Pro lasted close to 30 hours and this time I had been playing PUBG Mobile quite a lot with social media browsing, calls and messaging on WhatsApp. The screen-on-time with the FullHD+ setting was consistently above 8 hours.
I'm not a movie buff, but I like to watch some TV shows from time to time (mostly during my flights). With a generous amount of Netflix streaming or offline viewing, the Mate 20 Pro's battery percentage plunged. So if you're streaming a lot on your phone, the battery is unlikely to last 24+ hours, but it can easily get your through a busy day with some juice left towards the end.
As impressive as the battery life is on the Mate 20 Pro, I was quite impressed by the fast charging on the premium flagship. In just one hour (59 minutes to be precise), I was able to charge the Mate 20 Pro to 100 percent. There was no heating during the process. I challenged the Mate 20 Pro's charging speed by playing PUBG while the phone was plugged in and I was able to fully charge the phone in one and a half hour. Again, no overheating issue whatsoever.
Whatever Huawei is doing with the heat management on the Mate 20 pro works in the best way possible. Oh, and by the way, the animation that appears on the screen when the 40W charger is plugged in a nice touch.
Performance
Huawei Mate 20 Pro is a beast when it comes to performance.
Huawei Mate 20 Pro might fall behind the iPhone XS in terms of benchmark scores, but it is definitely not an underperformer. In fact, it's one of the few the best performing Android smartphones, be in terms of gaming, multi-tasking or browsing.
I've considered OnePlus 6T or even the 6 when it comes to delivering optimum performance, but the Mate 20 Pro challenges it. The Kirin 980 with dedicated cores, 6GB RAM, 128GB internal storage, Mali-G76 MP10 GPU is more than I could ask for in a flagship and it made sure I never experienced any lags, app crashes or overheating while using the phone to its full potential.
For instance, playing PUBG in high FPS setting did not lag or drop frames even in extended sessions. One PUBG Mobile classic match would last an average of 20 minutes and my friends and I would have a go at it for at least 2-3 sessions. I was thoroughly impressed by how well the Mate 20 Pro performed during those gaming sessions and it can easily become a gamer's choice.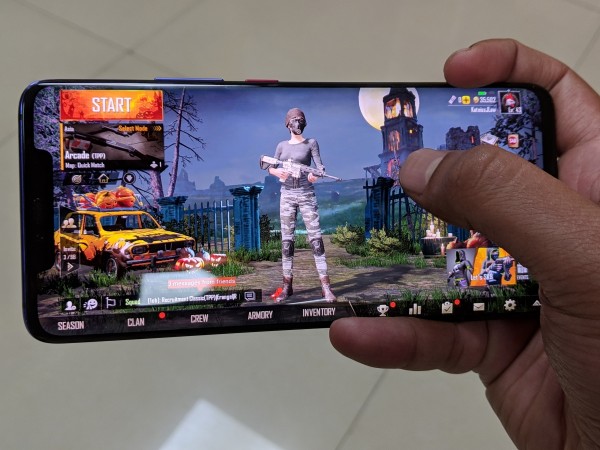 It's unfair to not point out how the Mate 20 Pro packs the latest Wi-Fi and GPS bands to ensure faster downloads and precise location tracking. I was able to pick up Wi-Fi network signals in a much better way on the Mate 20 Pro and the download speeds were impressive.
Streaming multimedia was a breeze on this phone and for those wondering, yes, the Mate 20 Pro comes with Widevine L1 certification. But what matters is that the handset also supports HDR 10 and Dolby Vision, which makes your videos come to life.
The audio quality on the Mate 20 Pro is not the best of its features, but the concealed speakers inside the USB Type-C is a nice way to set design goals. The earpiece turns into a speaker while playing games or watching videos, which came in handy while holding the phone in landscape. My palm would block the Type-C opening, which muffled the sound in some cases, but it's nothing a wireless audio headphone or the wired Type-C earphones (included in the package) can resolve.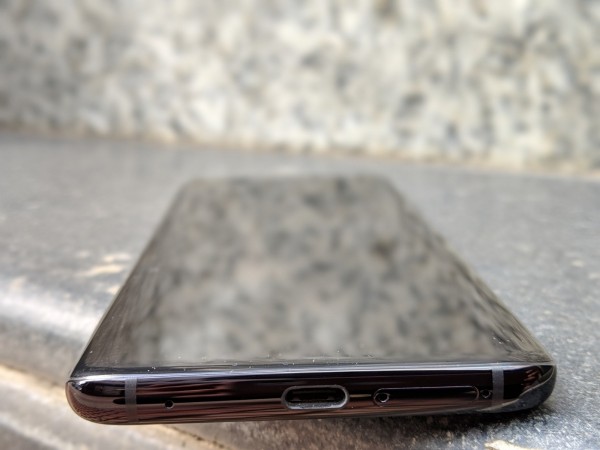 Finally, let me talk about the controversial EMUI interface. From past Huawei phones, I haven't been a fan of EMUI. With the Mate 20 Pro, everything changes. The Android 9.0 Pie-based EMUI 9 is the best EMUI version to date and it is snappy, efficient, and literally grows on you. The gestures, like swiping from the sides to go back or swiping up from the bottom to go home, is quite addictive. Also, the dark theme on the Mate 20 Pro is not only a battery-saving feature but makes the overall interface looks so neat and classy.
My disappointment is still with the buried settings, but I was able to get around that by using the search bar in the settings to get to where it wants in a jiffy. Huawei hasn't done much to reduce the bloatware, but the high configuration, spacious RAM and storage, don't let that harm you user experience. I also noticed Huawei might need to eliminate some bugs in the EMUI, which in my case was that annoying notification dot that refuses to go away even when there are no new notifications on the app.
There are a lot of new things in the Mate 20 Pro that other flagships lack and one of the best one is the reverse charging. Although I didn't quite use it that often, it is a nice gimmick feature that can be used to make your iPhone companions jealous (worked for me at least).
Security
Huawei Mate 20 Pro's security features are no joke.
There are two ways you can unlock the Mate 20 Pro, and you must have guessed it already. The in-display fingerprint scanner on the Mate 20 Pro is one of the better ones. It is efficient, accurate and fast and that neat animation while unlocking is all that one could ask for from a budding feature. The best things about the Mate 20 Pro's biometric sensor is that you slightly move the phone and the fingerprint area would light up to guide you to unlock. This came in extremely handy as I hadn't enabled the always-on display feature.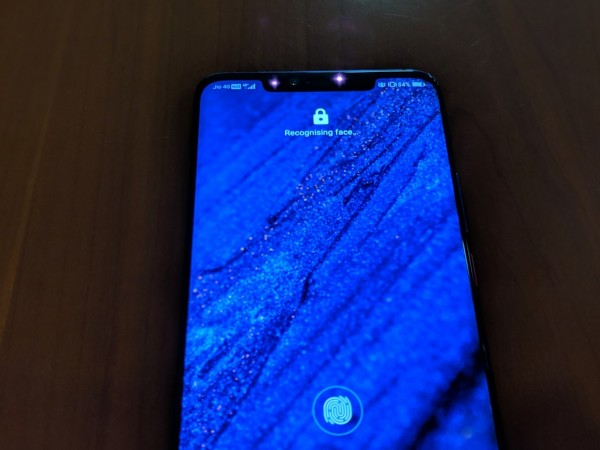 The second security feature is the 3D face unlock, which works like a charm and also justifies the presence of a generously lengthy notch on top of the display. I rarely had any failed facial unlocking attempts. This worked best for me and as a primary way to unlock the phone as it would work in really low-light conditions.
Additionally, I was able to lock various apps with face unlock or fingerprint option – a feature not many phones offer (ahem iPhones…) without having a third-party app installed. You also get a password vault to store your usernames and passwords for quicker logins, a feature I did not use as I mostly remember all my credentials (if not the first time, third time for sure).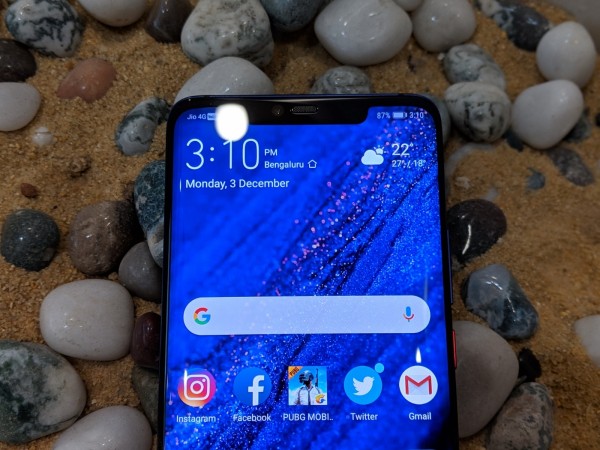 Interestingly, there is a Private Space feature that lets you have a separate zone inside your phone that can be accessed with fingerprint unlock or pattern lock. This is useful if you have kids who fiddle with your phone or lot. You can also encrypt your photos, videos, music and other files under the Safe. All these options can be found under Security and Privacy setting.
Is it worth it?
If you skipped the entire review to this million-dollar-question, let us put it straight. Huawei Mate 20 Pro at Rs 69,990 is definitely worth every penny. You get an impressive camera, unparalleled battery life with 40W SuperCharge, artistic yet practical design and a display that elevates your viewing pleasure. But there's more than just the key features in the Mate 20 Pro that left me spell-bound.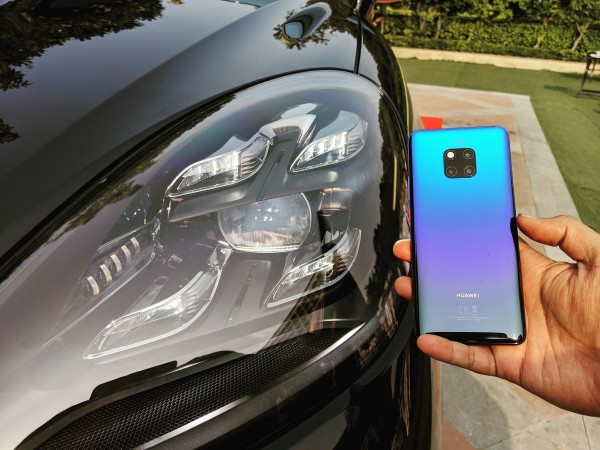 I can see myself upgrading to Huawei Mate 20 Pro as it checks all the boxes for being a true flagship. Huawei Mate 20 Pro like the James Bond of all phones with a glamorous touch on the tux. But in a market like India, most people think of the resale value before purchasing a pricey phone and in that case, the precious iPhones take the lead.