Huawei has finally decided to bring its popular Mate-series to India and it is marking the grand debut by launching its best Mate smartphone ever, the Mate 20 Pro. Following a recent international unveiling, Huawei Mate 20 Pro will be launched in India at an event on November 27, which brings disruption in the uber-premium smartphone space that is dominated by the likes of Samsung and Apple.
Huawei had demonstrated its capabilities with the P-series smartphones in India and the P20 Pro showed what it's like to put the best use of three cameras in a phone. If you were impressed by the P20 Pro's triple cameras, the Mate 20 Pro is bound to leave you speechless.
Unboxing the Mate 20 Pro from its fine packaging is as premium as it gets. The box includes the Mate 20 Pro, a 40W adaptor, USB Type-C cable, Type-C to 3.5mm converter and the standard manuals. You can set up the Mate 20 Pro within minutes and porting over your old smartphone's data is simplified on this phone.
In terms of the design of the Mate 20 Pro, Huawei couldn't have done it better. The square layout for the rear camera placed on a gradient glass gives a refreshing look. In case you didn't notice, the rear camera setup is inspired by Porsche's iconic headlight design and the label Leica adds to the value.
The Mate 20 Pro, while starting up, gives a glance at the 2K+ OLED display measuring 6.39 inches diagonally. But what follows after, like using the phone to watch videos or simply looking at the live wallpaper, is an experience on its own. The Mate 20 Pro's display has to be one of the best we have seen on a phone.

The handset doesn't have any visible stereo grills, as the sound emits from inside the USB Type-C port. Yes, and don't worry about the quality as the earpiece stereo also kicks in while playing media. The power button along with volume controls are on the right and the SIM card/microSD tray is at the bottom. I'm glad the handset comes with an IR blaster, even though there's no 3.5mm headphone jack.
Huawei Mate 20 Pro comes with an in-display fingerprint scanner, which we set up and tested briefly. It works perfectly without any errors or delays, but the superfast face unlock works much better, even in low lighting.

I will be testing other features such as 40W fast charging, reverse wireless charging, and performance based on Kirin 980 of the Mate 20 Pro over the coming days, but let's address the elephant in the room - the camera.
After having used some of the best camera phones that were launched this year, the Mate 20 Pro still managed to make a strong statement with its three cameras at the back and a single lens at the front.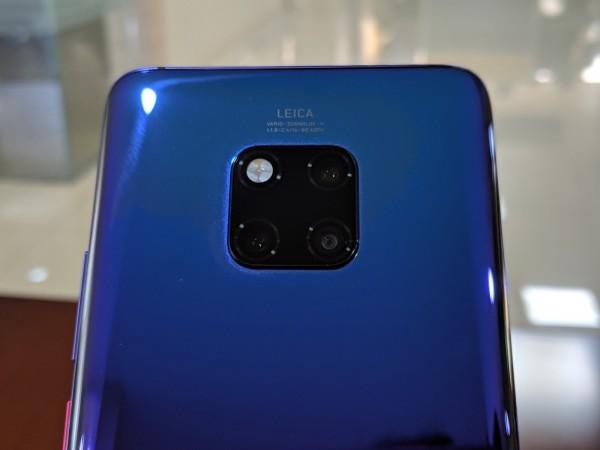 Before I dive into the details, here's what the Mate 20 Pro's camera setup looks like (which is different than the P20 Pro setup).
Rear cameras
Primary: 40MP RGB lens with f/1.8 aperture
Secondary: 20MP Leica-branded ultra-wide angle lens with f/2.2 aperture
Third camera: 8MP 3X telephoto lens with f/2.4 aperture
Front camera
Primary: 24MP RGB sensor with f/2.0 aperture + 3D face unlocking

Huawei Mate 20 Pro camera hands-on
Huawei takes advantage of its partnership with Leica and draws inspiration from Porsche in its Mate 20 Pro. The rear cameras have been arranged in a unique square layout, a design inspiration taken from Porsche's iconic headlight design. It looks sophisticated and elegant and compliments the overall beauty of the Mate 20 Pro.
Now let me talk about the cameras in the Mate 20 Pro, which put a tough fight against the iPhones and Galaxy phones. I've been able to test the camera in different lighting conditions as a part of my preliminary review tests, and the results have been more than convincing.
The three cameras at the back, one of which is a Leica ultra-wide lens, can deliver some great shots with absolute perfection. There are several features bundled into the camera, but the wide-angle is at its finest.
While most phones, in fact, all of them, have magnification settings starting from 1x, the Mate 20 Pro lets you set the camera at 0.6x for wider coverage. And this particular feature allowed me to shoot landscapes without aimlessly walking backward. If you're concerned about the details or distortion towards the corners, the Mate 20 Pro manages to make scenes and people look photogenic.
Take a look at some of the wide-angle samples below:


But it's not about the distance all the time. Sometimes you wish to get as close to the subject as possible. Even though most phones won't allow that as the subject would get blurry or out-of-focus, the Mate 20 Pro isn't one of them. The premium flagship comes with a feature called Super Macro Mode, which kicks in automatically every time you get unbelievably close to the subject.
I tried it, and couldn't be further impressed by this feature. Take a look:
If you're concerned about having to look around for different settings in the camera, fret not, let the Master AI handle it all. Everything from Super Macro Mode to Night Mode and Wide-Angle is either suggested or activated automatically by Master AI, allowing for effortless mobile photography.
Huawei says the Master AI can recognise 1,500 scenarios across 25 categories and accordingly help optimise colours for that perfect shot. The Mate 20 Pro's testing so far has made post-processing a thing of the past. The Mate 20 Pro also offers a mode called Vivid colours, which would blow up colours by enhancing saturation and contrast. It seemed a bit unnatural at times, so I switched back to standard colours, which works just as great. But it's an individual choice and it is good to see options users can switch back and forth from.

Another interesting feature I found in Mate 20 Pro is the lossless zoom, which is quite incredible if you think about it. I was able to get crisp, noiseless images with up to 5x zoom. Here are a few examples to show you just that:
Finally, I've been testing the new video features in the Mate 20 Pro, including AI Colour and Background Blur. The AI Colour lets you shoot videos with the subject in colour and the rest in black and white. Same goes for background blur, which focuses on the subject and blurs out everything in the background. In both modes, I found good lighting helped towards better results and lesser subjects in a frame would contribute towards creating a cinematic magic.
There are several settings to shoot your videos in, including up to 4K resolution and a new 21:9 aspect ratio in Full HD+ resolution for truly professional video. I will be testing the videos extensively over the coming days.
Finally, there are other modes in the Mate 20 Pro camera, which lets you shoot in various settings. For instance, you can get long-exposure shots with Light Painting mode, or classic black and white with Monochrome, which uses AI to smartly convert colour into B&W since the Mate 20 Pro misses out on the Monochrome sensor.
Other features include slow-mo, panorama, filters, timelapse, underwater shooting and more. And if you're still obsessed with portraits, the Mate 20 Pro has some cool backlight effects, such as Photo booth, Stained glass, Folding blinds, Pop and Stage lighting. I'm still not thoroughly impressed by the Stage lighting or the artificial portrait effects as they do not perfectly differentiate the subject from the background and blur out some parts of the ear or hair. But the results are not underwhelming and normal portrait shots are pretty excellent.
A comprehensive review of the Mate 20 Pro is coming soon, so stay tuned.