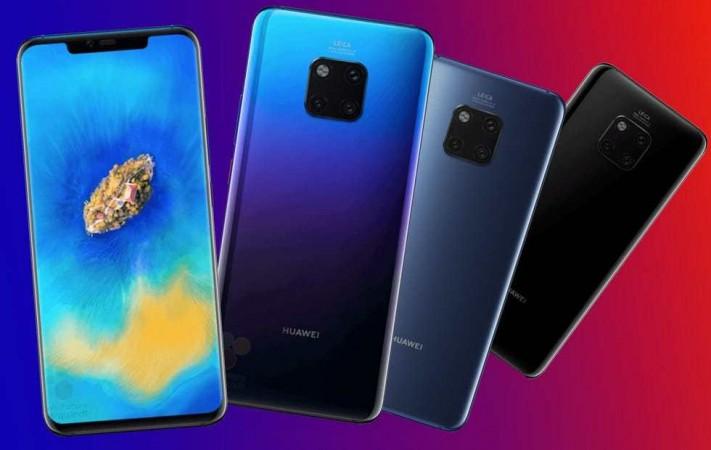 Huawei has left no stone unturned in trolling Apple as it gears up for its big reveal next month. The all-new Mate 20-series, made up of Mate 20 and Mate 20 Pro, is going to be launched at an event in London on October 16, but there have been several leaks around the unannounced phones stealing the element of surprise from Huawei ahead of the official debut.
In the latest leak, a bunch of promotional materials has been leaked by an Israeli publication that offers a closer look at the unannounced Mate 20 phones. Below are the eight biggest reveals of Huawei Mate 20 and Mate 20 Pro ousted well ahead of their official launch next month.
Design
Huawei Mate 20 and Mate 20 Pro will feature a unique design, complete with three camera sensors and a LED flash arranged in a square-shaped module at the back. The gradient colour continues into this new series, and so does the notched display with bezel-less screen. The phone is also shown in black and blue colours for those who think the gradient colour is a bit too flashy.
We can also see Leica branding on top of the camera setup and the Huawei's logo takes its usual spot at the bottom of the back cover.
Battery
By the looks of it, the Mate 20 and Mate 20 Pro's battery seems to be one of the biggest highlights about the phone. The leaked materials show a massive 4,200mAh battery in the Mate 20 Pro (Laya), which also comes with SuperCharge 2.0 for incredibly fast charging up to 70 percent in just 30 minutes. The Mate 20, codenamed Hima, is said to come with a 4,000mAh battery, which will offer 21 percent better battery life than the Mate 10.
In addition to that, both phones will come with 15W wireless fast charging support, first in the Huawei lineup.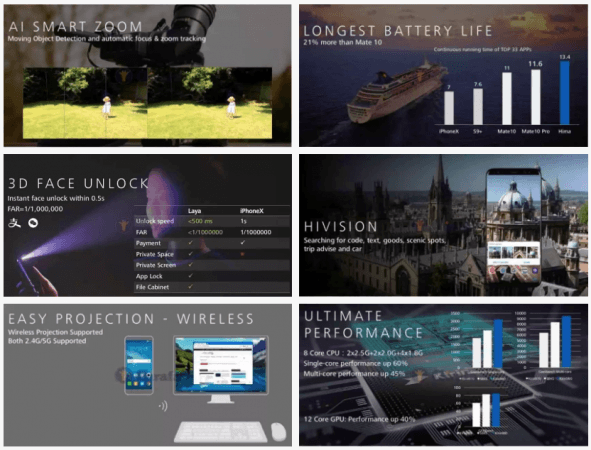 AI Smart Zoom
Huawei has reimagined the camera setup on its Mate 20-series. The new phones will feature a triple camera setup at the back, but Huawei has chosen an ultra-wide-angle lens instead of a telephoto lens. This enables the phones with AI Smart Zoom feature that detects moving objects and automatically focuses on them. This is a boon for videographers who love to create content on-the-go.
HiVision
Huawei, for its Mate 20 and Mate 20 Pro, has borrowed a page from Google's playbook. A new feature called HiVision will be integrated within the phones that will perform a visual search of text, goods and scenic spots simply by pointing the camera. It's going to be just like Google Lens.
3D Face Unlock
Ever since Apple introduced its advanced Face ID in the iPhone X last year, we've seen many companies follow the trend. Huawei, too, will offer advanced 3D Face Unlock feature in Mate 20 Pro, which will unlock the device in just 500ms with a failure rate of 1:1000000 – that's next to never.
The Mate 20, which is expected to be cheaper than the Pro model, will have a 2D facial recognition.
In-Screen Fingerprint
The in-display fingerprint scanner is in trend. Although we haven't seen many phones accommodate the new feature, this will soon be the norm as more and more companies adopt it in the future. Huawei will be one of the first few to offer in-display fingerprint scanner in the Mate 20 Pro. But the Mate 20 will have a standard rear-mounted fingerprint sensor.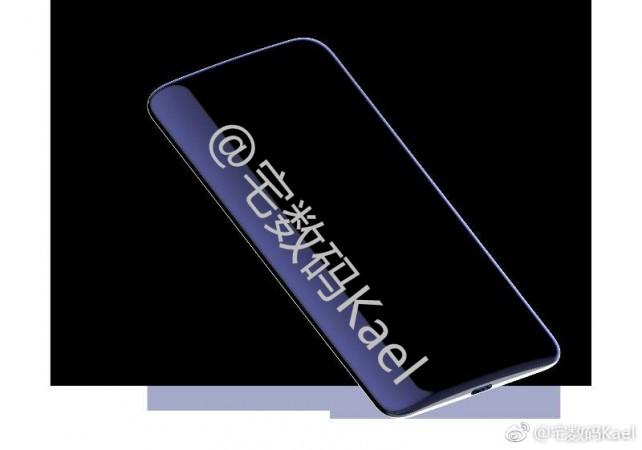 Bone Voice ID
Huawei is known for its innovation, in fact, the company's 15 percent annual revenue is spent on R&D. As a result, we get to see some new tech each year. The Mate 20-series will come with Bone Voice ID, which will unlock the phones by detecting the users' voice. Not just that, the feature is said to work efficiently even in noisy surroundings.
Wireless Projection
Huawei is going a step further in offering a bridge between phones and PC. The new Mate 20-series will come with wireless projection that supports 2.4G and 5G for a seamless PC experience.
The rest...
In addition to these leaked features, the Mate 20 and Mate 20 Pro seem to offer top-of-the-line features. The Mate 20 Pro is expected to offer a 6.9-inch curved OLED display with Quad HD+ resolution while the Mate 20 might offer a waterdrop LCD display measuring 6.53 inches with Full HD+ resolution. Both phones will be powered by Kirin 980 – world's first 7nm chipset with up to 6GB RAM and 256GB storage. The company might keep the 3.5mm jack alive on its new phones.
Both phones will also come with Android 9 Pie-based EMUI 9.0. But these features won't come cheap. The Mate 20 is expected to be priced around $850 and the Pro variant could breach the $1,000 mark.