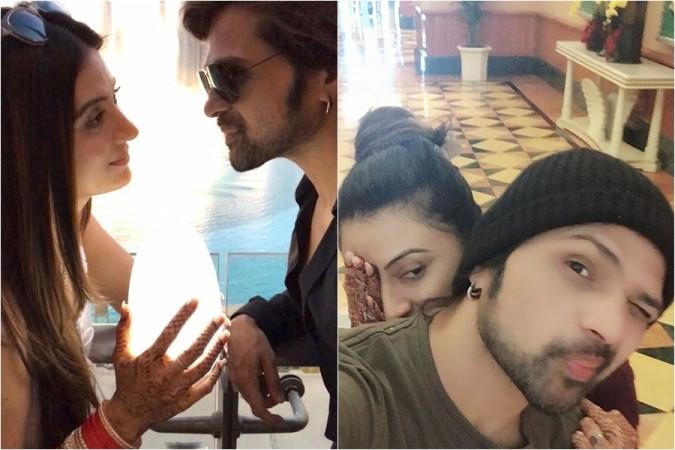 Himesh Reshammiya, who married his live-in girlfriend Sonia Kapoor on May 11 in a hush-hush ceremony, was recently in Dubai for a short honeymoon. And the couple enjoyed their every moment to the fullest. Himesh and Sonia will also be visiting Japan for their honeymoon.
The music composer has now shared some lovely moments with his wife on Instagram which will make you wanna miss your partner for sure.
The couple may have married in a hurry but has left no stone unturned to make the short trip a memorable one by documenting the romantic moments together.
In one of the pictures shared on Instagram, Himesh and Sonia were gazing into each other's eyes during an outing by the poolside.
In another picture, the couple can be seen emitting their goofy side while posing for a selfie. Sonia was seen flaunting her bridal mehendi in the photo.
The lovebirds flew off to Dubai the day after they got married. Talking about their honeymoon plans, Himesh told Pinkvilla, "I have a show again on the May 19 at Kanpur in India so we are going first for a short trip to Dubai now. We are going to Dubai for a short break and also because she (Sonia) needs to shop for me as she does my styling and my film is starting from August this year. After my show gets over we will go to Tokyo also next month. It will be a work-cum-honeymoon because I have show in Tokyo for which the date will be locked soon."
In the past few months, Himesh has gone through a complete makeover. He can be seen trying his hands on different styles from his clothes to his hairstyle to be at his fashionable best. But do you know who is responsible for his stylish looks? It is none other than his second wife Sonia Kapoor and proud husband just can't stop gushing about the new bride.
"She has styled my new look and also for my previous television shows. I have become a fitness freak only thanks to Sonia as she keeps a check on my diet etc since years. She has been into fitness since a very long time and has great knowledge about fitness. She did put on a little weight in between due to her sweet tooth but now she is again back to her fitness regime," Himesh said.
The couple has returned to Mumbai and were spotted at the airport upon their arrival.
Check out Himesh and Sonia's honeymoon pictures here.
Himesh Reshammiya and Sonia Kapoor married according to Hindu rituals in a low-key ceremony in the presence of Himesh's son Swaym from his first wife Komal and their family members on the terrace of Reshammiya's Oberoi Sky Heights residence in Mumbai.
This is Himesh Reshammiya's second marriage. He was earlier married to Komal. The estranged couple had filed for a divorce in December 2016 due to compatibility issues. They were granted divorce by Bombay High Court in June 2017 and they announced their separation earlier this year.
Check out Himesh and Sonia's wedding pictures here.