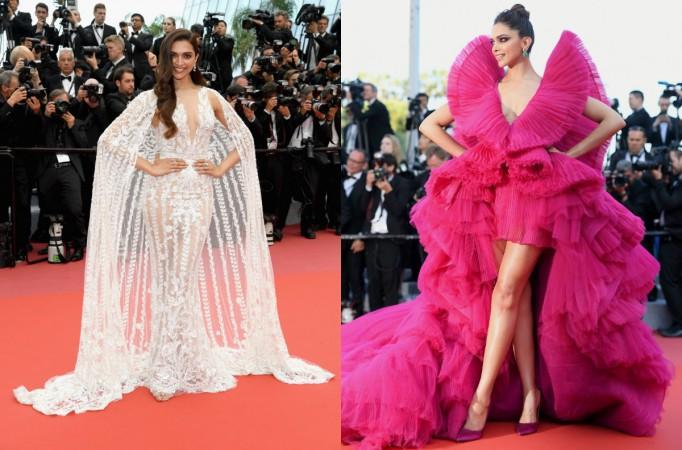 Deepika Padukone is slaying at the 71st Cannes Film Festival with her sexy outfits. She wore a pink high low hem gown that had dramatic ruffles and wing shoulders by Ashi Studio at the red carpet event. She had minimal makeup with pink lipstick and green earrings and wore pink pumps to complete her look.
Apart from her glamorous look, fans also noticed that her RK tattoo is missing. Deepika had got the tattoo when she was dating Ranbir Kapoor. The initials on the tattoo are of Ranbir Kapoor.
Talking about the tattoo, Deepika had earlier told Karan Johar on Koffee with Karan, "It's something that I felt was correct, and even today, I don't regret it. I have never thought about taking it off. I know the media is constantly saying 'she has taken it off', 'she has lasered it', 'she has changed it' and all kinds of things. It's very much there and I have no plans of taking it off."
After Ranbir and Deepika broke up, a source told Deccan Chronicle, "The 'K' from the RK has been modified into a design of a flower. The 'R' remains."
Last year, Deepika had flaunted her tattoo at the Cannes Film Festival when she wore a sexy green gown with a slit.
Earlier, there were rumors about Deepika was getting the tattoo removed by laser. Now, she has featured in an advertisement in which the RK tattoo is missing.
"It's up to her (Deepika) if she doesn't want to remove it. Deepika's conscience is clear and she clearly knows what she is doing," Ranbir Kapoor had told Bollywood Life.
Meanwhile, Ranveer Singh, who is rumored to be Deepika's fiancée, has been going gaga over her looks. He has been expressive about it on Instagram by commenting on her pictures.