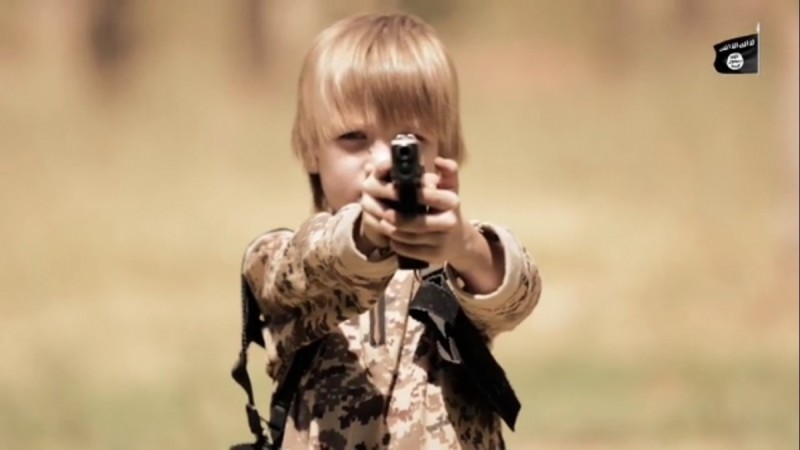 In a video released recently, the Islamic State group claims to be training children to execute some of its prisoners. The prisoners are said to have been captured from "Wilayat Nineveh," or the Nineveh province of Iraq.
The 15-minute-54-second video tries to justify this by showing how airstrikes by coalition forces led by the United States are hurting children — with graphic images of injured minors, including a toddler being pulled from under furniture amidst a pile of rubble. The implication seems to be: "Since you do this to children, we are getting them to fight back."
The video shows three children — two on one occasion and a third in another — executing prisoners of the Islamic State group by shooting them in the head. The video also shows a member of the group, which is also known as Islamic State of Iraq and Syria (Isis) or Islamic State of Iraq and the Levant (Isil), beheading several prisoners in the presence of children.
In the first instance in the video where children are involved in an execution, two adolescent boys are shown — flanked by two Isis members each on either side. They all have one prisoner in front of each of them, whom they are to execute. The video shows all six of them taking positions, aiming their weapons — pistols for the boys and bigger firearms for the Isis members — at the heads of the prisoners, and then pulling the trigger.
In the second instance, a blonde-haired boy, who is claimed to be of European descent, is given a pistol. An Isis member then holds his hands as they execute a prisoner in front of them by shooting him in the head.
This is not the first time that Isis has used children to execute prisoners. Last month, child soldiers from Isis were seen in a video executing five prisoners of the group in Iraq. It was suspected that one of the children was of British origin.