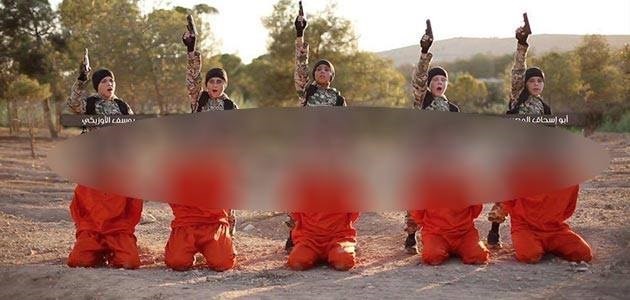 Child soldiers from the Islamic State group have been seen in a video executing five prisoners of the Islamist group in Iraq.
The video shows the children beheading the five prisoners — all of them Kurdish nationals, including an old man — while verbally as well as physically abusing them. A local report has identified one of the five children as being of British origin.
The Syrian Observatory for Human Rights (SOHR), in a statement released on Saturday, Aug. 27, said the five people were among the 14 "atheists Kurds, and the Awakening and Nusayris soldiers" shown killed in a video released by the Islamic State group, also known as the Islamic State of Iraq and Syria (Isis) or the Islamic State of Iraq and the Levant (Isil).
The SOHR said the video, of which it has a copy, shows five children from a section of Isis, it chooses to call "Caliphate Cubs," executing the five people. While executing the five Kurds, one of the children is heard saying: "It does not matter which country, demon or humans [are] by your side. They will not be of help to you at all. So dig your graves and await a fate as the fate of these [prisoners]."
A report from Iraqi News confirmed the killing, adding that the children "appear to be" of five different nationalities — British, Kurdish, Tunisian, Egyptian, and Uzbekistani. The report also said the five Kurdish men were executed "in retaliation for recent Kurdish advances in Syria."
The video also showed other deaths, said to be 14-15 in total. Isis seems to be on a fresh execution spree, which observers see as a method to offset their losses and subjugate people using fear as a tool. Only recently had they executed six people with flamethrowers. However, these were its own people, who were attempting to break free. A couple of weeks ago, it had executed six people by boiling them in tar.