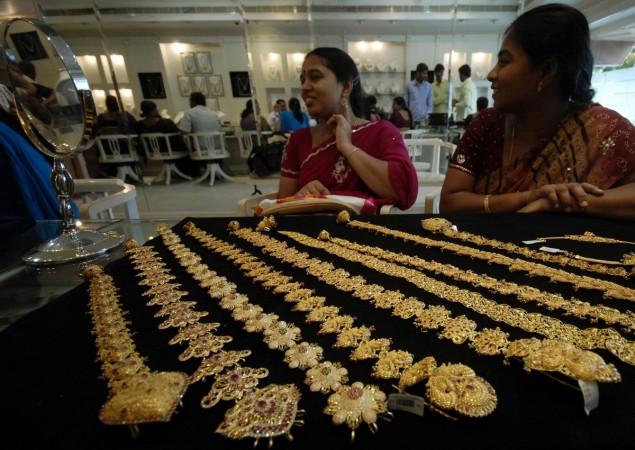 The much publicised gold monetisation scheme (GMS) that intends to mobilise the gold stacked in Indian houses, thereby discouraging import of gold from abroad, remained a damp squib, said media reports. Finance ministry officials reportedly met Reserve Bank of India and other bank executives Friday to discuss ways to prop up the scheme.
Read: Gold Monetisation Scheme
The Business Line reported that the scheme for this fiscal year has only managed to collect 3 tonnes of gold against the targeted 20,000 tonnes lying idle in the country's vaults.
Shaktikanta Das, economic affairs secretary, said after the meeting that suggestions from many stakeholders were taken, and Indian temple trusts also have expressed interest in contributing to the scheme.
Meanwhile, Reuters in another report said the 200-year-old Siddhivinayaka Temple in Mumbai has come forward to deposit 44 kgs out of its total stash of 160 kgs of gold. It said a temple official had confirmed the same and an official statement would follow next week.
The report also referred to the world's richest Hindu temple of Tirupati Sri Venkateshwara Swamy, which had stated it could deposit 5.5 tonnes of gold under the government's monetisation scheme.
The Business Line report added that in January 2016, the finance ministry had relaxed the scheme further to make it more attractive. It included premature redemption of medium and long-term deposits, and also a commission paid to banks for their services.
The ministry had also strengthened the physical infrastructure for the scheme by establishing more purity and testing centres for gold before the metal is accepted in banks, said the daily.
Under another scheme, Sovereign Gold Bond (SGB), launched at the same time as GMS, the public response had been lukewarm with just 9 percent of the targeted bonds being subscribed.
A government official told Financial Express March 18 that "both the schemes will be streamlined after taking into the performance in the pilot period."
Reuters cited that India's appetite for gold was next only to China's, and the country imports as much as 1,000 tonnes a year, which amounts to 25 percent of its trade deficit.