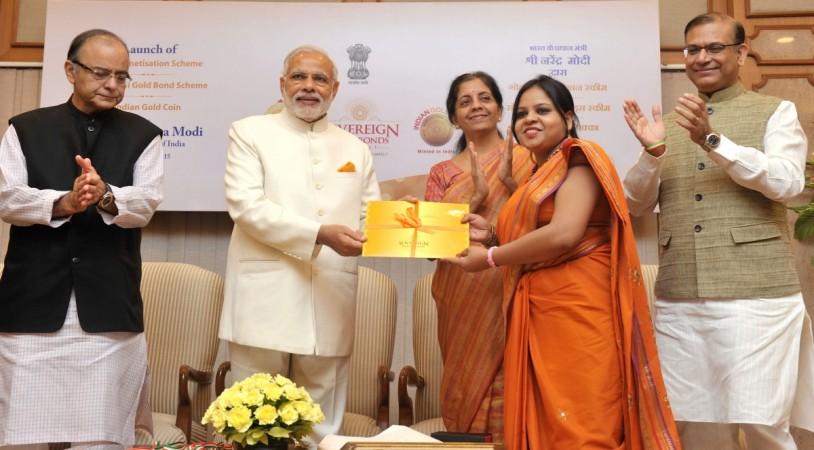 The Modi government on Sunday relaxed gold monetisation scheme (GMS) norms that would benefit depositors and banks, apparently enthused by over 900 kg mobilised under the scheme.
"Gold Monetisation Scheme: More than 900 kgs gold mobilised so far. Scheme making steady progress. Expected to pick up in coming months," tweeted Shaktikanta Das, economic affairs secretary, union finance ministry.
To make the GMS more attractive to depositors, the Central government on Sunday modified the guidelines on premature redemption.
Now, medium-term depositors can withdraw after three years and long term, after five years. Earlier, the government had stipulated the limit as five to seven years for medium-term depositors and 12 to 15 years for long term depositors.
"These will be subject to a reduction in the interest payable," said the union finance ministry on Sunday.
Depositors get up to 2.5% interest per annum on these deposits.
As for banks, they would earn a commission of 2.5% for their services including purity testing charges, refining, storage and transportation charges, reported BusinessLine.
Another move that would make the GMS get better response is the encouragement to bulk deposits, who now can deposit gold directly to the refiners, in addition to the collection and purity testing centres (CPTC).
The GMS was launched by Prime Minister Narendra Modi on 5 November, 2015 to unlock the estimated 20,000 tonnes of gold lying with households and institutions in India, thereby bringing down gold imports.
It would also help the world's fastest-growing economy conserve its foreign exchange reserves, which stood at about USD347 billion as on 15 January.
The success would also mark a paradigm shift in India. "There is a great fascination for gold in our country," R Rangarajan, former RBI governor once said. That could diminish in the future.