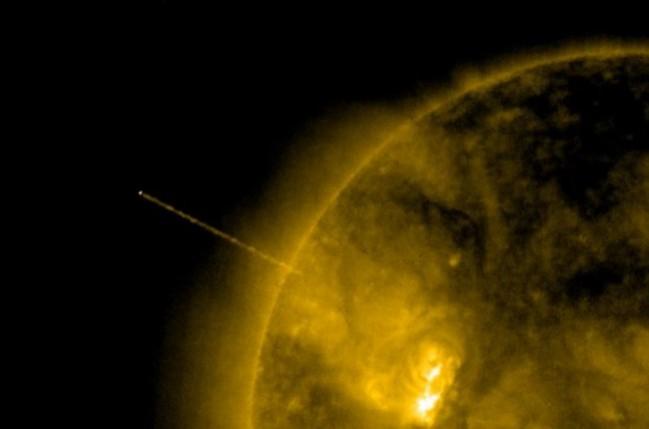 NASA is always accused of hiding evidence about UFOs and mysterious extra-terrestrial sightings by conspiracy theorists. Here's another incident in which a mega spaceship was recently spotted near the International Space Station (ISS).
Also Read: NASA, ISS slammed for allegedly covering-up UFO sightings AGAIN! [VIDEOS]
Conspiracy theorists say that the giant UFO was spotted by astronauts on the ISS and lights were dimmed all of a sudden to hide the mysterious flying craft.
A video of the incident has been uploaded by a YouTube user named StreetCap1. "I thought I was seeing things. I had to be quick. This should appear in the archive later for those wanting verification. The dimming at the end was sudden and my guess is they turned down the brightness a little because they spotted it. Sorry about quality, but it was hundreds of miles away," StreetCap1 stated in the video's description.
Another such sighting was alleged to have taken place near the ISS last month, after which a UFO expert and author of UFO Investigations Manual, Nigel Watson, said that it could be the outcome of a lens reflection, which is visible or invisible, depending on the alterations in the lighting, which appears to be a UFO passing by, Mail Online reported.
Tyler Glockner, a UFO hunter and owner of conspiracy website Secure Team 10, also spoke about the mysterious sightings.
"We definitely see some anomalous objects. We have this very long cigar-shaped UFO. It's unidentified, we don't know what it is," Glockner was quoted as saying by Daily Mirror.
Glockner even accused NASA of trying to hide the alien objects by dimming the view. "Nasa likes to give us low-res videos and keep the high resolution stuff to themselves," he added.
Exclusive video of the UFO spotted near NASA's ISS: