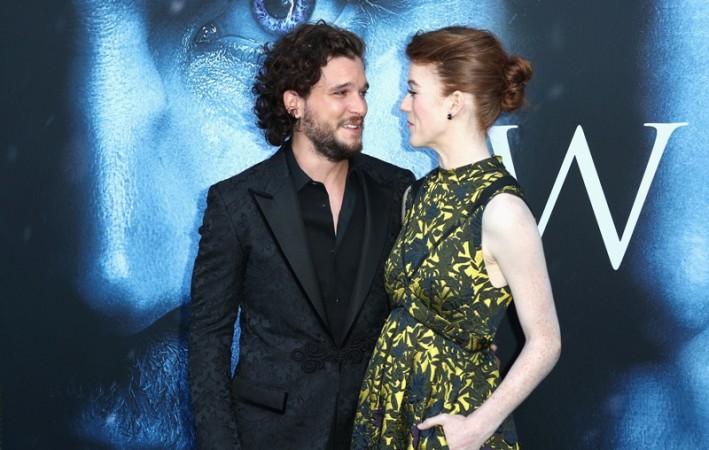 Jon Snow is all set to get hitched! We are definitely talking about his off-screen and real wedding. Actor Kit Harington is ready to tie the knot with his former co-star and fiancé Rose Leslie.
The duo has reportedly started sending out their wedding invitations. But the most interesting part is the invites are inspired by popular HBO series Game of Thrones because it features a stamp lookalike picture of Jon Snow from the fan-favorite series.
British postal service released the limited edition stamps earlier this year featuring Jon Snow's photo. And, if you are a fan of the HBO series, you can still buy the stamp from Royal Mail.
According to Daily Mail, the 200 guests are invited to Harington and Leslie's wedding. The ceremony will be held at a Scottish castle.
A close source to the actor told Daily Mail, "They organized the wedding quickly because they didn't want information to leak. But putting Kit's face on the envelope might be a bit of a giveaway, at least for postmen across the country."
The celeb couple, who met each other on the sets of Game of Thrones second season, announced their engagement in an advert in The Times [London] newspaper in September 2017.

As they announced their engagement, some memes started doing the rounds on the internet and one of them cited A Song of Ice and Fire author George RR Martin saying he has another wedding to plan. But certainly, we hope he does not plan their wedding as one should remember the most anticipated weddings in Game of Thrones, the Red Wedding, and Purple Wedding.
Remember the outcome of those weddings?
Half of the Stark family was killed brutally in the first one while the latter saw King Joffrey's death. Hence, Harington and Leslie's invites maybe Game of Thrones inspired but their wedding should not be. After all, we want their special to end on a happy note. But we can expect a Game of Thrones-themed wedding.
Earlier in an interview, Harington also revealed that how his actual plan to propose Leslie did not work out the way he wanted.
He said: "I did have some plans to do it, I was going to string up some lights in some trees and do all the romantic stuff but we were in the country and we were under this beautiful night sky and had a log fire burning and red wine and I blew my load early."