Game of Thrones eighth and final season may be delayed until 2019 as claimed by an earlier report. But that is not just due to a change in filming schedule. A recent report claimed that Jon Snow aka Kit Harington has asked the series producers to halt the production for one day.
Also read: What! Game of Thrones final season won't return until 2019?
Wondering why? Well, it seems like the reason is very special as Kit Harington and her fiance Rose Leslie will reportedly tie the knot during the filming of Game of Thrones final season.
According to Radio Times, the 30-year-old actor explained how they have so many friends among the entire cast and crew. "They [the cast and crew] have all got to be there so the whole thing has got to shut down."
"I rang him [producer] up and I said, 'I'm getting married and it's your fault actually'," Harington tells the Jonathan Ross Show on Saturday.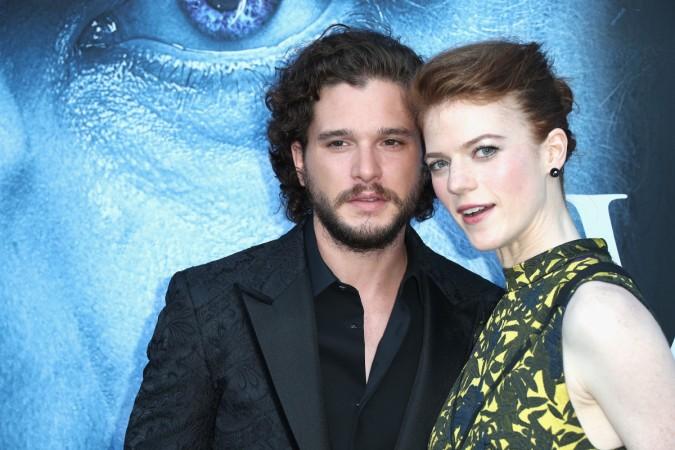 Asked if the wedding would be Game of Thrones-themed, Harington quipped: "No. There is absolutely no chance of me convincing [Rose] of that."
The star couple, who met on the sets of Game of Thrones second season, recently announced their engagement in an advert in The Times [London] newspaper last month.

Harington also shared that how his actual plan to propose Leslie did not happen the way he wanted. Talking about it, he said: "I did have some plans to do it, I was going to string up some lights in some trees and do all the romantic stuff but we were in the country and we were under this beautiful night sky and had a log fire burning and red wine and I blew my load early."
Leslie was recently spotted by a paparazzo at Heathrow airport while she was unintentionally flashing her large solitaire diamond ring.
Well, the nuptials of the GoT duo couldn't have been at a better time. At least the beautiful wedding of their favourite stars would help all the fans to forget about the delay of the final season.