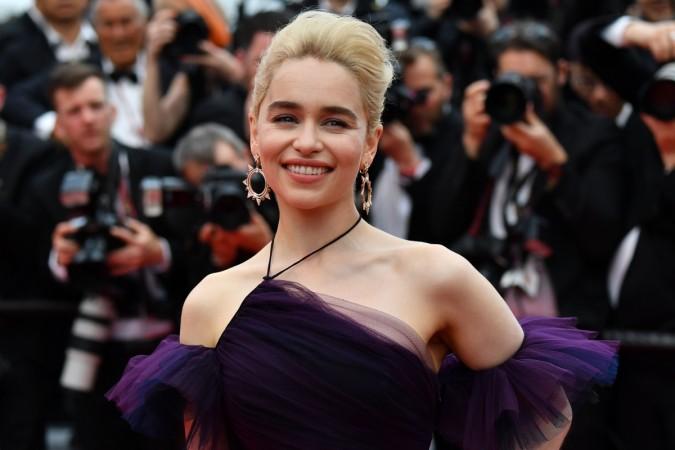 Game of Thrones actress Emilia Clarke has spoken about the nude scenes in the series before as well. But this time she praised the show for showing both male and female nudity. In the industry's apparent gender inequality, the depiction of power struggle in Game of Thrones is what makes the show more appealing to women, she said.
During an interaction with US Glamour, Clarke, who plays the character of Daenerys Targaryen, spilled the beans about a lot of unknown information from the series. Like she revealed that the Khal Drogo actor Jason Momoa never fully exposed himself in front of the camera while Clarke stripped fully naked.
Speaking of it, she said, "Oh, I did. I saw his member, but it was covered in a pink fluffy sock. Showing it would make people feel bad. It's too fabulous."
She also talked about her other on-screen love interest Daario Naharis, played by Michiel Huisman who stripped in front of the camera.
Recalling that, Clarke added: "No, I don't know why. But I'd like to bring your memory back to Mr. Michiel Huisman and I copulating for the first time, which began with me saying, 'Take off your clothes,' and then you got to see his perfect bottom."
However, in the wake of Harvey Weinstein scandal, the Solo: A Star Wars Story actress also talked about how the power struggle between the characters and the show's gender-balanced storylines are attracting a lot of female viewers.
She explained, "I love that so many women watch the show. If you look at 'Game of Thrones' on face value — blood, tits, dragons, swearwords — you're like, 'Oh, this must be for guys.'
"But if you take that away, the storylines are fascinating depictions of the struggle for power. And women are in on that conversation."
The 31-year-old English actress has recently finished shooting for the eighth and final season of the HBO show which is set to premiere sometime in 2019.