A day before the Golden Globes 2018 watched Angelina Jolie dressed in black present to introduce the nominees for Best Performance by an Actress in a Motion Picture with Isabelle Huppert, Brad Pitt suited up and attended the 2018 Sean Penn & Friends Haiti Rising Gala to bid for a chance to watch an episode of Game of Thrones with Emilia Clarke.
The actor, looking as handsome as ever, pulled out his wallet to bid all the way up to $120,000 for a chance to enjoy an episode with the GoT actress and Jon Snow actor Kit Harington. But he lost the experience to a $160,000 bid, Variety reported.
Also Read: Brad Pitt - Angelina Jolie divorce: Son Maddox takes dad's side?
However, rumour has it that the actor lost his heart as well to the Brit beauty. According to Hollywood Life, the actor could be "crushing" on the actress. With no source quoted, the site cites Pitt's bid to "wonder if the hunk has a crush."
The site also asks if new romance would have blossomed if Pitt had won the auction? "It wouldn't be too much of a surprise if Brad had a crush on Emilia. It would make sense for Brad to want to start off fresh and possibly dive right into finding a new mate," the site speculated.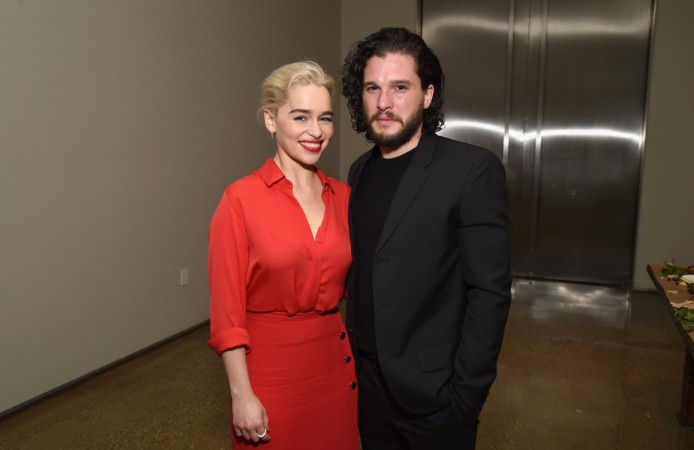 Clarifying the speculations, Gossip Cop confirmed that Jolie's estranged husband is not "crushing" on Clarke. The website reported that while Pitt did raise the bid from $90,000 to $120,000 to watch Game of Thrones with Clarke and Harington, he also bid and won an experience with the San Antonio Spurs. So that doesn't mean that he is "crushing on a Spurs member"?
While a possible Pitt-Clarke romance has been debunked, Associated Press reports that the Spurs experience and a chance to watch GoT was not the only things Pitt bid on. The Allied star also bid on a $70,000 painting but Arnold Schwarzenegger outbid him.
The charity event was organised to collect funds for the J/P HRO & Disaster Relief Organisations. Hosted by Penn, CAA's Bryan Lourd and Sean and Alexandra Parker, the charity gala had already collected more than $3 million mid-way through the event, Variety reported.