In a match that had Lionel Messi, Antoine Griezmann, Paul Pogba and more, the fact that it was a 19-year-old who, not only stole the show, but set the Fifa World Cup 2018 alight in such a manner that we will be talking about this teenager's performance for years to come, was almost beyond belief.
That teenager is, of course, Kylian Mbappe, the youngster who made headlines last summer when he was signed by PSG for a fee close to €180 million. However, to make an impact of such epic proportions in a World Cup, and to throw someone like Lionel Messi in complete and absolute shade, just shows the ridiculous talent that this youngster has.
Very early on in this last 16 match in Kazan, it was clear, this was going to be a match that Mbappe was going to cherish, with the forward terrorising the Argentinian defenders with his pace and ability to move with the ball in a flash.
France were aware of Argentina's limitations at the back, and they had clearly decided pace and power was the answer, and boy was that ever the right answer.
In a tearing run, which, had you blinked, you would have missed, Mbappe began his unforgettable afternoon.
Starting from well inside his own half, Mbappe tore through the Argentina midfield, reminding one of a certain Thierry Henry, before getting to a seriously-worried Marcos Rojo. The defender, whose goal put Argentina into this match against France, decided bringing down Mbappe illegally was the only way to stop him. But then, this teenager is no lightweight, he is built like a tree, to go with all that pace and finesse, so that plan wasn't that easy to execute.
By the time Rojo managed to do it, Mbappe was well inside the penalty box, with the referee having no hesitation in awarding France a penalty. Replays showed the initial foul was outside the box, but it clearly carried on inside the box and the VAR felt it was not a clear and obvious error needed to overturn.
Griezmann, who has come in for a bit of criticism in this Fifa World Cup 2018 for his performances, knocked in the penalty, and while the stats will say, "Goalscorer: Antoine Griezmann," this was all Mbappe.
The PSG man nearly won France another penalty, with another tearing run, but this time Nicolas Tagliafico managed to bring Mbappe down outside the box, only inches outside, but outside.
After all that Mbappe brilliance, France threatened to throw it all away, when they conceded two goals, either side of half-time – a wonderful long-range strike from Angel Di Maria and a lucky deflected effort, via a Messi shot, from Gabriel Mercado.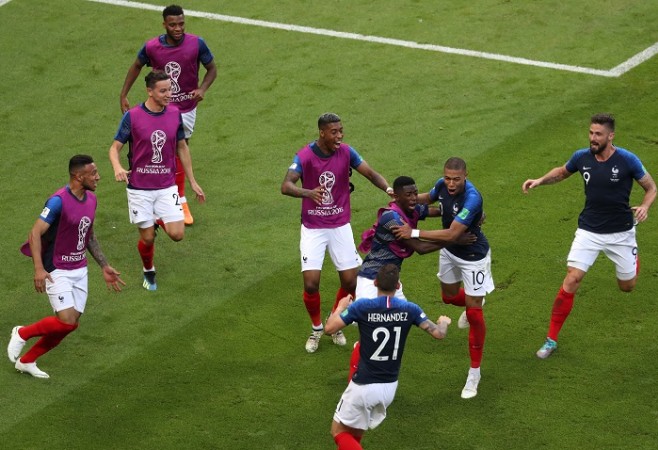 Once Benjamin Pavard scored a stunning equaliser to level the game back at 22, Mbappe decided it was time to switch on that insane talent again.
First, he showed quickness of mind inside a crowded penalty area, taking a nice touch to put him into space, before powering a low shot that was too hot for Franco Armani to handle.
And then, Mbappe showed all the coolness of a man well beyond his years, slotting the ball across Armani off an outstanding pass from Olivier Giroud to put France 4-2 ahead and end any chance of an Argentina comeback – the South Americans managed to make it 4-3, but that goal came all too late for Messi's dream of a Fifa World Cup to stay alive.
Just like that, with two strikes – one with his left, the other right – Kylian Mbappe put his stamp on history and with it ended all hopes of another who will go down as one of the greatest in history.
More performances like this, and it won't be too long before we start talking about Mbappe in the same breath as Messi.