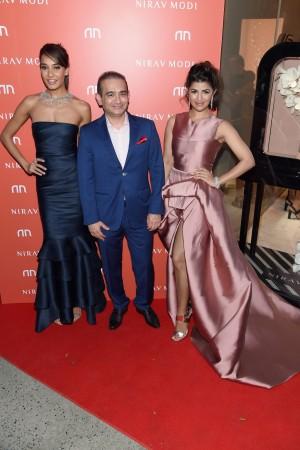 State-owned lender Punjab National Bank (PNB) is embroiled in a Rs 11,400 crore fraudulent transactions that are allegedly linked to designer and jeweler Nirav Modi.
Three other big jewellers - Gitanjali Gems, Ginni and Nakshatra - are also under the scanner of various investigative agencies after PNB "detected some fraudulent and unauthorized transactions" at a branch in Mumbai.
Following are some of the key developments in the PNB fraud case so far:
PNB has closed all options to clear the dues, says Nirav Modi in a letter to the lender and claims the amount is much lower than the bank has gone public with: PTI reported
The Central Bureau of Investigation (CBI) on Sunday questioned 11 PNB officials as well as Vipul Ambani, the Chief Financing Officer of diamond merchant Nirav Modi's Firestar International.
The Enforcement Directorate on Saturday conducted additional searches at 21 locations of companies tied to Modi.
Raids were also carried out on Friday by the CBI on the offices of jewellery retailer Gitanjali.
The State Bank of India does not have any direct exposure to Nirav Modi, but the public sector bank does have an "exposure" to the tune of $212 million by way of a Letter of Undertaking issued by the PNB, said SBI Chairman Rajnish Kumar on Friday.
State-run UCO Bank on Saturday said it has an outstanding exposure of about $411.82 million while Allahabad Bank has an exposure of around Rs. 2,000 crore by way of Letter of Undertakings issued by Punjab National Bank to Nirav Modi, PTI reported on Friday.
Just days after the PNB fraud unfolded, another scam accusing Rotomac Pens owner Vikram Kothari has come to light. The Kanpur-based company's owner has allegedly gone abroad after taking a loan of more than Rs 800 crore from several state-owned banks, news agency PTI on Sunday citing unidentified sources.
For more on Nirav Modi and the PNB saga, click here
Here's all you need to know about the man at the centre of PNB fraud:
Who is Nirav Modi?
Indian-born diamond jewellery designer Nirav Modi is the founder of the $2.3 billion Firestar Diamond and was ranked #57 in the Forbes list of India's billionaires in 2017.
Modi grew up in Belgium, dropped out of Wharton and moved to India where he got trained in the diamond trade under his uncle, according to Forbes.
He went on to launch his own Nirav Modi brand with 16 stores in locations such as Delhi, Mumbai, New York, Hong Kong, London and Macau.
Is Nirav Modi a global brand?
Well, certainly he is. His pieces have adorned global icons such as Dakota Johnson, Andreea Diaconu, Rosie Huntington-Whiteley or even PeeCee, among others.
Actor Priyanka Chopra, the global ambassador of the brand, on Thursday sued Nirav Modi over non-payment of dues, according to media reports.
Modi has roped in big industry names to run his business. Angelina Ypma, who is the global president at Nirav Modi, once worked for Bulgari and Cartier, while CFO Vipul Ambani earlier worked at institutional brokerage firm Tower Capital where he was a senior executive.
Also Read: Who is Ami Modi? Things to know about the wife of diamond merchant and jeweler Nirav Modi
How he got involved in the PNB fraud?
The fraud unfolded after Nirav Modi's companies sought a fresh loan last month. The officials who had helped them earlier had retired.
When the bank insisted on guarantees to issue letter of undertakings, the Modi companies allegedly said they had used the facility before. That's when the bank started investigating.
How big is the fraud?
Two complaints have already been filed against Modi for alleging fraud worth Rs 11,400 crore by the Central Bureau of Investigation, news agency Press Trust of India reported citing sources.
This is in addition to the Rs 280 crore fraud case that he is already under investigation for, again filed by PNB.
What's next?
The fraud opened a can of worms that could impact the entire banking industry.
PNB, in its statement on Wednesday, said that based on the fraudulent transactions, other banks appear to have advanced money to the customers abroad. Anything that happens now will be based on the law and genuineness of underlying transactions.
This comes at a time when Indian banks are already reeling under bad loans.