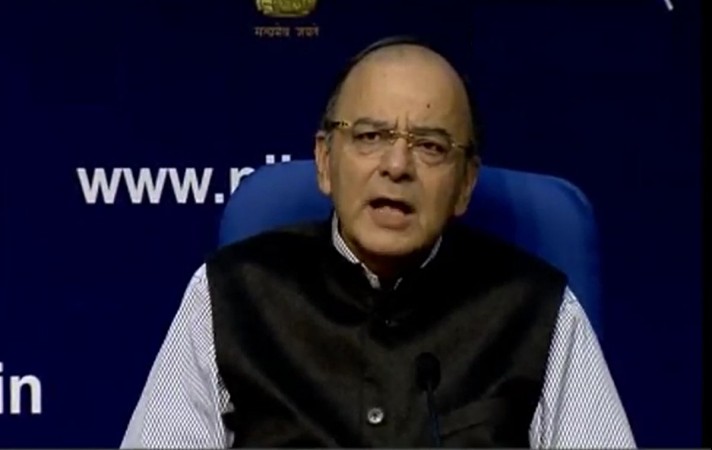 Finance Minister Arun Jaitley on Saturday told reporters that banks had exchanged huge sums of currency from the common man, but there were also some "really irresponsible" political reactions to the decision since Prime Minister Narendra Modi's announcement on November 8 evening that Rs 500 and Rs 1,000 currency notes would not be considered legal tender from midnight that day.
Speaking in Delhi, he said: "State Bank of India (SBI) has alone completed 2 crore 28 lakh transactions in the last two days, be it for deposit, exchange or any other form. SBI had exchanged the notes of 58 lakh people till 12:15 pm on Saturday." However, he also said that ATMs had not been recalibrated for Rs 2,000 currency notes yet, and that it would take time. This was something the Reserve Bank of India (RBI) had said a day ago.
Taking rumours headlong
Jaitley also chose to address some questions and rumours emanating from various parts of the country as well as from political circles, like the one that the BJP had informed those close to it about the demonetisation, leading to they getting rid of their older currency notes in September itself.
The finance minister said: "It was not possible for us to inform [anyone] about this decision in advance, as we also had to maintain its secrecy." He added: "A marginal hike in bank deposits was only for September 2016, the reason being the release of salary arrears as per recommendations of the 7th Central Pay Commission."
Jaitley also said: "It is very clear that some rumours started on the first day, like electronic chips in notes and salt rumours, but these are just rumours."
People cooperating as banks work
Jaitley also said banks were resorting to five types of transactions to help people exchange their old Rs 500 and Rs 1,000 currency notes. These are currency replacement deposit, withdrawal, exchange, ATM withdrawal and deposit in machines.
However, with ATMs still being recalibrated to dispense Rs 2,000 currency notes, they are right now dispensing only Rs 100 notes. Jaitley said this would change in two weeks, when the recalibration process would be complete.