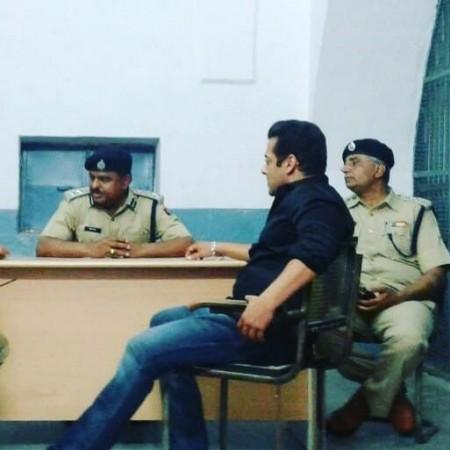 A fake photo showing Salman Khan, who was convicted in the 1998 blackbuck poaching case April 5, in the Jodhpur Central Jail with rape-accused 'godman' Asaram Bapu standing behind the bars has gone viral on social media platforms.
Salman's fellow prisoners include Asaram, but the original photo shows only the actor sitting on a chair in the jail with police officers surrounding him.
Twitter user Atheist_Krishna edited and shared the photo on his page and soon, it went viral on Instagram with several users creating funny memes. While most of the users had a good laugh over the photo, some believed the photo to be true.
"Omg Asaram Bapu is here," one Twitter user said. "Is it photoshopped?" another asked. "Hope he is not spending night with asaram Bapu," a third user said.
Salman spent the night in Jodhpur jail. According to reports, he was assigned ward number 2 and his fellow prisoners are said to be Asaram and Shambhu Lal Regar, who hacked a man to death, burned his body, filmed the act and later shared it on social media.
The Tiger Zinda Hai actor was allotted the badge of inmate number 106 (qaidi no.106). He was given four blankets and was made to sleep on the floor, NDTV quoted police officer Vikram Singh as saying.
There is also heavy security in the prison after an inmate, Lawrence Bishnoi, threatened to attack him.
On Thursday, a Jodhpur court had sentenced Salman to five years in jail. His bail request will now be heard Saturday at around 10.30 am local time. The actor will now spend one day in the Jodhpur Central Jail.
After the Thursday's verdict, his lawyer Anand Desai had said that the judgment came as a surprise.
"We respect the decision of the Hon'ble Court. While we are studying the judgement it just came as a surprise, as the entire investigation, and facts of this case were the same as those for which Salman has been acquitted by the Hon'ble High Court of Rajasthan in two cases, and even by the Hon'ble CJM in the Arms Act matter for the alleged offence on the very same night as is the subject matter of the present case," a statement read.
"Also, in the present case, the Hon'ble Court has acquitted all the 5 co-accused which would imply that Salman was out hunting alone in the middle of the night in a remote area outside Jodhpur. We have preferred an appeal to the Hon'ble Sessions Court and applied for an urgent hearing today. The Hon'ble Sessions Court will hear the appeal for suspension of the sentence/bail at 10.30 tomorrow," it added.